Introducing INSTAMATE 2 –  Software to automate.
THIS POST MAY CONTAIN AFFILIATE LINKS, PLEASE SEE MY DISCLOSURE FOR MORE INFO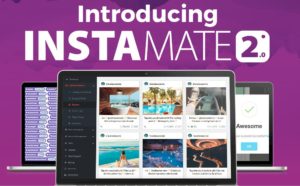 I heard a lot of hype about this software and did plenty of research before eventually purchasing. I have to say it is, without doubt, one of the best things we have added to our business.
Instamate is the world's first and only web software to use your Instagram account to find, edit, upload, schedule (Yep you can schedule posts with this software), engage & monetize the most viral content to your Instagram accounts on complete autopilot. And the best bit is you can do all this from your laptop!!
This is perfect for our business and I will give you a few standout points on this software.
1 – Instamate finds the most viral content in any niche in seconds, not only that but you can then repost this from your own account.
2 – It lets you post, but also schedule updates directly to Instagram from your computer. This has been a godsend for us as you can automate an entire weeks worth of content in just a few minutes. You can't schedule posts on Instagram like facebook so this really has saved us so much time.
3 – The software finds the most viral hash tags in your niche, driving organic traffic to your updates, see below image.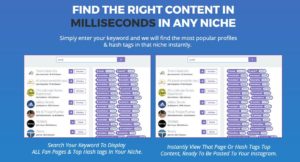 Engage with your audience
Instamate allows you to engage with your audience by liking, commenting & following people and again you can do this very very quick, gone are the days of searching for someone, then clicking on each picture to like and then again to comment.
It also comes complete with a #tag research tool which throws up the top trending #tags in any niche, you can also look into the most popular #tags in categories such as social / people #tags, Art / photography #tags and much more.
This has been my favourite bit of the software as I would normally spend ages trying to find #tags which were popular and getting a lot of attention.
The software comes with a what's trending on other social networks tool which is brilliant and saves you more time, See below image….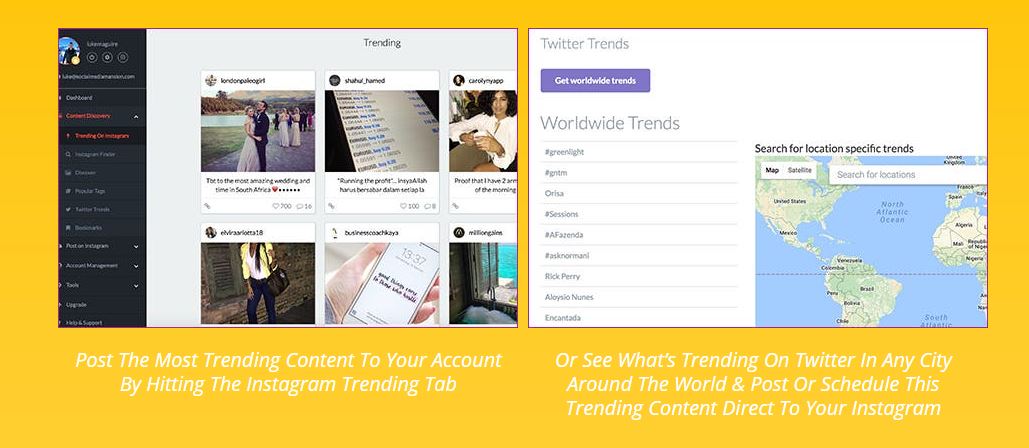 What are others doing?
You can use the software to see what other people are doing with their Instagram profiles and the software breaks down all of their posts so you can see what is trending for them, what #tags they are using and lots more, you can in a matter of seconds get a similar post up yourself and post this to your following.
So what else do you get with this?
You get 5 accounts for Instagram – At the minute we are using 2 and will at some point look to manage other peoples Instagram accounts with the remaining 3 accounts which will bring in some extra money for us.
Training – The software comes complete with training modules including videos and also PDFs.So as you go through the training you can pause, jump into the software and practice what you are learning, then pick up again at the same point with the training.
Support – There is dedicated support and you also get access to a facebook group which at the time of writing this there is currently over 2000 people in who share hints/tips and ways they are growing their following on Instagram.
Grid Preview – Once you have your post all ready to go, you click preview grid and it shows you how your newest post will look alongside all of your other posts. Example below…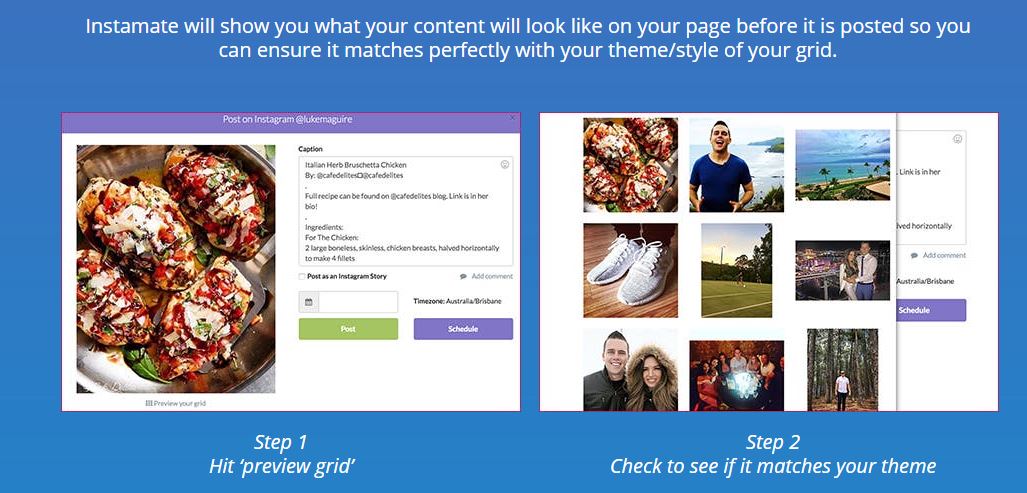 Conclusion
I genuinely love this product and it has saved us many hours of research, creating pictures, searching for trending #tags and much more, also as the software is cloud based you can access it from any PC or MAC. But without a doubt, the best bit for us is the ability to schedule out your posts for the entire week or month. Automation is definitely the way forward.
Thanks as always for reading.
Take Care & Keep Smiling
Furn
Learn More / Earn More / Save More / Start Living More