In today's post we're looking at the Safedroid ICO.
They are looking to bring cryptocurrencies to the masses and the ICO is looking very promising after the pre sale sold out in 7 hours.
Please keep in mind that this is my personal opinion and not financial advice
I'll explain to you the concept off Safedroid before we go into the actual ICO itself.
More and more people are starting to hear about cryptocurrencies and want to get involved however there are a few issues.
You can't just go to the bank and buy some Bitcoin, nor can you just buy on an exchange without the many different hurdles involved.
First you need to join an exchange, then get your account verified before depositing.
Next is KYC, then you get to buy the crypto, once you have bought your crypto next is sending to a wallet which is another mission itself sometimes.
This puts off a lot of people as sometimes the entire process can take weeks and in that time the price could have gone up or even down.
When I first started in Crypto I spent weeks watching videos on Youtube trying to understand how it all worked and how to buy Butcoin.
I remember thinking there must be an easier way than this.
Enter Safedroid, an automatic automated app for saving money and investing it into cryptocurrencies.
Users profit from easy access to smart Bitcoin, Ethereum, Bitcoin Cash, Ripple, etc. savings plans, and superior crypto investment opportunities, such as portfolios, futures, and ICOs.
Without any technological adoption barriers. This is Huge!
Savedroid leverages its existing core assets of self-learning AI technology and great User Experience.
Based on maximum simplification and emotional gamification, to deliver this exceptional value proposition.
It is a great concept with an existing business, the App currently has over 200,000 downloads and 10 million saving transactions to date.
The company timeline looks like this:
Savedroid ICO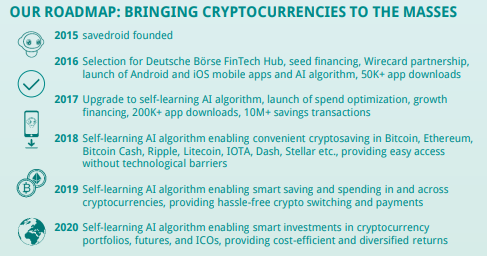 Token Sale:
Token – SVD – Platform – Ethereum
Type – ERC20
Price in ICO – 1 EUR = 100 SVD = 0.01 a token
Tokens for sale – 6,000,000,000
Accepting – EUR, USD, BTC, ETH
Distributed in ICO – 55% of all tokens available.
Team
The team is absolutely huge.
Headed up by the founders Marco, Tobias and Dr Yassin Hankir collectively there is 90+ Years experience in Fin Tech, AI & marketing.
Departments include Smart Contract Developers, Marketing Officers, Mobile Developers, Data Scientists, Business Development, HR, Marketing, Customer service and much more.
There is also 14 advisers on the board too.
I also like that you can visit everyone's LinkedIn profile and do further research.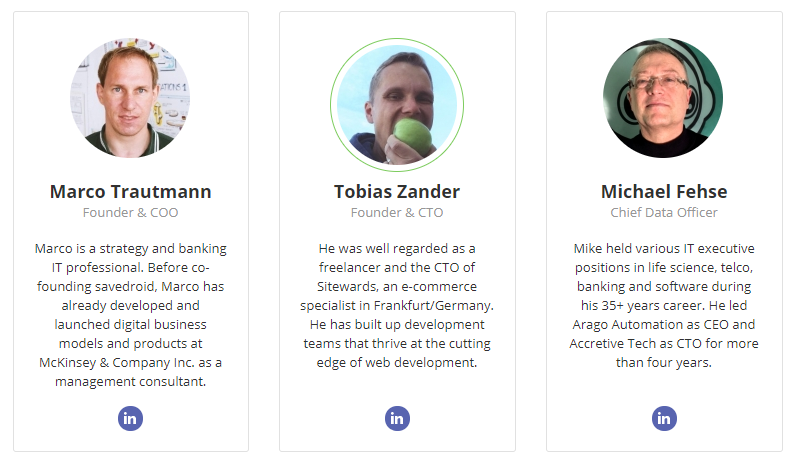 Conclusion: Savedroid ICO
I really like the potential of this ICO.
If this was around when I first got into crypto it would have saved me hours and I would of used it from the start without a doubt.
There is a product all ready out there being used by thousands of people and just needs the crypto add on functionality.
A very strong team with massive experience and breath which have already delivered many results over the last few years.
The price of token is also very attractive.
My only concern was the total token supply.
However after reading the white paper and seeing that coin burns happen throughout the years I am more than happy with this project.
Also they are currently giving away 100 free tokens to everyone who joins their telegram group.
Please keep in mind that this is my personal opinion and not financial advice, as always please do your own research into any ICO or coins out there.
You can check out the company and everything about the Savedroid ICO here
If you like all things crypto then check out our bitcoin page with lots more information here.
Ico Initial Coin Offering, Initial Coin Offering,Crypto Ico, Crypto Ico List, Crypto Ico News, Crypto Investment, Crypto Under $1, Cryptocurrencies, Cryptocurrency
Bitcoin Alternative, Bitcoin Investment, Bitcoin Mining, Bitcoin Online, Bitcoin Review, Bitcoin Shares, Bitcoin Trading, Bitcoin Uk, Bitcoin Update, Bitcoin Website, Bitcoin What Is It