In this article, I am going to share with you an awesome way to make money with automated websites.
And once you see how simple this whole process is I know you will be very impressed.
I have heard about this method for a couple of years now and finally, in December I decided to try it out and see if it is actually as good and as simple as it sounds.
Before we jump into the article and I walk you through this whole process step-by-step let me share some results with you.
Automated Website Builder.
I set up 3 new websites and had them directing traffic over to different affiliate offers. (These are products that I recommend and if someone buys I earn a commission) 
The websites were set up on the 29th December, 1st January and the third of January.
Fast forward to today (two weeks later) and below you will see the clicks (people who visited the affiliate offers)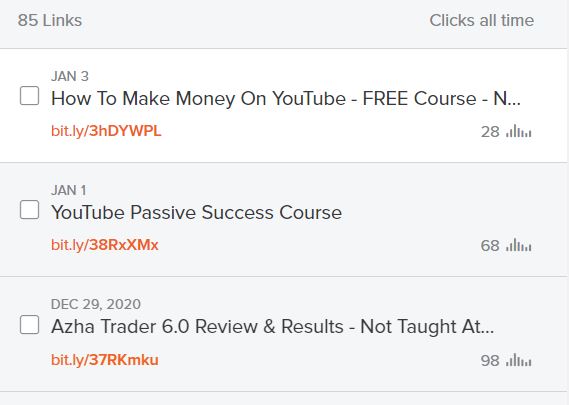 In total, I have sent 194 people over to different products and services which they were already interested in buying and for doing so I earned affiliate commissions.
How much? 
Just shy of $1,300 (£730) which is absolutely awesome because it took me about an hour in total to set all these websites up.
And the best bit? These websites update every single day without me having to lift a finger. When I say "update" I mean new content and articles going on to them without me doing a thing.
Moving forward I will be adding LOTS more of these websites to my automated income streams.
So, how does it work? 
I have just shared the below video on my channel which walks you through the entire process, have a watch and then continue to the steps below and by the end of this article, you will have your very own automated website up and running today. Seriously.
Did that all make sense for you?
If you have any questions leave them below and I will get back to you within 24 hours or if you need a response quicker head over to my Facebook group.
Make Money With Automated Websites Step-By-Step.
Getting Started With Your Automated Website.
Step 1 – Domain Name & Hosting.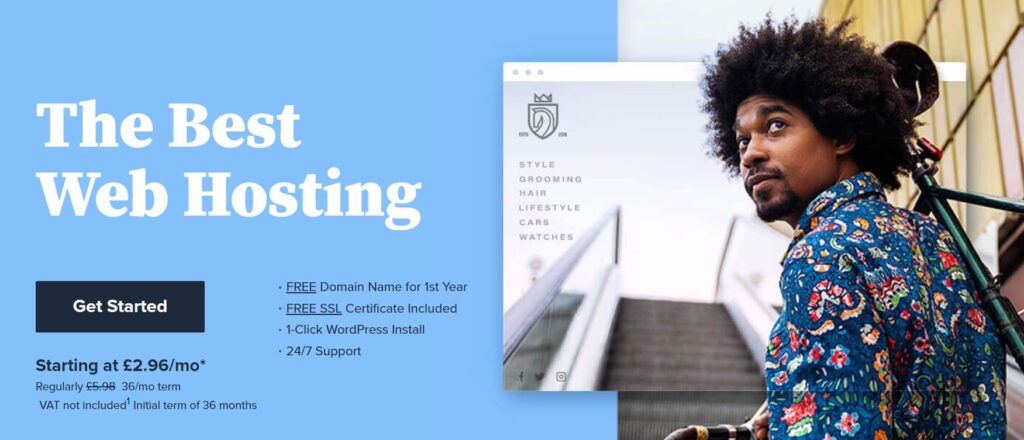 First, we need to get a name for our website and then have hosting so the website can be up on the internet.
Head over to Bluehost here and select the package you want.
As shown in the video, regardless of the term you take out, you can have as many websites as you like hosted all in the same package.
Plus you get a free domain name and SSL certificate included.
Using Bluehost you can have your very first website up and running for as little as £2.96 a month.
➡️ CLICK HERE ➜ ➜ ➜ Get Hosting
Step 2 – Get The software.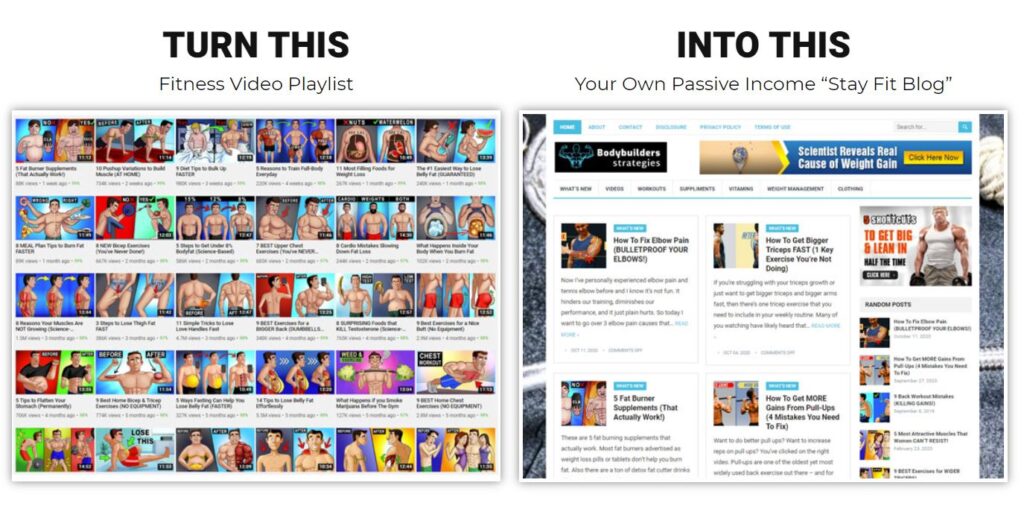 You can pick up this awesome software here.
Once you have bought the software it comes complete with a members area and further training.
Inside the member's area, you get a link to the software and really simple to follow along with videos which not only share how to set this all up and automate the entire process but also included is further detailed videos about getting your website to rank and several ways to make money with the software. 
As a bonus for buying this software from me, I will also be throwing in some extra bonuses which include the following…
Over 120 high paying and recurring affiliate programmes – 

Walkthrough video of how to set up your website using the affiliate programmes.

Another walkthrough video-sharing how to automate social sharing for backlinks.
It is straightforward to get these bonuses, after you have purchased the software, log into warrior plus and click on purchase history, then select the product and you simply click on the blue box which says – Access Affiliate Bonus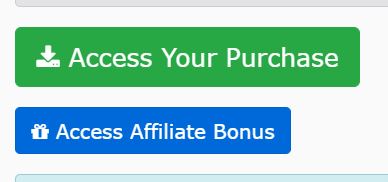 You will get instant access to the bonuses mentioned above which will help you make more money with this software.
➡️ CLICK HERE ➜ ➜ ➜ Get The Software & Bonuses.
A Couple Of Quick Wins With The Software.
Automated Websites For Sale.
Once you have set one of these automated websites up,  instead of earning money with affiliate marketing you can very quickly sell it over on Flippa.com
And there is a big demand for these types of websites. 
Below are just a handful of websites which are available on flippa.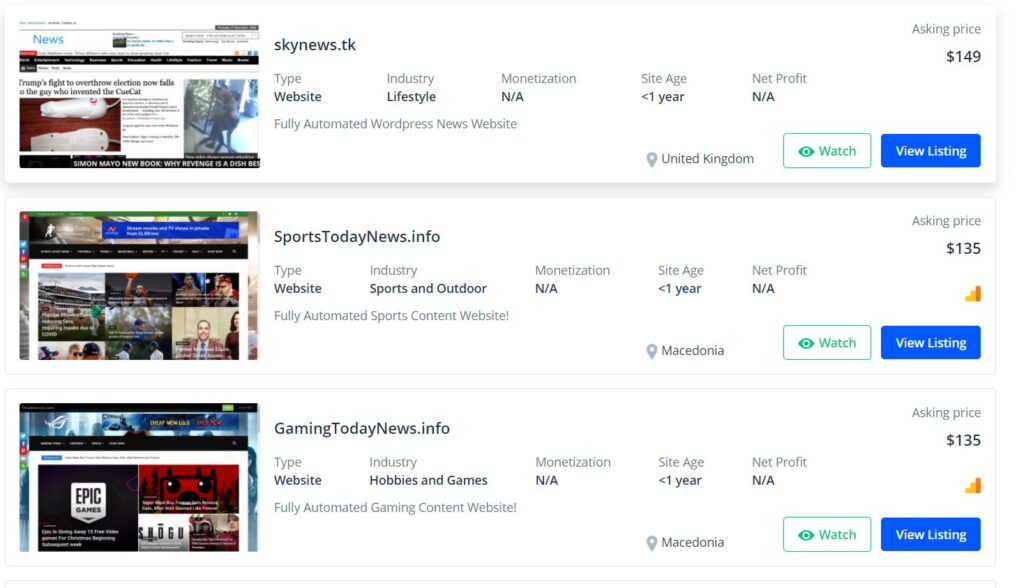 As you can see in the picture above, all of these websites are fully automated. 
So people are setting up these websites using software like the one we have looked at and are selling these websites pretty quickly.
If we take a look at the listing above for the sports website we see that it is less than 2 months old and the seller is asking for $135.
This website will have taken about 20 minutes to set up and now they are selling it for a very decent profit.

Let's take it a step further and see how much this seller has made on Flippa selling these automated websites.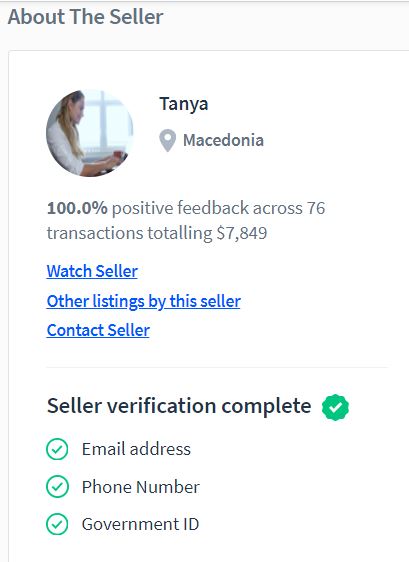 In total the seller has sold 76 websites for a total of $7,849.
If we divide these numbers it comes out at an average of $103.27 per transaction, or website sold.
Do you think you could sell these websites using the software we have looked at? You bet you could!
And the only limit with this will be your imagination or work ethic. All the hard work has been done for you. 
The above example is just one seller, there are a handful of sellers offering these automated websites. 
Automated News Website.
These types of websites do very well and using the software there will be no end to the content you can add to the website.
Other examples include Celebrity, Weightloss, Gaming, Sports and cars.
Conclusion.
This software will allow you to turn any YouTube channel (for yourself, your clients, or ANYONE else) into a full-blown website.
The software allows you to quickly monetize single or multiple videos from any YouTube playlist or channel with 100% free traffic.
What I love about this software is that anyone can get this up and running without any experience, spending lots of time or having to learn about creating websites.
It is a really simple process to set everything up and the possibilities to make money are vast.
Not only do you get the software but you also get access to a members training area which also covers several different ways to make money with this method.
➡️ CLICK HERE ➜ ➜ ➜ Check Out The Software
If you want more ideas to earn money from home then you will love this article – The Ultimate Guide To Make Money From Home.
Other Articles You May Like: 
How People Are Earning Thousands Sharing Products.
Real Ways To Make Money From Home,
60+ Ways To Make Money From Home.
20+ Real Ways To Make Money From Home.
If you have any questions or found this useful then please leave a comment below.
Thanks for reading.
Take Care & Keep Smiling
Mark
THIS POST MAY CONTAIN AFFILIATE LINKS, PLEASE SEE MY DISCLOSURE FOR MORE INFO