Are you looking to start a side hustle to make some extra money?
If so you are in for a treat because I am going to share some of the very best side hustles you can get started with today. 
Plus, I am also going to share some of my results and as always I will link to several resources to help you get very own side hustle up and running the right way,
What is a good side hustle I can start today is a question I get asked all the time.
Over the last few years, I have tried and tested many different side hustles.
Some I still do to this day because of the flexibility they offer and the potential money you can make. 
Side hustles are great because they can work around your existing commitments and if you set some of these up correctly, they can run pretty much on autopilot with very little maintenance to keep them updated. 
Remember to check out my free member's area as we have lots of resources to help you make money from home.
There are many things in here to help you with some of your side hustle ideas.
The Best Side Hustle Ideas.
1 – Niche Websites.
What is a niche website? I found this quote over at Income school.
A niche site is described as a blog that "may appeal to geographic areas, a specialty industry, ethnic or age groups, or any other particular group of people."
So what does that mean exactly? 
Basically, a niche blog is a website focused around a particular category or niche. 
This can be absolutely anything. 
Let me share some examples with you. 
Let's say you have a problem with flies, or you just want to know how to get rid of flies in your home. 
You go online trying to find articles about this topic and you will end up a website like this one – How To Kill Flies.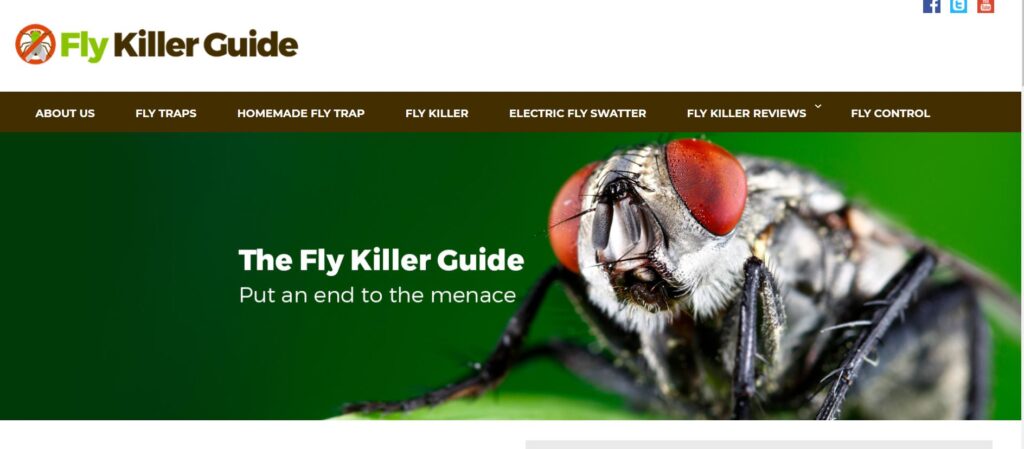 Inside the blog, you will find many articles with helpful suggestions and links to products.
Normally these products link over to Amazon and the blog owner earns a commission for everyone who buys the product. (And also any product someone buys within 24 hours)
The links over to Amazon can be in the form of a picture, Amazon ads, hyperlinks and more.
See below picture with ads at the bottom.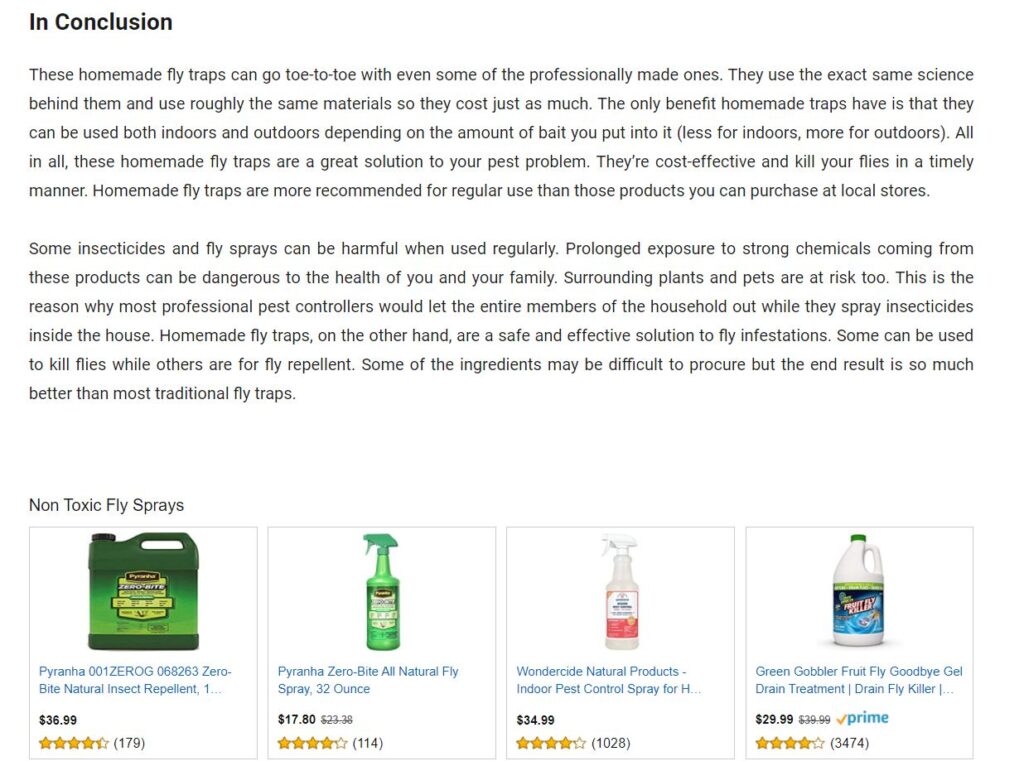 Another example would be a comparison website. 
These types of websites do very well. 
People are searching for this information every day. 
Basically, someone would go on Google and type in something like….
Best garage fans

What are the best sledges for toddlers

Laptops under 500

Cheap cameras

Christmas gifts for mum
Then it is very likely you will end up on a comparison website and ultimately end up buying something via one of these websites.
The articles are normally laid out in a top 10 format or they give you the pros and cons of each product. 
Here is an example from one of my websites that I recently bought.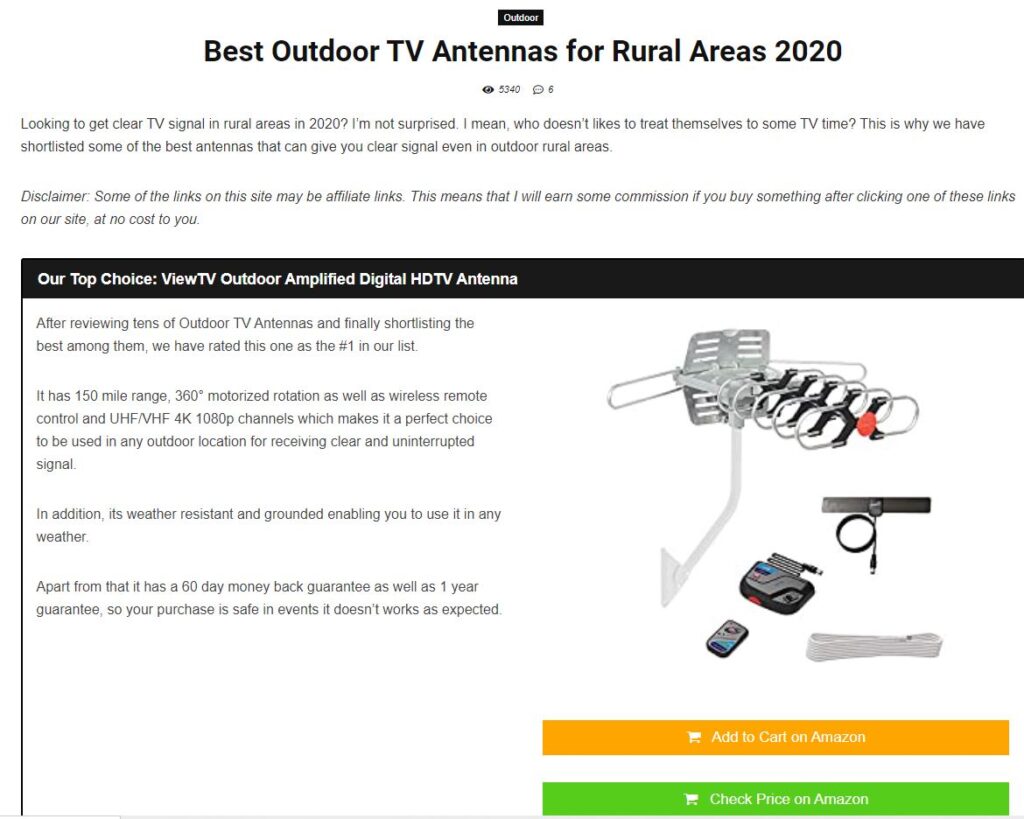 So people are searching online for information about the best outdoor tv antennas, they land on the website, see something they like and click over to Amazon. 
Once on Amazon, they make a purchase and I earn a commission. 
This is just one example of how you can make money with a niche website. 
Other ways to make money with a niche website include:
Google Adsense or other display networks.
This is where you have advertisements appear on your website and you earn every time someone sees one of these or they click on them. 
Affiliate Marketing.
The above examples just focused on Amazon associates but there are thousands of different affiliate networks you can join for free and then start sharing and recommending products. 
Also, niche websites are just one way you can earn with affiliate marketing, there are many more ways, this article on affiliate marketing shares many more and plenty of examples including how you can earn $1000+ in a day (Seriously)
CPA Marketing.
This is very similar to traditional affiliate marketing, however, you can earn money if someone completes an action. instead of buying something. 
Examples include:
Someone signs up to a trial of a product or service.

Completes a simple form.

Submits there email.

Signs up for a freebie. 
When it comes to a niche website you have two options, build your own which is pretty simple to do, if you want a step-by-step guide to building your own blog check out this article – How To Start A Blog.
The other option and something I have been doing a lot lately is to buy an already established one. 
This means you can miss out all the writing yourself and just start earning from day one. 
The below video shows you exactly how this all works and I also share some examples including earnings and where you can find these websites for sale. 
I hope that all made sense for you?
If you have any questions leave them below and I will answer within 24 hours for you.
Resources For Niche Websites.
A website we covered in the video was Wealthy Affiliate. 
This platform is focused purely on building websites to make money online with affiliate marketing.
One of the things I love about the platform is that anyone can start for free and it walks you through the entire process.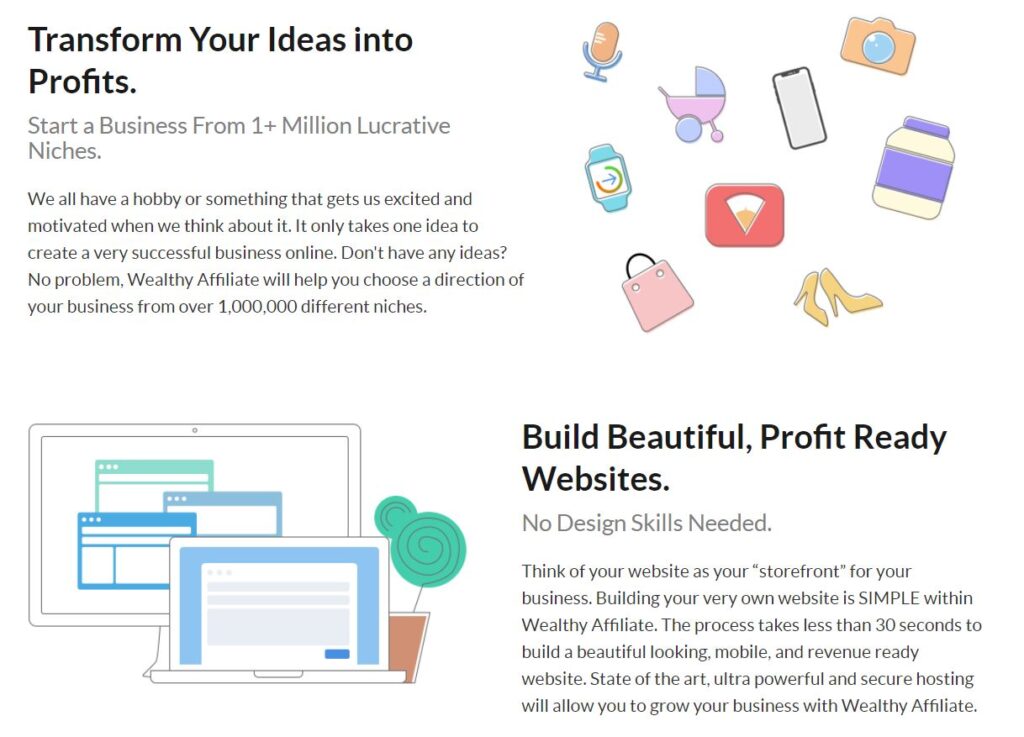 Plus it comes with lots of training and very in-depth videos to get your first niche website up and making money.
>>> CHECK OUT WEALTHY AFFILIATE
Another resource I have for you is a website called Buy, Sell, Text 
If you like the idea of creating a niche website but are not that keen on writing then these guys take care of everything for you.
I have used this website on a number of occasions to create blog articles for me and the writers are awesome. 
Plus compared to many other websites not only are they cheap but the quality of the articles and speed which they get delivered to you is very good. 
You simply give them your keywords for your article and they take care of everything else.
Not only will they do keyword research, they create the article for you and also include relevant, royalty-free images into your content.
Finally, they also include references, meta description and titles to use.
>>> Check Out Buy, Sell, Text 
2 – YouTube Thumbnail Creator.
I stumbled across this side hustle about 6 months ago when doing research for an article.
Surprisingly this side hustle is very in demand and the amount you can earn is quite a bit.
Plus you can do this without any experience or design skills. 
There are many software's available and you can now create a stunning YouTube thumbnail very quickly. 
When I first started on YouTube I just used some of the free softwares to create my thumbnails.
More recently the software I use and love is called Thumbnail blaster and it is designed purely for creating thumbnails.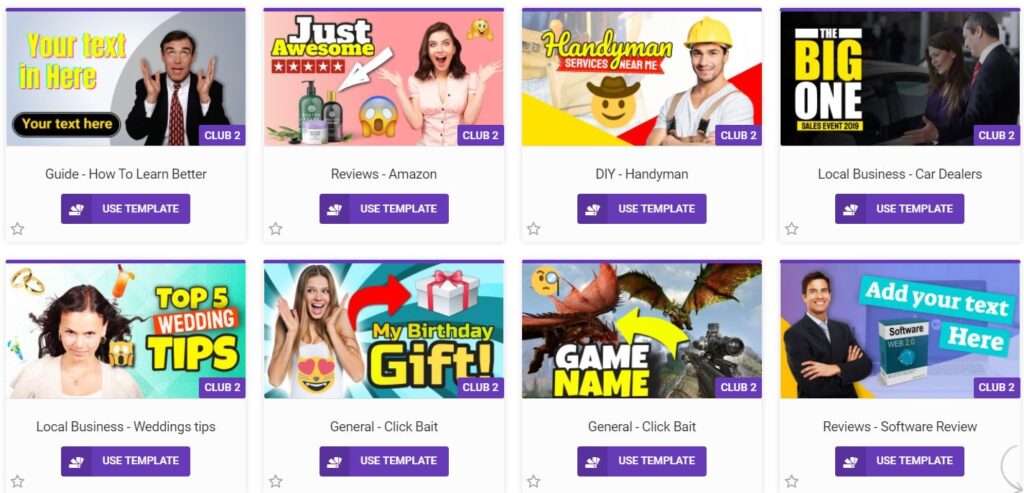 It is packed with awesome features and the cost is ridiculously cheap for what you get.
Plus it is cloud-based so you do not have to download anything. You simply pick one of the many templates included and then start creating.
Some free software's include:
Once you have one of the software's available simply head over to a freelancing website and browse jobs.
There are many available, the below video walks you through this great side hustle and how to get started.
Resources For Becoming A Thumbnail Creator.
First is this article 7 Tips To Create YouTube Thumbnails That People Click On. This article covers some of the most important parts of creating thumbnails.
Next is the software I use called Thumbnail Blaster.
If you want to create stunning thumbnails very quickly with lots of options using a very simple drag and drop software this is the best available. 
3 – Affiliate Marketing.
In hindsight, this should have been number one in the list.
Why? Because out of every side hustle I know and have done to date this is, without doubt, the best.
Not only can you earn life-changing amounts of money in one day but also the flexibility you have with affiliate marketing can take this side hustle into a thriving full-time gig. 
And if you set this up correctly it can become a truly passive income.
Real-life example below which I shared with my Facebook group….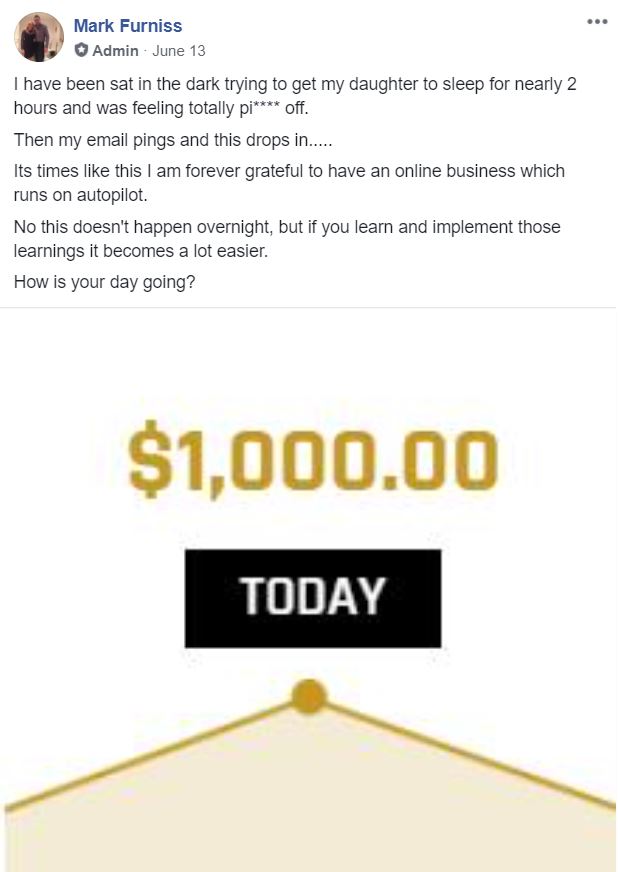 What is affiliate marketing?
In its most basic form, affiliate marketing is where you refer someone to a website, product or service and when they purchase you earn a commission of that sale.
(I hate the word commission, it sounds very salesy to me)
You do not need to become a super aggressive salesperson at all, nor do you need to put pressure on anyone to buy a product. 
Instead, with affiliate marketing you actually have people coming to you in an indirect way. 
Remember the niche website from earlier? This is done using affiliate marketing. 
And this is just one example.
There are so many ways you can earn money with affiliate marketing. 
Here is an example of how to start with affiliate marketing.
1 – Find a product or service you would like to make money from. 
You can join platforms like Amazon, Etsy, eBay and thousands more.
2 – Create content about that product.
This can be done in a number of ways, Instagram, YouTube, Blogs, Websites, Pinterest and more. 
3 – When someone sees your content, clicks a link and makes a purchase you then earn a commission. 
This can be something small using platforms like Amazon or life-changing amounts with some high ticket affiliate programmes. 
Here is a video I share showing examples and also some of my earnings.
Resources For Affiliate Marketing.
The first resource I have for you is this article I wrote which shows you lots of different ways to get started with  Affiliate Marketing: How Lots Of Ordinary People Are Making Thousands Sharing Products.
Next is a challenge that I took and it helped me go from earning a few hundred each month to thousands.
This is basically a course, but nothing like I have ever taken previously and at $7 (about £5.50) I was incredibly surprised at what was inside. 
It teaches you how to build an online business that earns high-ticket commissions marketing valuable products people already want to buy and are actually looking for.
Not only this but after each day you need to complete mini assignments before you move on to the next day, plus it comes with a huge Facebook group, a complete business plan, lots of support and a 30-day money-back guarantee.
Everything is included for just $7!
This is what it looks like inside the course….
>> CHECK OUT THE 15 DAY CHALLENGE HERE <<
The last resource is an eBook called The Insiders Guide To Affiliate Marketing.
This book is drastically different from anything I have read before because there is no fluff!
Plus, it is very easy to read and follow along with.
And at a little over 70 pages, you can read this in an afternoon.
It costs less than $2 which is an absolute bargain.
Finally, You can also grab my free affiliate marketing course below. 
This is something I charge for and still do in some places, but as a reader of this blog, you can get it totally free today.
4 – Automated Forex Trading
I really ummed and ared about including this one.
But like most things on this blog and my YT channel I like to share what is working for me and others, so this has to be included. 
Let me make it very clear, I know little to nothing about Forex trading, however, I know about side hustles and making money online.
When I was looking at adding a new side income I got chatting to a chap over in the facebook group Side Hustle Nation.
He explained that he was creating a software that made trades for you in the forex market. 
This peaked my attention because anything I can automate is a luxury and especially if it can actually make money. 
Most of the time when it comes to automating anything it turns out to be a waste of time. 
But after lots of research and grilling him with my questions I jumped into the beta testing group. 
In the first 4 weeks of using the software, I made over $500! (£380)
Doing Nothing!
It sounds like utter nonsense doesn't it? 
However, I can assure you it is very real and I shared this video showing my results, how it works and other peoples results too. 
Resources For Automating Forex Trading.
Since I first started with this software I have documented the whole journey. 
To date I have written two articles, here is the first one – Azha Trader 6.0 and the second article is linked at the bottom of this one. 
Or if you want to jump to the most recent article you can do so here – Azha Trader Results. 
Do I use this software? Yes
Would I recommend this software? Yes
I have now been using this for nearly 5 months and have made over $3,000 doing absolutely nothing. Everything is shared in the articles above for you.
As the account balance has grown so have the daily profits.
Yesterday I had the best day ever with the software, see below which I shared in the facebook group.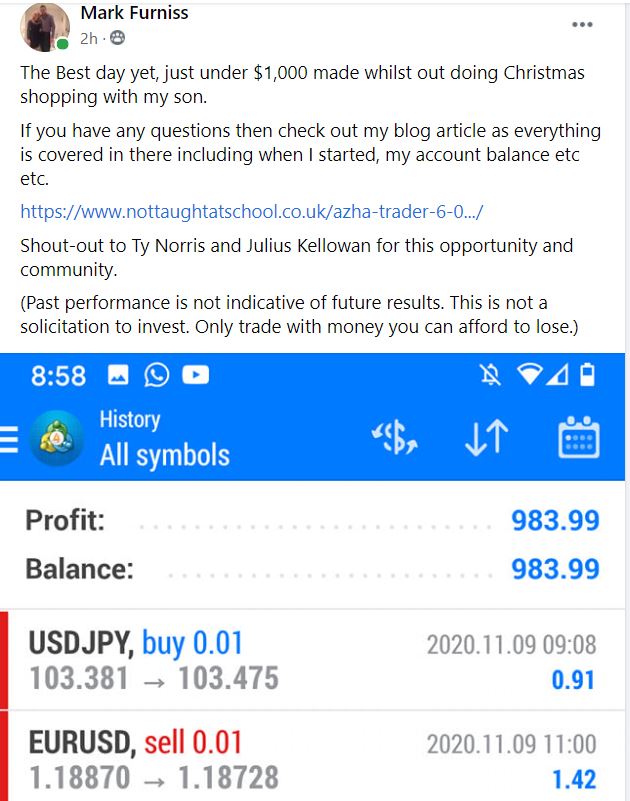 >>> CHECK OUT THE SOFTWARE HERE
5 – Take Part In Research Groups.
This is a great side hustle and you can make some decent money too. 
You can take part in online research groups to help business owners, marketing teams, development companies and more.
How can you get paid to participate in research groups?
You get paid in a number of ways and these include some of the below.
Visit a website and give feedback,

Share your routine (Something like your skincare regime, fitness etc)

Give your opinion

Test new products

Focus groups and much more.
Here is a video showing how this all works.
Resources For Research Groups.
There is only one website I can recommend and that is because I have been a member for a number of years now. 
Plus they work with some of the biggest names around. And the amount of money you can earn is very good for your time.
>>> Check Out Respondent.
6 – Dropshipping.
This is something I first came across about 15 years ago and I couldn't believe it was even a thing. 
Dropshippers sell items which are not theirs. They never see the product or even have to mess around with postage. 
The whole process is very simple. 
You find products you want to list on places like eBay, Amazon, Etsy, your own website etc
Once you have found a product you then put it up for sale. 
When it sells you send the order to the drop shipping company and they take care of everything for you. 
The money you make comes from what you charge your customer and how much you pay the drop shipping company. 
There are many places you can start selling products today which include the following:
Facebook

eBay

Amazon

Etsy

Your own website.

Shopify
Some of the benefits of dropshipping include:
Little or no investment required.

Work anywhere you like.

At any time.

Huge product selection.

Very easy to maintain.
Here is a video I shared about Dropshipping and how it works.
Resources for Dropshipping.
The first resource is this article – How To Make Money Dropshipping Products. It walks you through the whole process.
Next, we have AlidropShip which I covered in the video.
This website is 100% dedicated to dropshipping and it offers plenty of resources to help you from day 1.
Plus it is very simple to use and get started with.
The software will build you a complete store with everything ready to start selling straight away.
Features include:
Fully-automated order fulfilment for sales 24/7

Set your profit margins exactly where you want them

Easy to install and customize your very own website

One-click import of top-selling AliExpress products
The website also offers a done for you package where they set everything up. This takes less than 48 hours.
I recently invested in one of these websites for my son and the store looks brilliant.
Everything was done for us including, product descriptions, pictures, customer reviews and much more.
Below is a screenshot from his website.
The upkeep on this website is very minimal, most of the process is automated making it simple to keep up with.
Click here to check out AliDropShip. 
Finally, I have this complete course on dropshipping which I recently purchased.
It comes complete with step-by-step simple to follow videos and PDF'S, and it also comes with a new software that will build you a complete dropshipping website.
Also included within the course are case studies, a support group and lots more.
Below are some of Simons sales made using dropshipping. 
How he earns this amount is all covered inside the course and what I really liked about the training is nothing like the countless videos you see on YouTube. 
He shares some really cool methods to get traffic to his stores and this is all done while he is away travelling. 
7 – Creative Side Hustle – Sell Printables.
This is an awesome side hustle to start with and another which once you set up correctly it runs on autopilot. 
Plus, once you have created a printable you can earn again and again from it making this a passive income.
You can create really simple printables using free software like Canva.
Once you have created a printable the next thing to do is get it listed on sites like Etsy. 
Then when your printable sells, Etsy takes care of the rest for you, including payment, delivering the printable and customer service. 
For this, you really don't need any experience or special skills and you would be very surprised at just how simple this is to set up. 
Recently I started this side hustle myself and after putting up a few listings on Etsy I had my first sale drop in whilst I was sleeping. (This took about 3 weeks for my first sale)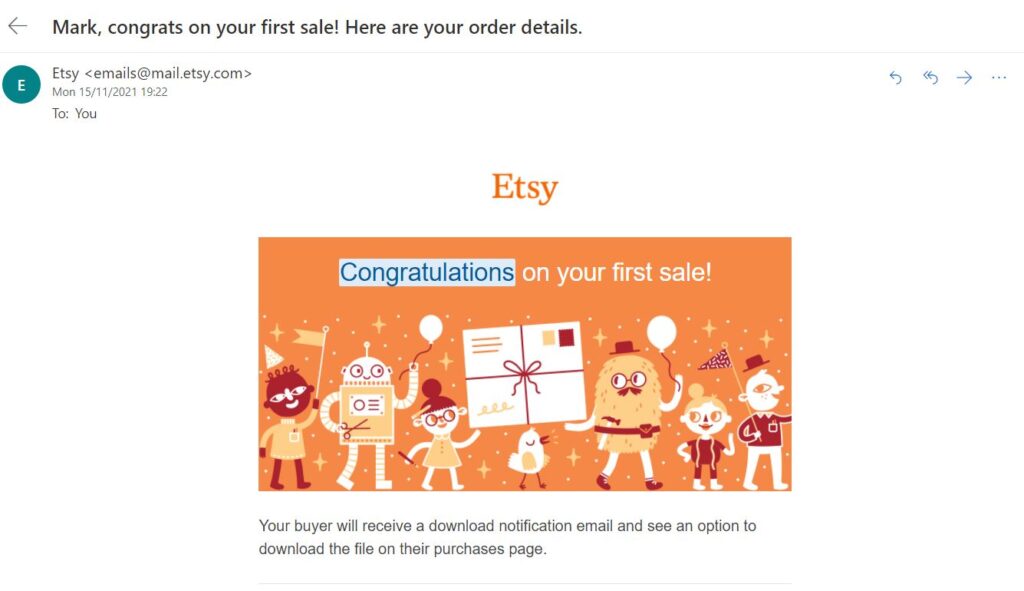 Here are just a few examples of different printables you could create.
Planners

Colouring Books

Shopping Checklists

Baby shower games

Patterns
Resources For Creating Printables.
Over the years I have bought a few courses on this side hustle and the best one is without a doubt, called Crispy Prints.  
The course is by Ike who has been creating printables and profiting with them for years.
It covers everything from start to finish about creating printables. It also comes with software built in to create your printables for you. (HUGE Timesaver) 
Another thing I like is that the course is updated regularly with new hints and tips for different types of printables. 
Plus Ike also shares several case studies for different printables, a keyword tool for doing research and so much more. 
The below printable (Which is very easy to create using this software) has made Ike over $3,000 (£2,500) in passive income to date. And it only took him 10 minutes to create this!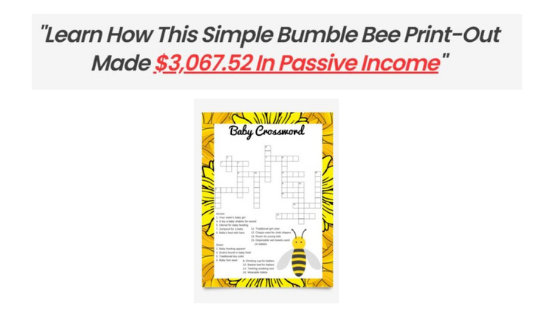 Overall this course is everything you need to know about creating, selling and profiting from printables. 
And as always, for any product I share on the blog, I have also done a full review for this product showing you inside the course and software, how much it costs and other bits. 
Check Out Crispy Prints Review
8 – Proof Reading
Do you like to read?
Have you got an eye for detail? 
If so you could start a side hustle as a proofreader. 
There is a pretty decent demand right now for proofreaders and this can fit in around your schedule as most of the demand is on a freelance basis. 
Plus there are lots of free resources available online to help you with proofreading. 
Resources for proofreading.
If you would like to start a side hustle as a proofreader or are just interested in in this method to make money from home then I highly recommend this FREE 70 minute introductory workshop.
It will point you in the right direction to getting started with this side hustle, how to find your first client and lots more.
This is what you can expect from this free workshop….
Check out the FREE Proofreading Workshop Here.
9 – Create A YouTube channel.
Please don't panic!
Many people freak out when I suggest this as a side hustle. 
BUT, did you know you can create a YouTube channel without any of the following:
Being on camera

Having to speak

Spending Lots Of Time

Lighting equipment

Expensive cameras

Experience
The key to making money on YouTube and turning this into a nice little side hustle is knowing how to get your videos to rank and also persuading YouTube to share your videos.
I grew my own YouTube channel to over 50,000 subscribers in a little over a year. 
And as the number grew so did the income from this side hustle. 
Here is a post I shared with my facebook group after I achieved my first $1,000 day from YouTube alone.
Resources for creating a money-making YouTube Channel. 
I have many articles on the blog and you can find them here  >>>> How To Make Money On YouTube.
Next, I have my very own course called YouTube Passive Profits.
Previously I offered one on one coaching.
But because of time and the number of people applying I just couldn't keep up with demand.
So I eventually created my own course.
This took 6 weeks putting everything I know about YouTube into a very simple to follow format.
It shares the EXACT strategies and growth hacks I used to build and grow several YouTube channels which generate over 6 figures a year.
Some of these channels I do not even appear in, speak or do any of the work.
I have lots of student testimonials which include Youri whose channel has just passed 100,00 subscribers.
Over the last few years, I have spent over $3,000 on different YouTube courses.
Inside my course not only do I share the learnings from these courses but I also include my own techniques, case studies, test channels and lots more.
Here are some of the things covered inside the course.
The Basics To Start Properly.

The Fast Method.

Keyword Research.

Creating Videos (Even without being on camera)

What you MUST do after you upload a video.

The Perfect Video Formula.

Money Funnels.
>>> CHECK OUT YOUTUBE PASSIVE PROFITS
10 – Flip Items For Quick Profits.
This is a side hustle I love!!!
I have flipped items as long as I can remember. 
Over the years I have bought customer return pallets, flipped items on Facebook, car boots, charity shops and lots more. 
You really would be surprised at what you can flip for a profit, and lots of the time you can do this without any money. 
Here is a screenshot from a group I am in.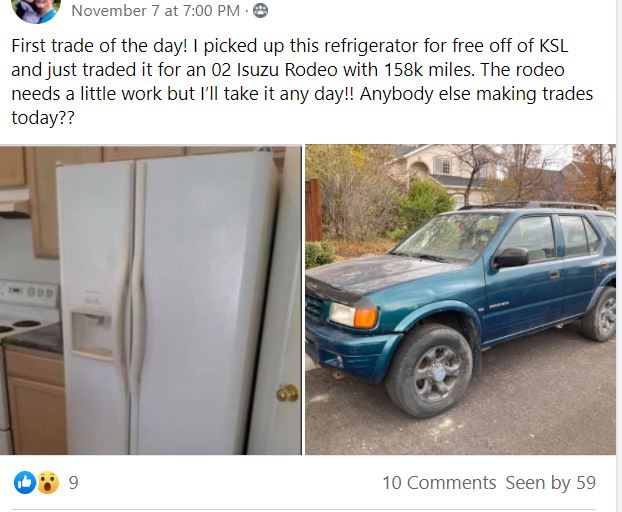 He got a fridge for FREE and flipped it for a car!
In the same day.
Resources for Flipping Products.
Rob from market flipper has created an awesome free workshop. 
He shares how you can set up a profitable side hustle flipping products in as little as two weeks.
>> Click here to check out this FREE Workshop for flipping products.
And that concludes this article about some of the best side hustles available.
Be sure to bookmark this page and come back because I will be updating it often. 
If you want more ideas to earn money from home then you will love this article – The Ultimate Guide To Make Money From Home.
Other Articles You May Like: 
How People Are Earning Thousands Sharing Products.
Real Ways To Make Money From Home,
60+ Ways To Make Money From Home.
20+ Real Ways To Make Money From Home.
Final Thoughts On Side Hustles To Make Money From Home.
Hopefully, now you have read this article and watched some videos you realise that side hustles are a great way to earn online and from home. 
This article has covered ten different methods and they are hundreds more. 
If you check out some of my other articles you can find many more ways. 
All my articles about making money can be found here – Earn Extra Money.
Here are some suggestions which we haven't covered yet in this article. 
Virtual Assistant

Amazon FBA

Amazon Turk

Blogging

Teaching Online

Book Keeping

Air BnB
But rest assured I will update this at least once a week so all of the above will be changed.
If you have any questions or can think of a great side hustle not covered then please leave a comment below.
Thanks for reading.
Take Care & Keep Smiling
Mark
THIS POST MAY CONTAIN AFFILIATE LINKS, PLEASE SEE MY DISCLOSURE FOR MORE INFO