Ideas To Make Money From Home.
All my life I have always looked into making money from home and online. What started out as just some simple ways to earn some extra cash have over the years taken me on a long journey of learning and hidden gems. 
Some of my earliest memories are to do with making money, such as…
Renting out my action figures at school to other kids (I actually got into trouble for this one as some parents found out there children missed lunch because they had spent the money, but in my deference, I was only 8 years old)

Delivering Papers – I had one-morning paper round before school, two after school and three on a weekend.

Dog walking – After school, I would walk a lovely older ladies dog for 50p a time.

Washing cars – In the summertime, this was a favorite pastime.

Making our own perfume with flower petals.
All of the above I did whilst in primary school (Under 11)
As I got older I moved into various other things and some of these I still do today to earn money from home.
These include:
Selling products on eBay.

Dropshipping.

Flipping Products.

Mystery Shopping.

Selling T-Shirts Online.

Offering my services on social media.

Matched Betting & Many More.
There are many reasons you might want to make money from home.
Maybe you are here because you simply just want to earn a bit of extra money? 
Perhaps you want more time at home with the family and kids?
Or maybe you are fed up with your job and are looking to replace your full-time income?
Whatever your reason for being here on this page, first off all, thank you 🙂
Second, I want to help you find something which you can get started with today to start making money from home.
I have now worked from home for just over 3 years full time and before that, I tried nearly every method to earn online you can think of.
So in this article I will share with you absolutely loads of different ways you can make money from home, I will also share my results with you and link to several resources to help you further and boost your bank account. 
Some of these ways to earn some extra money will provide you with quick cash fixes, others will take time and some will open your eyes to the possibilities of earning money from home. 
Ready?
Let's get started.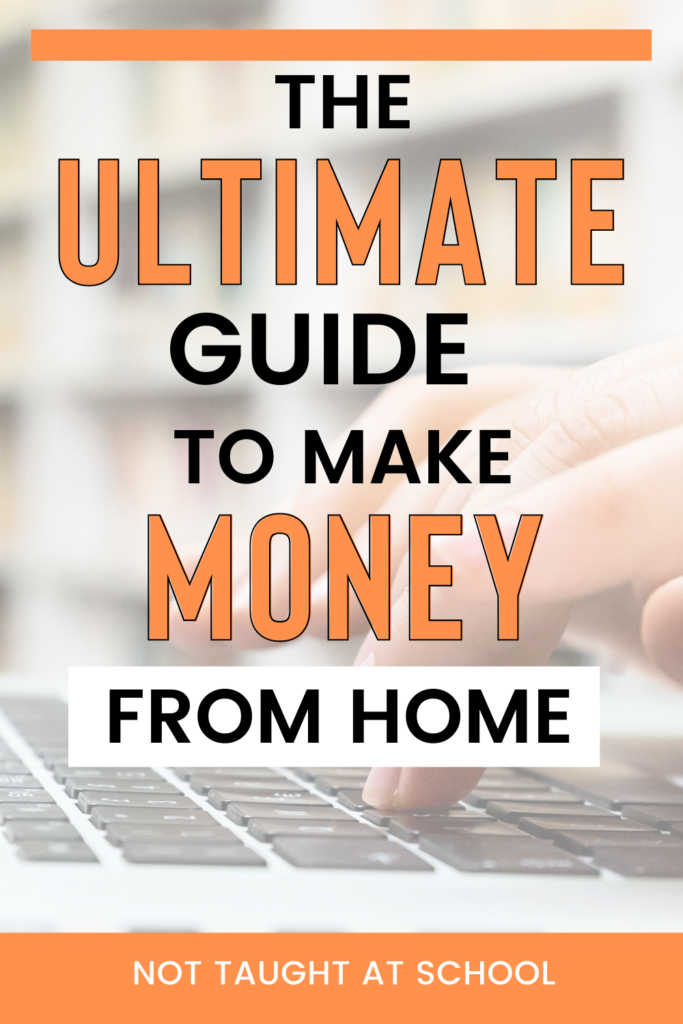 How To Make Money From Home: UK Edition
Whilst this article focuses on the UK, nearly all of these methods to earn from home can be done worldwide.
Please note that this site uses affiliate links. If you purchase something through a link on this page, I may earn a commission at no extra cost to you. Thank you for supporting my site!
Proofreading.
This is something I came across years ago now.
Proofreading is one of the best work from home jobs for many people as most of the work is done as freelance, This means you can pick projects and jobs around your schedule.
Proofreading is the process of reviewing the final draft of a piece of writing to ensure consistency and accuracy in grammar, spelling, punctuation, and formatting.
If you love words and reading, proofreading could be a perfect home based job for you.
As mentioned above proofreaders work as freelancers which means you can work to your own schedule.
You can take on as many or as few clients as you like. Plus there a number of free online tools you can use to help you with proofreading.
There is an incredibly high demand for proofreading worldwide so whether you are reading this from the UK or Mexico, it doesn't matter.
You don't need to be in any specific location to earn money with proofreading as it's all done from your computer or tablet!
How Much Can You Make With Proofreading?
Plenty! I have a couple of friends who are in this industry and they both earn over $35,000 (About £30,000 UK)  a year running this all from home.
Resources for Proofreading.
If you are interested in proofreading as a career, or simply want to start looking into this method to make money from home then I highly recommend this FREE 70 minute introductory workshop.
Not only will It help you decide if proofreading's right for you, but it will also point you in the right direction to find your first client and then how to turn this into a proper little business.
What you can expect from this free workshop….

Check out the FREE Proofreading Workshop Here.
Flipping Products.
This is a great way to make money from home and something I have done since the age of 13.
You would be truly astounded at the number of things you can buy and then flip for a profit within the same day!
I have bought so many items over the years starting with small things and eventually working my way up to buying customer return pallets from Argos, Nike and many more places.
You can even find items in the Facebook market place, charity shops and car boots that you can flip for HUGE PROFITS.
I have even bought items in the local £1 shop and sold them on eBay for £8+.
Other methods for flipping items include finding a product on eBay and then flipping the item on Amazon.
This is very simple to do and if you do some quick research using your phone you can make money very quickly.
In the past, I have sold a tent on Amazon for £140 which cost me £85 on eBay. (In fact, this would be classed as dropshipping which we will cover next for you.)
How Much Can You Make With Flipping Products?
The amount you can earn is unlimited, it will all come down to time, effort, research and money available.
I have made over £50,000 flipping products, I started small flipping items from car boots, charity shops and then moved onto buying customer pallet returns.
Another person I know called Rob made over $40,000 in the US using this exact method, when he started putting more time into this he quickly tripled his income to over $130,000.
Resources for Flipping Products.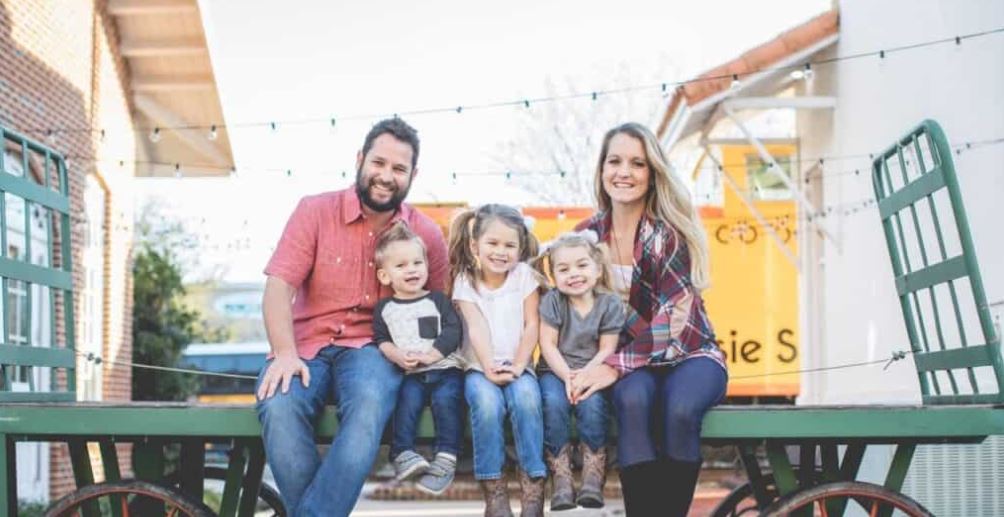 Rob over at market flipper has created a free workshop to share how you can set up a profitable reselling business – in as little as 14 days.
You can click here to check out his FREE Workshop for flipping products.
Dropshipping.
This was one of the first methods I came across to earn money online nearly 16 years ago now.
When I first discovered dropshipping I couldn't believe it and I jumped in straight away without doing much research.
What Is Dropshipping?
Dropshipping is where you sell a product online without ever physically touching the product.
Dropshipping lets you sell hundreds of products at any given time by working with a supplier that holds all the inventory and then they also ship the product for you.
When a customer places an order, you then purchase the product or products from the supplier and they ship the product directly to your customer.
You don't need to hold any inventory or ship items yourself.
See below image to illustrate this.
With this method to make money, you are basically acting as a middleman/woman, that is selling a product.
You can sell products in many places including:
eBay

Amazon

Etsy

Shopify

Facebook

Your own website.
Once you receive an order, you send this over to your dropshipping company for them to send the product to your customer.
The profit you make on every item is the difference between what you charge your customer and what the dropshipping company charges you.
How Much Can You Make With Dropshipping?
This will depend on a number of factors and how much time you put into this. When we first started with dropshipping we made just over £500 in the first 4 weeks and this was selling over on eBay.
The money you can earn can be big or small, some people start out selling on eBay or Etsy and others start with their own websites and then drive traffic to it in a number of ways.
Resources for Dropshipping.
As I have done dropshipping for a number of years and still do, I have a few different resources available for you.
The first one is this article – How To Make Money Dropshipping Products. It walks you through the whole process in a lot more detail.
The second resource is AlidropShip.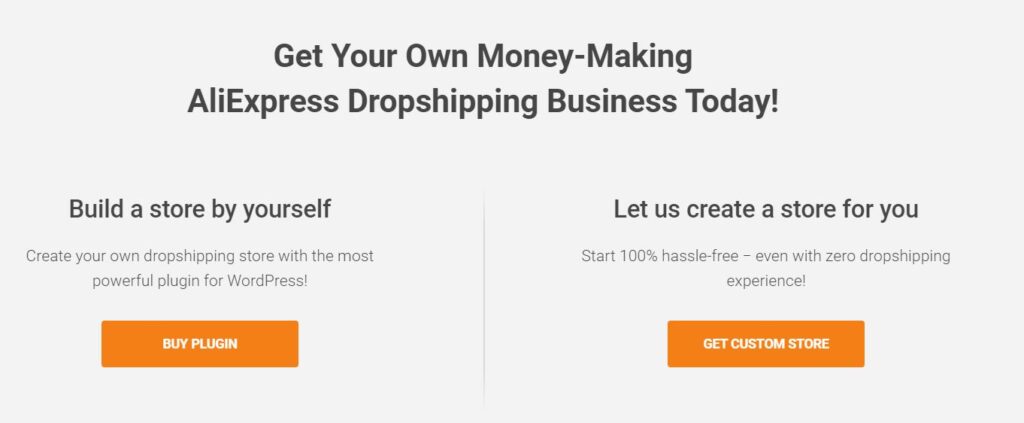 This is a website dedicated to dropshipping and offers several resources to help you get started.
What I really like about AliDropShip is the simplicity of everything and the low cost.
You can build a store yourself, but not in the traditional way as this piece of software comes with many features including the following.
Easy to install and customize your very own website

One-click import of top-selling AliExpress products

Set your profit margins exactly where you want them

Easy management and marketing with automated solutions

Choose from an array of add-ons to further boost your traffic & sales

Fully-automated order fulfilment for 24/7 sales
Or you can get them to build a full website and dropshipping store for you.

Everything is done for you and the end results is just awesome!
Recently I set my son up (Who is 7) with his own dropshipping website, as he loves playing games online with his friends he wanted a store about gaming so that is what we ordered.
After a few days, the website came back ready and it looks brilliant.
Literally, everything is done, including images, product descriptions, customer reviews and much more.
Here is a screenshot from his website.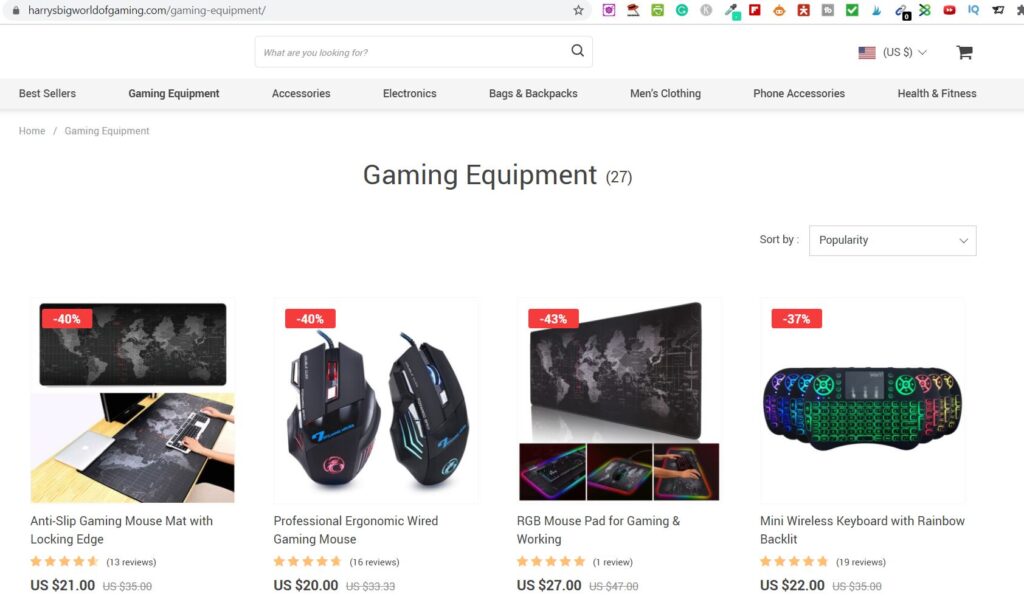 What I really like about this is that it takes minimal effort to maintain and keep up with orders, lots of the process is automated so it is just a case of copy and paste.
Click here to check out AliDropShip. 
The last resource I have for you is a step-by-step course.
I recently purchased a course on Dropshipping and I highly recommend it.
Not only does it come with step-by-step simple to follow videos and PDF'S, but it also comes with a software which builds your dropshipping website for you.
Plus it also comes with a facebook support group, case studies and lots more. The creator of this course is called Simon and he makes over 6 figures every month with this model whilst travelling the world. (Yes, he is living what some would call… the dream)
Sell Products On Amazon (FBA)
Amazon is, without doubt, the biggest online retailer at the moment and it shows no sign of stopping!
Did you know that you can actually leverage Amazon's huge international audience to sell your own products?
One of the best ways to make money with Amazon is to start your very own private label brand.
How it works:
You find a manufacturer to either create a product with your own label and branding or simply agree on a price with them for a product.
Next, you get that product sent to Amazon's own warehouses.
Finally, when a customer buys on Amazon they will fulfil the order and send the product to your customer.
This is a great way of making money at home because nearly all of the process is done for you.
As most of the work has been taken away from you it is very possible to run this business with limited hours and still make a decent income.
Sounds pretty awesome,  right?
How Much Can You Make With Amazon FBA?
This will depend on your niche and profit margins for each product, but anyway you look at this, the potential is huge.
Recently Jungle Scout surveyed thousands of Amazon sellers and the results are pretty awesome, to say the least.
Key points from this survey included:
Most Amazon sellers make at least $1,000 per month in sales, and some super-sellers make upwards of $250,000 each month in sales.
Whilst sales are good, we are more interested in profits.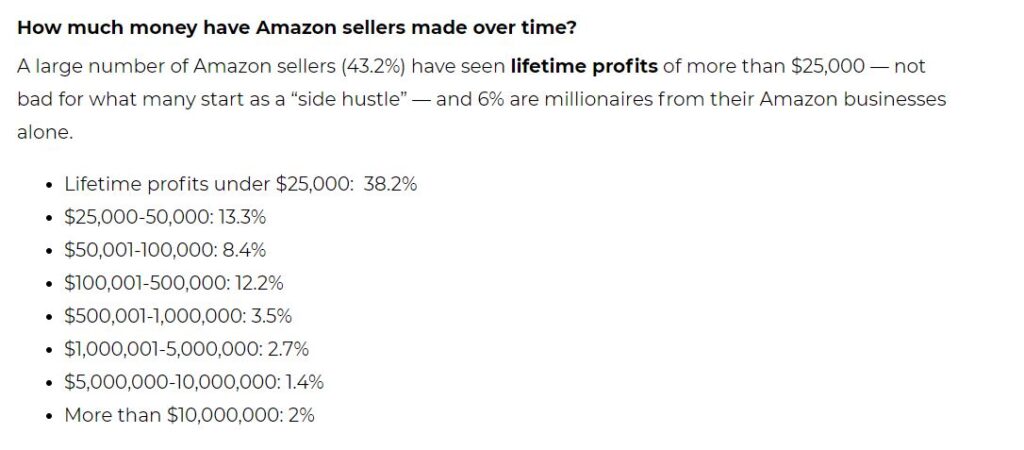 A big number of sellers on Amazon (Over 40%) have seen lifetime profits of more than $25,000.
This isn't to bad considering many claims this to be a side hustle.
And not to forget 6% are currently millionaires from their Amazon "side hustle" businesses.
Resources for selling products on Amazon FBA.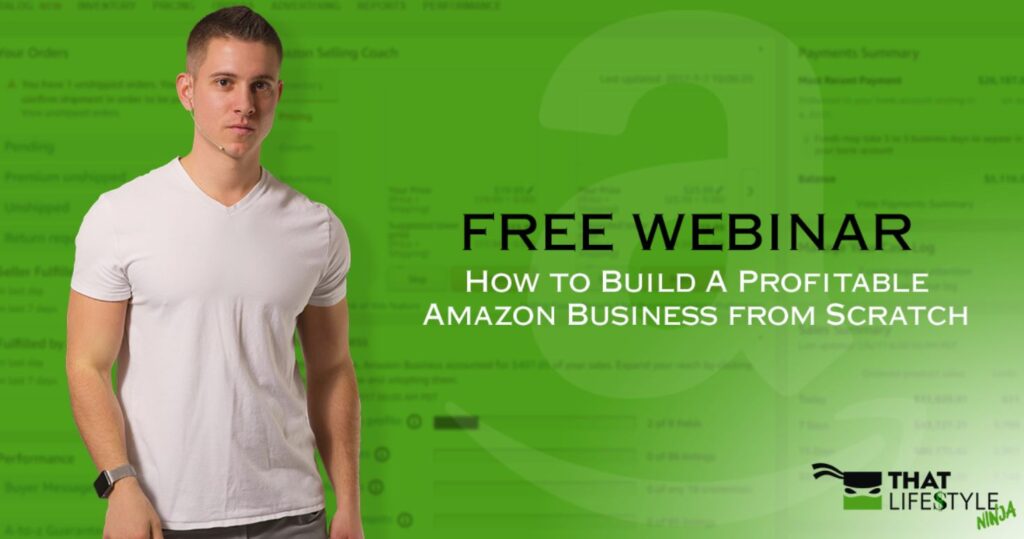 I am very happy to share this FREE Amazon Masterclass with you.
This is run by Kevin who has made over $1,000,000 with this model to make money from home.
On this training, he shares the blueprint to repeatably sell simple everyday products on Amazon as a complete beginner.
Click here to get FREE access to this Amazon FBA webinar
Creative Way To Make Money Online – Sell Printables.
What do I mean by printables?
Printables are digital products that someone can download and then print out at home.
When it comes to printables there are thousands of products you can create and here a few different examples.
Shopping checklists

Baby shower games

Printable quotes for walls

Patterns

Planners

Labels

Seasonal Placemats (Like Christmas / Easter ETC
This is one of the simplest and easiest ways to make money from home, plus this actually becomes a passive income because when someone buys one of your printables these can be delivered digitally.
Basically, your customer gets a download link to your printable after they have purchased, so once this is set up, it runs on autopilot.
People are making thousands with printables each month on many platforms.
You can sell printables on Amazon, Etsy, eBay, your own website or blog and many more places.
Selling printables is great because you can start making money without any experience, or design skills and it is very easy.
Plus, once you have created it, then you can sell it over and over again.
If you want more ideas for selling printables head over to this page on Etsy.
How Much Can You Make With Printables?
You can earn a very modest income and then you have people earning £30,000 every year with this method. 
After speaking to several people who create printables everyone has the same piece of advice, create and upload as many as you can.
As you add more and more listings to your online shop, you're exponentially increasing your potential monthly income.
Steps for creating printables?
Think of an idea for a printable.

Create your printable – You can use sites like Canva.
Open a store on Etsy and upload you're printable. (Or create your own store using wordpress)

Once it is up for everyone too see, the next step is to share your link to the product.

Then once someone buys your printable they get a download button to get access to it.
Resources for selling printables.
There are a number of courses available for selling printables and I have paid as much as $300 for one before.
The one I recommend to you today is by Ike who has been creating printables and profiting with them for years.
Plus the price of the course is ridiculously cheap for what you get.
Ike sells baby shower printables and over the years has built up a very nice passive income stream.
His course covers everything you could ever need to make money with printables. Also, it is updated regularly with new hints and tips. 
Below is just one of his printables that has made him over $3,000 (£2,600) in passive income and it took him less than 5 minutes to create this.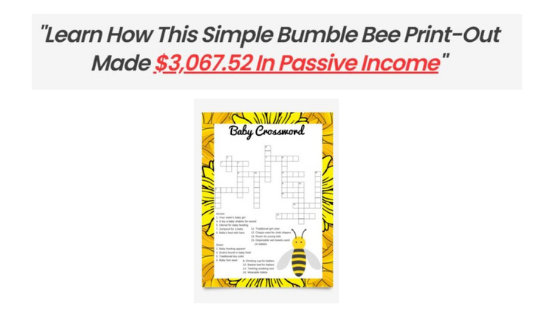 I have purchased this course/software combo myself and also shared a full review of everything included which you can see below. 
Check Out Crispy Prints Review
Publish a Kindle Book.
Did you know that you can publish very simple to create eBooks and sell them on platforms like Amazon?
Also, you can do this using free tools and like printables above, once you have done the work and listed the book on Amazon you can start earning a passive income.
The great thing about this method is that you do not need any money or skills to get started with this.
You can use free tools like Canva to create your book.
Now, when I say book I do not mean a novel or a 20,000-word book.
I mean you can create low content books and publish them. You can even create a book with no content!
What are low content books?
This article over on wordcounter explains all about no content and low content books.
A low content book is one that contains some written content, but far less than one would find in a typical book. A journal that had inspirational quotes on each page would be considered a low content book. A day planner with the days of the week and months listed would be another example.
I have dabbled with this previously and moving forward it is something I will be focusing more time and effort into because of the potential.
You can create lots of books in many different categories and niches.
Some examples include:
Puzzle Books

Daily Planners

Log Books

Dot Grid Journals

Guest Books

Bullet journals

Coloring books
Creating low content books is an excellent way to start generating a passive income because.
They take very little time to create.

You can start with zero technical knowledge, writing or design skills.

They require little to no up-front investment.

You don't need to be making trips to the post office every time one sells.
How Much Can You Make With Low Content Books?
How many books can you create?
From a few interviews, I have done and seeing people share results in several facebook groups it comes down to numbers, the more books you put out the more you can earn.
Realistically this can be a nice side income or a full-time gig.
Resources for creating low content books.
Something I recently purchased is a software called Designnr and it is incredibly cheap!
This makes the whole process of creating these eBooks incredibly simple.
Create Ebooks in Minutes

100 Project Templates Included

720 Google Fonts

Unlimited Copyright Free Images

Publish Unlimited Ebooks

FREE Commercial license

Incredibly Easy To Use
The below video shows you the software creating an eBook and just how simple it is to use.
Finally, here is a video I shared on YouTube showing you how to get started with creating puzzle books.
These are also low content books and sell very well.
Affiliate Marketing.
This is without a doubt (In my opinion) one of if not the best ways to make money from home and online.
Affiliate marketing is where you can earn money by simply recommending a product or service.
Have you bought something lately that you love and then told your friends or family about it?
Did you know that it is very likely you could be earning money from recommending this product or service?
Well, you absolutely could and there are literally thousands of companies who will pay you to send them customers.
This includes some of the following companies (But also thousands more)
Amazon

eBay

Etsy

Udemy

Tesco

Argos
This amount of money you can earn from recommending or sharing a product can range anywhere from £1 all the way up to £10,000 and more.
The whole concept is very simple.
You join an affiliate website or platform and then share products or services to earn commissions.
Once you have joined one of these affiliate networks how do you share the products?
This can be done in a number of ways and here are a few examples for you.
Blogging

Niche websites

YouTube

Sharing on social media sites like Facebook, Instagram and Twitter

Answering questions on Quora

Creating a pin on Pinterest.

Sending an email

Advertisements
The best thing about affiliate marketing is that you can earn very good money for sharing products or services you like and use.
Also, commissions you can earn become a passive income if you set this up correctly.
How Much Can You Make With Affiliate Marketing?
Genuinely life-changing amounts of money.
I recently shared this in my facebook group…..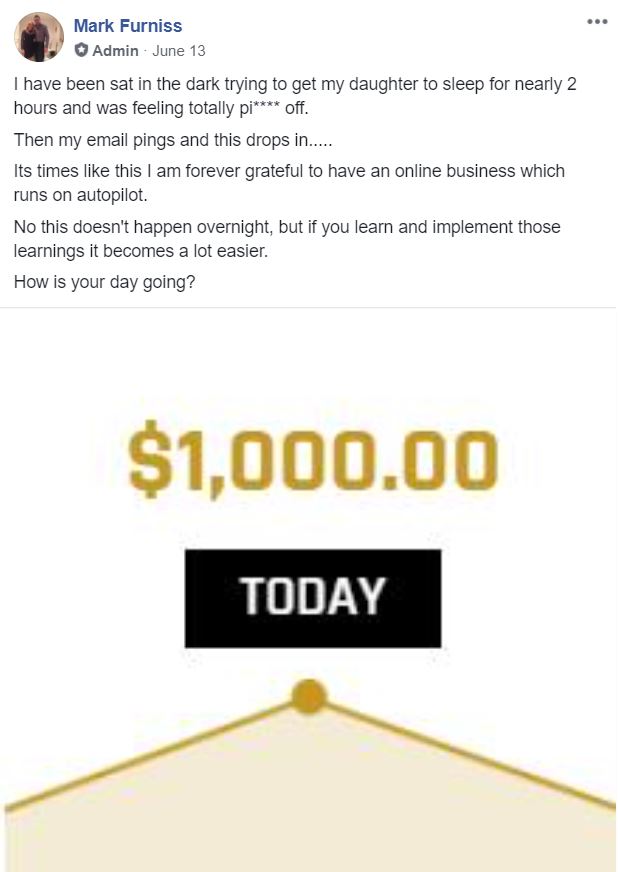 This was from just one affiliate platform, there are many more I am a member of.
The above was from a few months ago now so let me share some recent earnings with you.
Like this morning, I managed to earn $145.32 in 16 minutes and I was having breakfast while this dropped into my account…..

Here are a few more which came in shortly after the above…..

Please know, I am not sharing this with you to gloat or brag, but instead, show you what is achievable with affiliate marketing.
If anyone would have told me before that you could earn over $1,000 (£770) in a single day I would have thought they were completely crazy.
Yet you absolutely can do and in affiliate marketing circles this is classed as very low end, I personally know people who are earning $5,000 per day (I know, ridiculous amounts of money isn't it)
Resources for Affiliate Marketing.
If you want to learn how to make money with affiliate marketing then I highly recommend this for you.
You will learn everything involved with affiliate marketing and it is the same 15-day challenge I took which has helped me go from a few hundred each month to earning thousands.
You do not need any experience or special skills to start making money online with affiliate marketing and this course (which is incredibly cheap $7) will show you absolutely everything step-by-step.
If you have wanted to start your own online business or simply want to see how affiliate marketing works then this is the course for you.
>> CHECK OUT THE 15 DAY CHALLENGE HERE <<
One of the best books I have read on affiliate marketing is below for you and it is incredibly cheap! It costs just $1.99 so about £1.50 and it covers everything from start to finish.
I also have a free course you can check out if you like.
This covers quite a bit and by the end of it, you will have a firm understanding about affiliate marketing, how and where to find products and finally how to share them correctly.
Here is how it looks inside this course.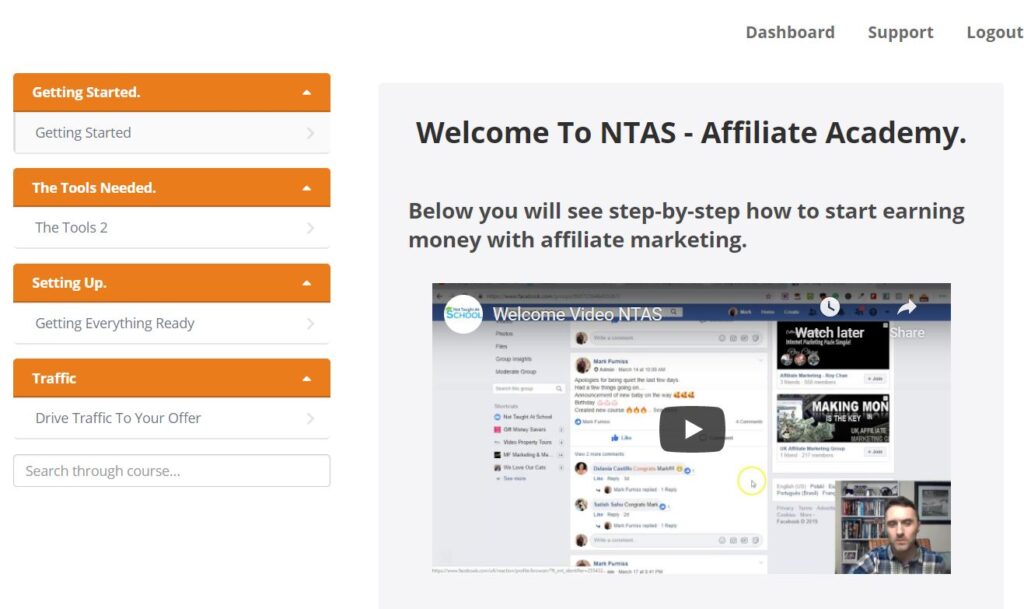 Finally, I have written an article which you may find useful called – Affiliate Marketing: How Lots Of Ordinary People Are Making Thousands Sharing Products.
YouTube.
YouTube is a great way to make money from home. And please don't freak out if the idea of being on camera puts you off because you can earn money from YouTube without……
Being on camera

Having to speak

Lighting equipment

Expensive cameras

Experience
The key to making money on YouTube is knowing how to get your videos ranking but also getting YouTube to share your videos for you. Lots of people fail with both of these and give up.
But the good news is that both of these are very simple to do.
I grew my YouTube channel to over 50,000 subscribers in a little over a year.
This article shares my journey on YouTube and some tips for you.
How to get more YouTube subscribers fast.
How Much Can You Make With A YouTube Channel?
First, it is worth noting there are several ways you can earn money from a channel.
This includes some of them below.
Paid advertisements

Sponsored videos

Product reviews

Affiliate marketing

Merchandise & lots more.
The first way to earn is with paid advertisements, however, you can only start running adverts on your videos once you have hit the YouTube partner programme requirements. 
This can take some time as you need 1,000 subscribers and also 4,000 hours of your videos being watched. So before you achieve this it is a good plan to start monetizing from day 1.
A good place to start is with affiliate marketing.
You can find thousands of products that you can start sharing, making videos about and make money from.
This can be done is so many different ways.
I remember the first time I earned over $1,000 in a day from my YouTube channel, it was just crazy and I kept checking my earnings every hour.
At the end of the day, I shared this post in my facebook group.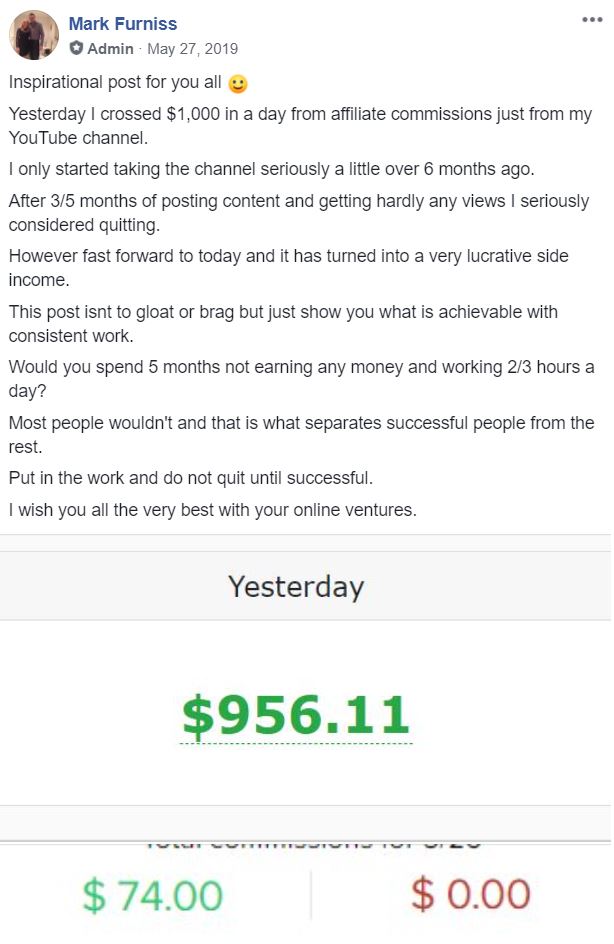 At the start of my YouTube journey, I was learning daily and also purchasing many different courses to understand the platform better and learn how to grow quicker.
Knowing what I do now, earning money with the channel and growing could have happened a lot quicker.
I very nearly quit YouTube through frustration but I kept learning and implementing what I learnt, fast forward to today YouTube brings in a very passive income.
Lots of the videos I uploaded over a year ago are still bringing in money from paid adverts running on them and also affiliate marketing.
Resources for YouTube.
I have a few different options for you including, how to get started without ever recording a video yourself which is pretty cool.
First, you can find all my articles here >>>> How To Make Money On YouTube.
Next, I have my very own course.
Previously I offered one on one coaching but because of time and the number of people applying I just couldn't keep up with demand.
So I spent 6 weeks putting everything I know into this course and it shares the EXACT strategies and SEO growth hacks I used in the last 12 months to build and grow several YouTube channels which generate over 6 figures a year.
Also, I have several student testimonials which include Youri whose channel has just passed 100,00 subscribers.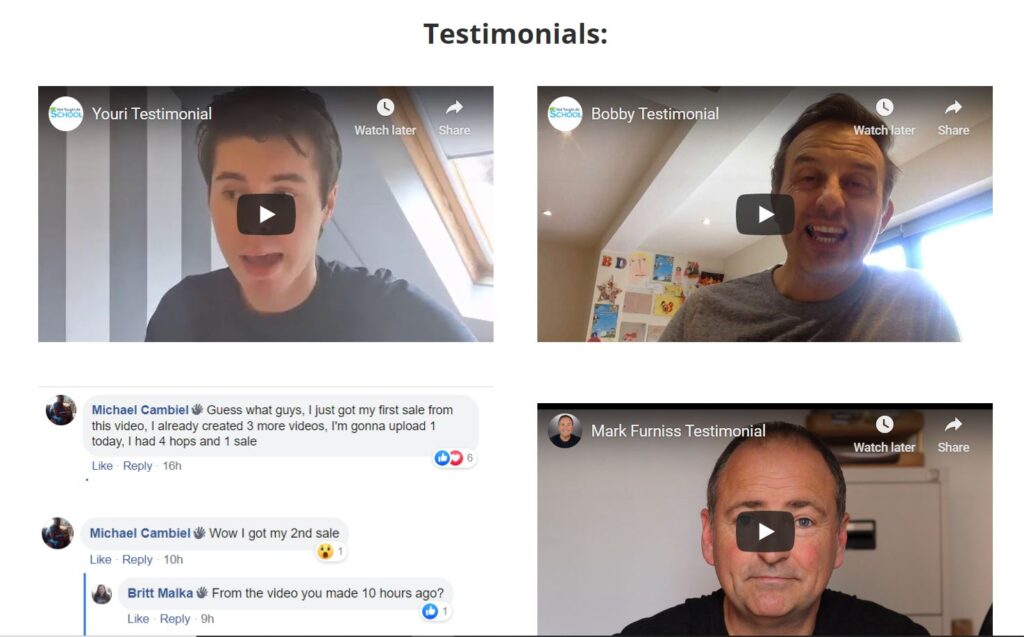 The course is broken down step by step and it includes everything I know about earning money from YouTube.
In the last two years I have spent over $2,600 on several YouTube courses and inside my course not only do I share the learning from these courses but also my own techniques, several case studies, test channels and even my son's channel.
We also cover lots of very important things which people overlook when looking to make money on YouTube.
Here are just a few things covered inside the course.
The Basics To Start Properly.

The Fast Method.

Keyword Research.

Creating Videos (Even without being on camera)

What you MUST do after you upload a video.

The Perfect Video Formula.

Money Funnels.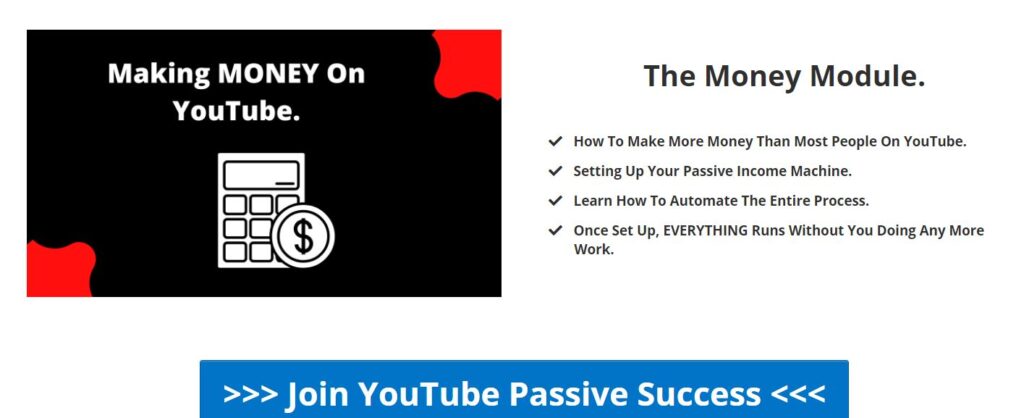 Blogging.
Blogging is another great way to make money at home and online.
It does take and time and effort in the beginning but once your blog is up and running it gets easier over time.
You can start a blog very quickly and have it up on the internet for everyone to see in the next hour.
I have written a full guide on How To Start A Blog.
A question I get asked all the time is this….what do I blog about?
Many people love the idea of creating a blog but they are unsure about what to write.
When it comes to blogging the best questions to ask yourself are….
What are you interested in?

Do you have a hobby?

Do you have a particular skill?

Are you knowledgeable about a certain subject or topic?
Once you narrow this down you can start to get an outline for your blog and understand what niche or category you are going into.
This is very important so you understand who your target audience will be and another couple of questions to ask yourself are these.
How passionate are other people about your topic?

Can you make money from the topic you plan to cover?
There are thousands of blogs out there in so many different categories and niches, if you are struggling to think of a niche or topic that you could write about then have a look at this image which I found other at Blogging Wizard.

Once you have decided what your blog will be about the next thing is writing the articles.
But not in any old way, you need to structure your blog content in a way search engines (Google, Bing etc) like, so they can understand exactly what the article is about and how to bring it up in search listings.
This is known as search engine optimization or SEO.
The best explanation for SEO I found over at Search Engine Land.
SEO stands for "search engine optimization." In simple terms, it means the process of improving your site to increase its visibility for relevant searches. The better visibility your pages have in search results, the more likely you are to garner attention and attract prospective and existing customers to your business.
So you need to structure your blog articles correctly and include your chosen keywords to try and get them ranking in the search engines.
Think of Google or Bing as a reader who is skimming your blog post to understand what it is all about.
An example for you.
Let's say we are writing an article about "how to lose weight quickly ", we would look to answer this question within the post.
We would start with "How to lose weight quickly" as the header or title, we would then include variations and answers to this question in the post with something like 5 quick tips to start losing weight, other ways to lose weight fast etc
Some quick tips for you to include in your blog post would be.
Keyword in the URL of the blog post

Include headings and subtitles with your chosen keywords.

Answer questions within your blog post.

When adding images to your post include the keyword in the file name for the photo and also use the "alt text"

Use tools like Google Trends to find other keywords related to your original search term.

Include these keywords in your article.

Always include keywords in the meta description for each blog post (This is basically where you sum up your blog post)
How Much Can You Make With Blogging?
The amount you can earn is unlimited, there are blogs out there earning over $100,000 a month. Some of these started as little as 4 years ago.
Some examples include Making sense of cents, create and go and many more.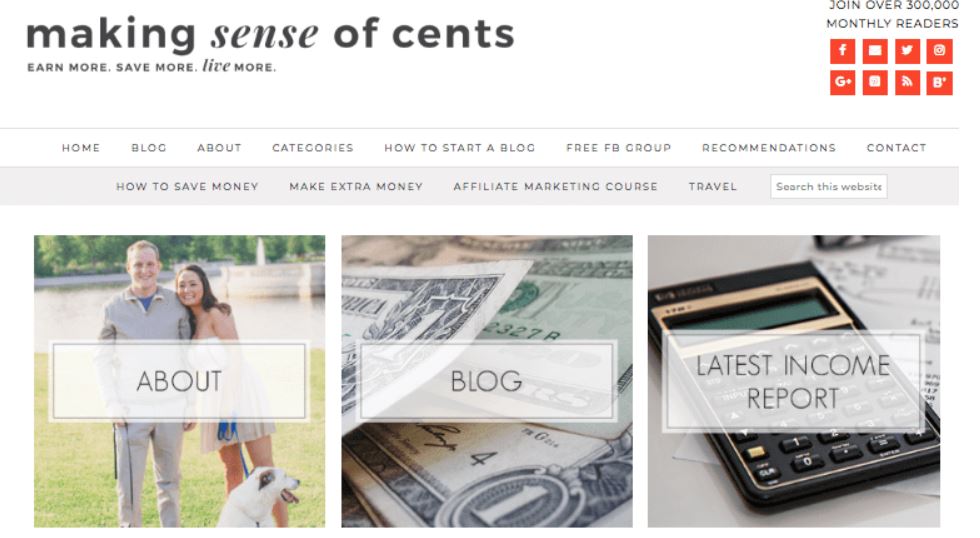 All of these blogs earning ridiculous amounts of money have one thing in common.
They started the blog (obviously) and once they started getting some traction they all then created online courses showing others what they were doing.
These courses sell ranging from $200 all the way up to $1,000.
How can you make money with a blog?
There are lots of ways to monetize your blog and some examples include:
Affiliate marketing – where you promote or share other people's products and receive a commission every time someone purchases.

Banners or advertisements – Companies will pay you to share these on your blog.

Sponsored content and articles – These are normally adverts in the form of a paid-for article or guest blog post.

Sponsored social media posts – Once you have a strong social media presence attached to your blog then you will be very attractive to brands and companies who will pay you to share content on your Facebook page, Instagram account, YouTube, Pinterest etc
Resources for making money with a blog.
If you want to start your own blog then I have written a full guide for you that walks you through the entire process.
Click here to see how you can start your own money-making blog today. 
Free Blog And Training.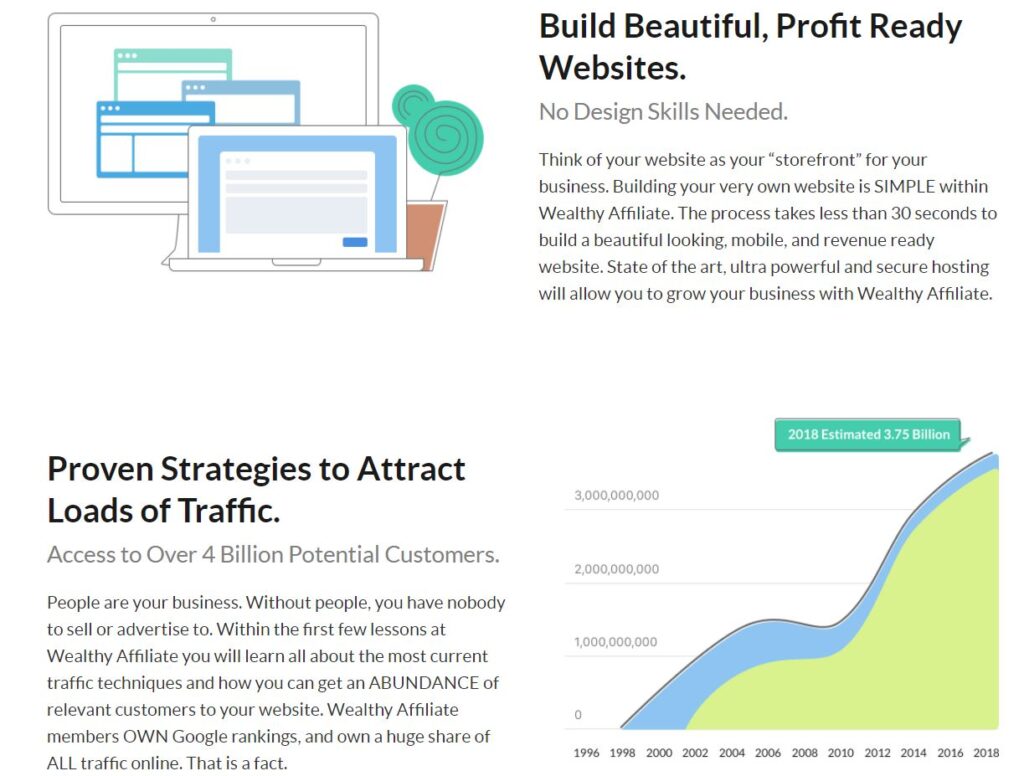 If you like the idea of starting a blog but don't know where to start then I highly recommend a platform called Wealthy Affiliate. 
Not only will you get a free blog but they also have lots of free training, a huge community inside the website and lots more to help you get started and grow your blog. 
>>> CHECK OUT WEALTHY AFFILIATE
Paid Blog Course.
One of the best blogging courses I have taken is from a fellow brit called Emma.
She has won lots of awards for her blog and when she released her course Turn Your Dreams Into Money I bought it very quickly.
This is jam-packed with everything you need to know about blogging and how to become successful with it.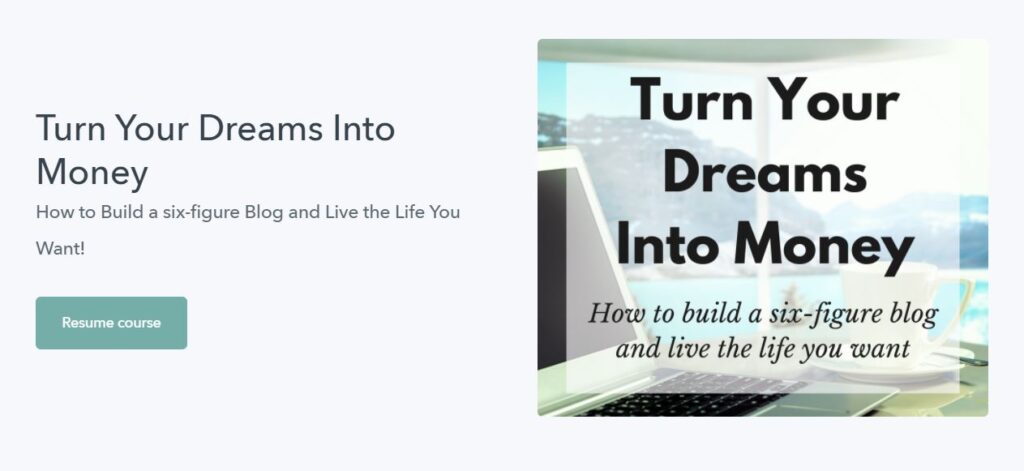 Here are just a few things you will learn inside the course:
Before you start – tutorials for brand new bloggers.

Laying the Foundations For A WILDLY Successful Blog

Protecting Your Blog

Writing kick-ass blog posts

Images For Your Blog

How to get traffic to your blog

Becoming a social media whizz

Growing & Serving Your Tribe

The business of blogging

Make Money With Sponsored Posts

Making Money With Affiliate Marketing

Make Money From Adverts

Products To Sell

Make Money As a Brand Ambassador

How To Continue Growing Your Business
Freelance Writer.
A freelance writer is someone who is self-employed and create content for others.
There are lots of different opportunities available with freelance writing and that is why many people like this method to make money from home.
Plus you can get paid for writing about pretty much anything, and a lot of things you probably have never thought about before.
With an ever-growing online digital market, now more than ever, it is a great time to become a freelance writer.
How Much Can You Make With Freelance Writing?
Like most of the ways to make money we have looked at so far, it will come down to one thing.
How much time and effort you are willing to put into this.
Freelance writers can earn up to £100,00 a year and more.
This article will give you some idea and this comes from a freelance writer who made $60,000 in their first year.
Check out how much freelance writers actually make. 
Resources for Freelance writing.
I had a freelance writer share several tips for getting started with this.
The article is jam-packed with everything you need to know about getting started with freelance writing.
Check out the article How To Make Money As A Freelance Writer.
Also here is a list of some websites which will pay you to write articles.
Listverse: A listicle website that pays you $100 per accepted article that you submit.
All Pet Voices: This website is dedicated to animals and they pay $75 per accepted article.
Loaded Landcapes: A photography website that pays anywhere from $15-$150 per accepted article.
Income Diary: A website completely focused on making money online that pays you $200-$500 per accepted article.
Sell Shoes.
I know this might sound a little bit out there but you can make some very good money selling second-hand shoes.
How Much Can You Make Flipping Shoes?
Lots! If you know what you are doing.
Recently I picked up a course which walks you through everything to do with selling shoes online, it also comes with a facebook group where members are sharing their results.
Here are just a few screenshots from inside the fb group after a recent 30-day shoe flipping challenge.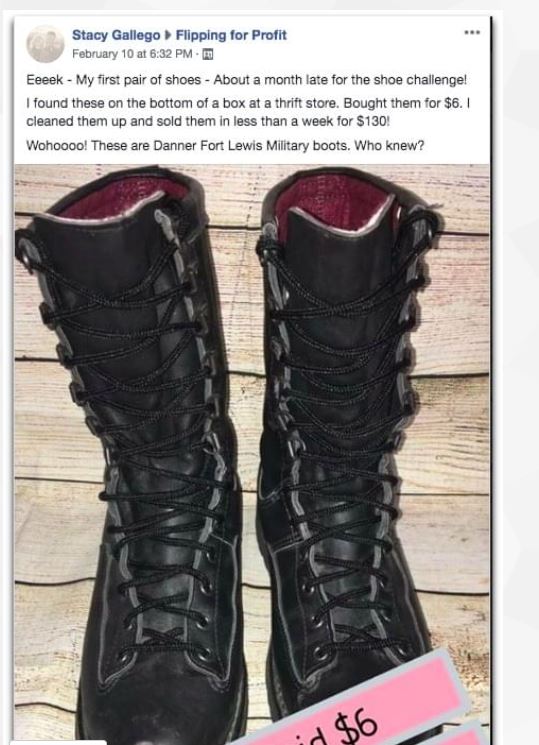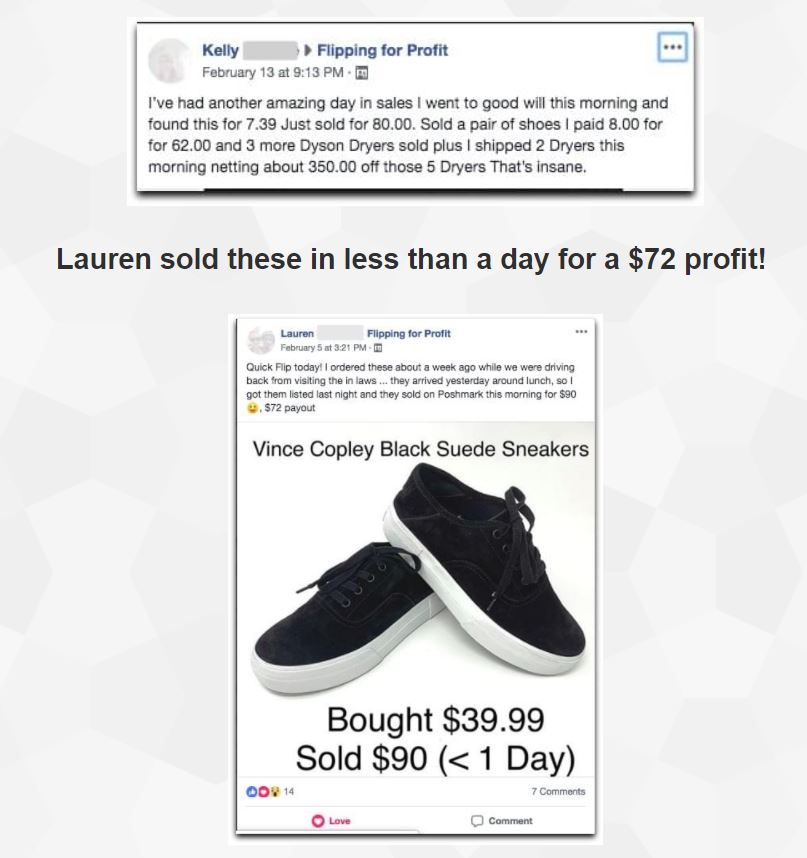 Resources for Flipping Shoes.
Beau Hunter is a shoe flipping expert and along with Rob from flea market flipper they have created this awesome workshop which will show you and cover the following:
​Where to find awesome deals on shoes.

​Which brands to look for.

​How to clean up all types of shoes so you can make the most money from them.

​Learn How to take GREAT pictures that will increase your sales.

​How to properly ship shoes so they don't get damaged and the buyer is happy to leave you positive feedback.
This is a very in-depth course and includes 4 training sessions that were recorded live, PDFs from each session and the facebook group.
Check out Shoe Flipping Mastery 
Make Money With Rental Properties.
Did you know that you can make a monthly passive income from rental properties?
This is the dream for many, do nothing and get paid!
Whilst this isn't strictly true (You always have to do something) but once you set this up you can then head off to the beach and relax knowing the money is coming in.
I have a friend over in the US called Dustin and he was able to earn enough monthly passive income from his rental properties to quit his job.
Dustin is a very successful property investor, best selling author and podcaster.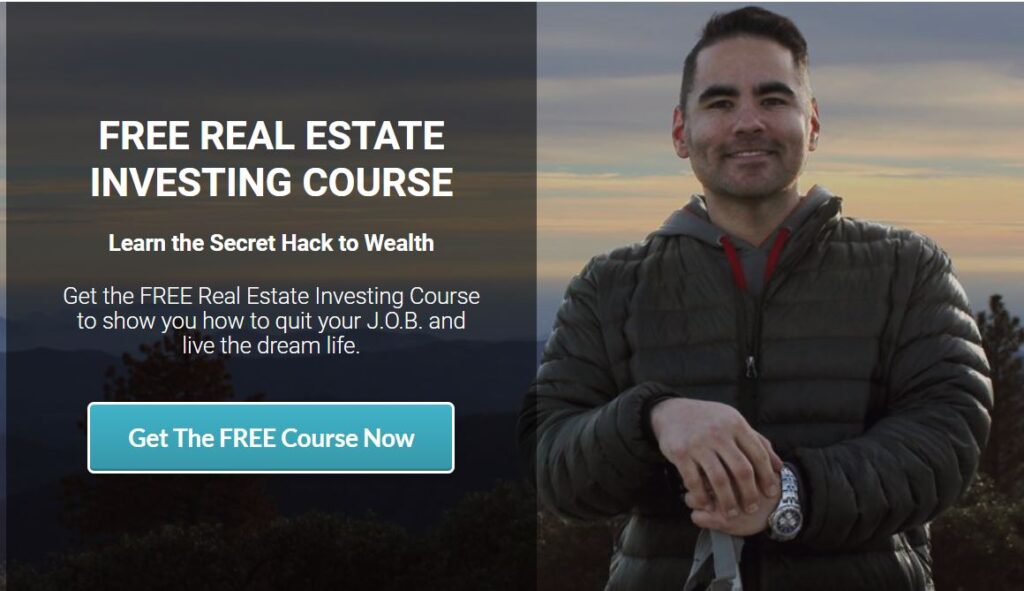 He quit his job at age 37 to live the dream life, he turned his business into a passion by teaching countless students how they can quit their jobs too.
Resources for passive rental income.
Dustin has created a very good FREE course to show you how to invest in rental properties and bring in a passive income each month.
Included in this free course.
 Make Your Money Work for You

How to have your money be like employees, working 24 hours a day, 7 days a week

How to Quit Your J.O.B. (Just Over Broke) with Rental Properties

3 Amazing Things Passive Income in Rental Properties Gives You

Why You Should Invest in Rental Properties

Six Ways Rentals Make You Money

Three Ways to Create Equity 11 Other Reasons Real Estate Is the Best Investment
AND MUCH MORE!
Make Money Selling Gigs on Fiverr.
Fiverr is a marketplace where many people offer their services or knowledge to earn some extra money.
It is also available worldwide so anyone can sign up.
How it works.
Once you have created an account, you then put up "gigs" which are basically listings for your services.
Here are just a handful of examples for which you could list on Fiverr to make money at home
Logo design

Social media assistant

Writing articles

Proofreading

Voice overwork

Data entry

Virtual assistant

Relationship advice

Career advice

PA

Cover letters

Photography
As you can see, there are a lot of different services that you can offer on Fiverr, and the above list is just a small example.
The below image is taken from Fiverr and shows you lots of different categories where people are listing their gigs.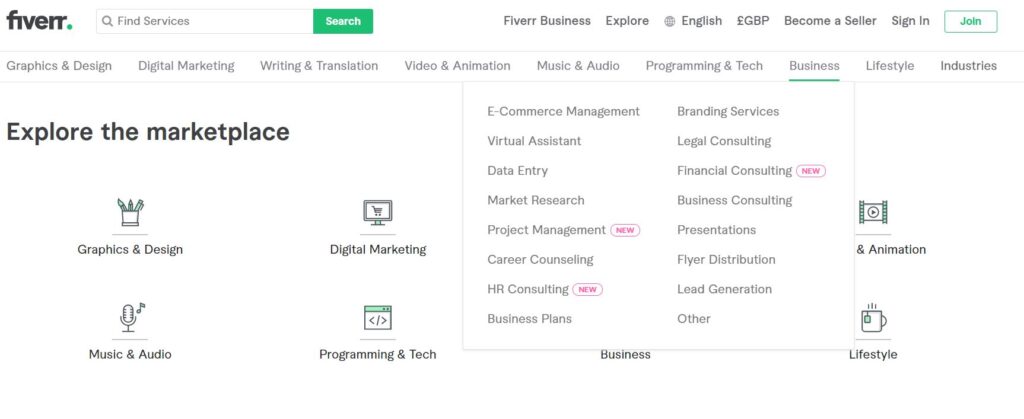 Have a look through the categories to see if you could offer any of these services, and then look at what the people are charging to give you a rough idea.
Then sign up, and get your services listed and you're good to go.
Retail Arbitrage with Fiverr.
Another way you can make some money using Fiverr is with something called retail arbitrage.
Anyone can do this and its a very simple method.
You put up a listing on Fiverr and when it sells you purchase from another site.
Your profit is the difference between the listing you put up on Fiverr and how much it costs you to buy the same service from another website.
Actual Example of this…
This listing is on Fiverr (today) and selling for £16.32
Below is a very similar listing which you can buy on another website for just $1.00, which is currently 78p.
That means if you were to list a similar gig on Fiverr you could expect to earn £15.54 less the Fiverr fees for every order you receive.
I think you will agree that is a pretty decent return for less than a few minutes work!
There are thousands of these opportunities available.
So just to recap this method for making money with Fiverr.
1 – List a gig on Fiverr for xxx amount.
2 – Once the gig sells head over to another website and purchase a similar gig.
3 – Send all the info you receive over to your buyer on Fiverr.
4 – Pocket the difference between how much you are paid and how much you pay.
I used this method years ago when I was first starting to make money online.
This video I shared on YouTube shows you the entire method step-by-step.
Resources for Fiverr.
You can check out the Fiverr website.
If you want to learn step-by-step how to make money with Fiverr I recommend this course by Bobby.
Bobby works 50+ hours each week in the UK police force and he also has 6 kids.
Yet he managed to earn over $6,400 in just a few months using the Fiverr retail arbitrage method mentioned above.
Make Money From Home With Matched Betting.
Matched betting is the real deal.
It's legal, tax-free, and very easy money.
Also don't let the word "betting" put you off, this is not gambling in any way.
Matched betting is a simple way of earning money with the free bet offers that hundreds of bookies give out.
Have a watch of the video below and it shows you how I earned over £25 in less than 10 minutes using this method.
Resources For Matched Betting.
I regularly earn over £400 a month using a website called Profit Maximiser,
This gives you everything needed to make money with matched betting.
>> Check out Profit Maximiser and get started with just £1 for 2 weeks.
Buy and Sell Domain Names.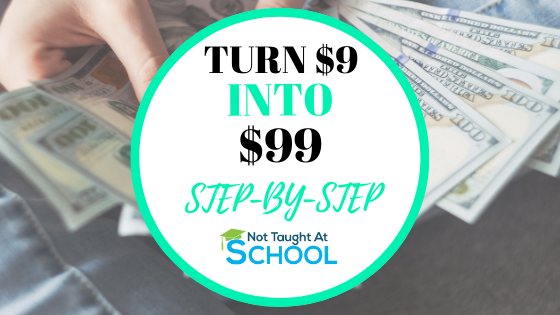 This is something you don't really hear about until you are in the world of earning online.
Anyone looking to start a website or blog will need a domain name (the name of the blog). My domain on this site is nottaughtatschool.co.uk
Some website names will cost more than others, especially those with a .com, .net at the end.
People are always looking for very specific names for their websites or blogs and this is where you can make money.
You can buy domain names very cheaply and everyday new domains are coming up for sale.
People buy them and for whatever reason, they either don't renew them each year or they have given up on their website.
A great way to make money with this method is to buy expired domains and either just sell them straight away or increase the value of the domain. 
Selling the domain is by far the quickest and easiest way to make money with this method but you can also try to increase the value of the domain if you like. 
How do you increase the value?
A great way of increasing the price of any domain name that you purchase is to make the website successful – and therefore appealing to potential website buyers.
You could make it successful by driving lots of traffic to it and increasing the Domain Authority, this can be done with SEO, social websites like Pinterest and Facebook.
There are lots of domain auction sites that you can sell your improved domain on, examples include Go Daddy, Flippa and more.
Resources for flipping domains.
I have written a very simple to follow along with blog article about flipping domains, the free websites to use and much more. you can have a read of it here. Earn Money Online Flipping Domains [4 Simple Steps]
Create and launch your own product.
Did you know that you can create and sell your own products, Without any risk?
Well, you can.
And using a site like Gear Bubble makes it incredibly simple.
How it works:
You create a design, this can be anything from a funny picture, quote, even just a saying can do well with this model.
Once you have your design created the next step is to decide whether you want to have it printed on a shirt, coffee mug, phone case or any of the other options available.
After you have done this, Gear Bubble then handles everything for you including, production, shipping, and customer service.
Also this platform integrates with Amazon, eBay and Etsy meaning you can have your new creations on several platforms all at once.
So create some designs, pick what you want them printed on and then start sharing your links to make some money.
Make Money Fast – Sell items on eBay.
There are so many opportunities to make money with eBay. Of course, you can sell items you no longer use or need.
It can be quite surprising the amount of stuff you have that is no longer required or you simply don't want or use anymore.
So have a good clear out and see what you can sell today.
Remember one person's trash is another person's treasure.
When it comes to eBay you need to make sure you are including all of the following:
A good picture of the item or items you are selling,

Write a good listing including keywords.

Find similar items and how much they actually sold for.
If the idea of making some money with eBay is something that appeals to you, then grab this free eBook below. It will share exactly how to create your listing, get the most money for your product and lots more are included.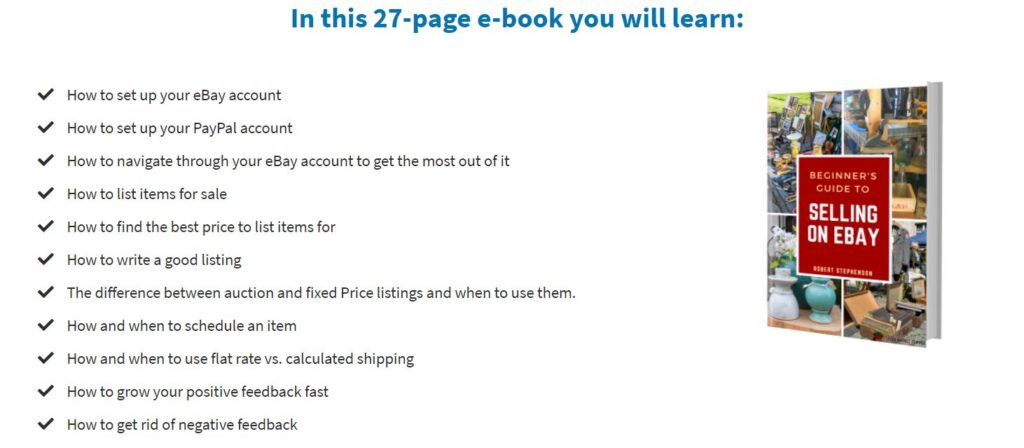 >> Grab the 27 page FREE eBook.
Participate In Study & Research Groups.
There is a company called Respondent who has been around for a long time now, they have also worked with some of the biggest names online.
You can get paid to help business owners, marketing teams, development companies and many more.
How does it work?
At any time there are hundreds of research studies available on the website.
You can get paid to visit a website and give feedback, share your routines (Something like your skincare regime, fitness etc) share opinions, test new products, take part in a focus group and so much more.
I have been a member for a number of years now and the "jobs" available are always very varied.
Here is a screenshot from inside the projects page (This is basically all the available tasks you can apply to)
Currently, at the time of writing this article, there are over 400 projects available.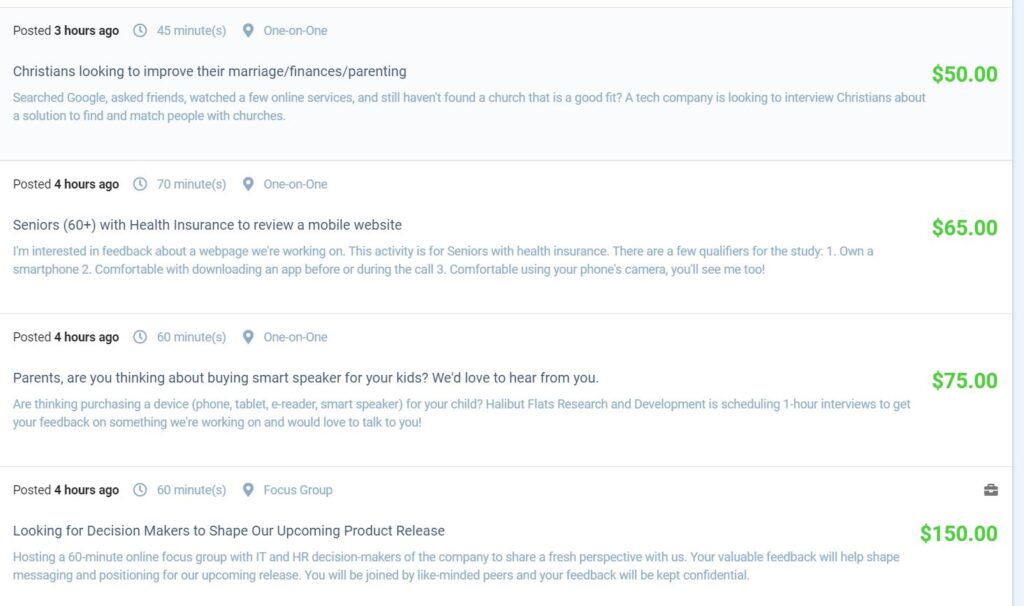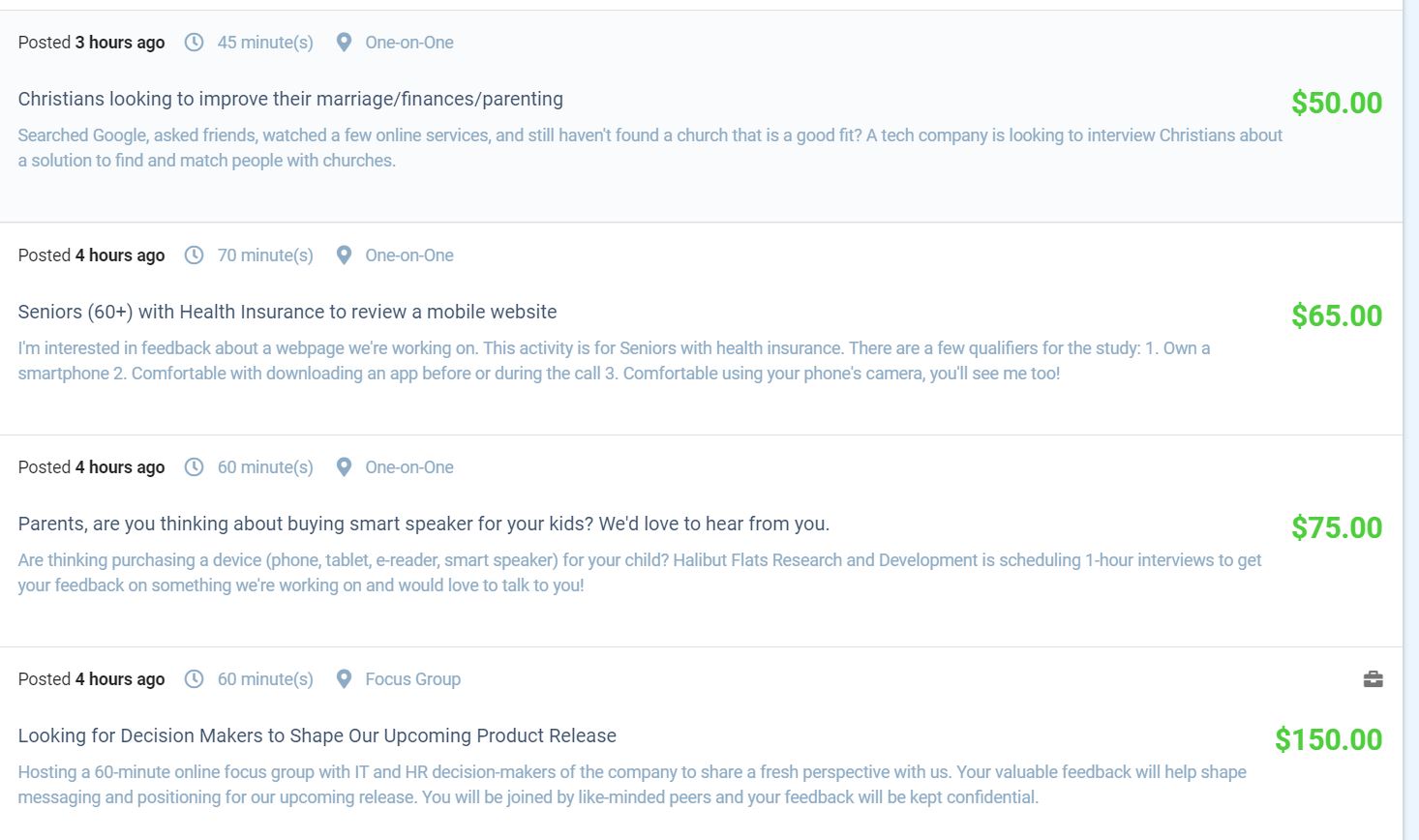 You can see in a quick snapshot what the project is about, how long it will take and how much you will get paid for taking part.
The best thing about earning money with paid market research groups is that you can do this from anywhere in the world and at a time that suits you.
> Check out Respondent here.
Social Media Manager.
Imagine getting paid to be on your favourite social media every day.
Well, you can and you would be amazed at how many businesses require help with this. 
Lots of businesses just don't have the time to be sharing content on Facebook, Twitter, Instagram so they pay someone to do this for them part-time.
And with lots of social media schedulers available online you can schedule a full month worth of Facebook/Twitter posts in just a couple of hours. 
How Much Can You Earn As A Social Media Manager?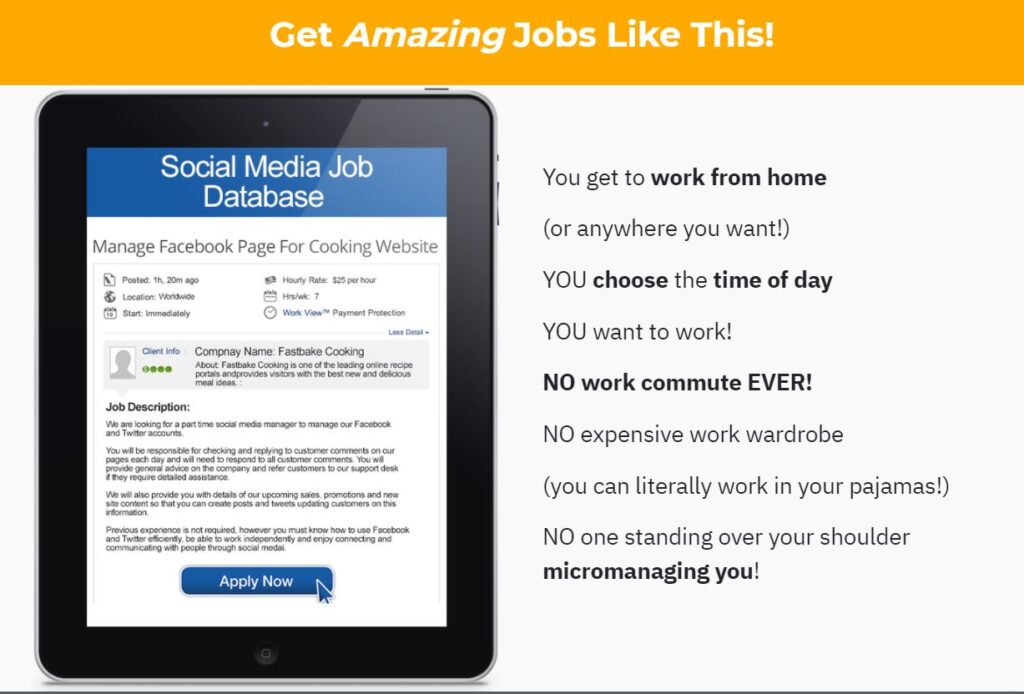 Anywhere from £1,000 – £10,000 and more per month.
This will also depend on the number of clients you work with.
Plus as you are using social media this can be done in any country, at any time.
Resources for becoming a social media manager.
Annie earns over £600 a week (Seriously) posting on Facebook and Twitter for local companies she works with.
Recently she put together an awesome free workshop showing you how this works, the best place to find these paid social media jobs and lots more great tips. 
Paid To Play Video Games. (Seriously)
The dream is real and alive for thousands!
You can actually get paid to play and test new games, also you can download apps and play them before they are officially released and finally you can get paid to play in competitions,
Resources for being paid to play video games. 
The below websites all pay you to play video games,  plus all of these are free to join.
Transcribe.
You can get paid to listen to audio files and then type up what you hear.
The demand for this is still to this day very high. 
What do you need?
A computer

Reliable Internet connection

The ability to transcribe audio or video.
This is another great way to make money from home because you can work around your own schedule.
Just make sure you can meet the deadline for any job you accept.
How Much Can You Make? 
The average full-time wage for a transcriptionist in the UK is about £19,000. 
But don't worry, there are plenty of options with being a transcriber and you do not need to put in full-time hours. 
Below you will find websites which offer lots of part-time and remote jobs for a transcriptionist. 
Resources For Transcribers.
Earn Money Listening To Music.
You can earn money from home listening to music and then giving your feedback.
You can earn in a number of ways and this includes.
Simply listening to various different radio stations

Giving your feedback on new songs 

Predicting if you think a song will be a hit or not. 
This video I shared covers everything you need to know.
Sites that pay you to listen to music.
Resources.
I have written a full blog article which you can see here – Get Paid To Listen To Music 
Earn Money For Completing Simple Microtasks.
Get paid to complete very simple tasks which take less than a couple of minutes to do.
You can get paid to….
Like a page on facebook.

Watch a YouTube video.

Follow someone on Twitter.

Comment on instagram pictures.
I shared this video on YouTube and it walks you through the entire process of completing microtasks.
How much can you earn with micro-tasks?
Not a lot, but you can do this at any time and the tasks are incredibly simple to do.
Here is a screenshot showing my earnings when I tested this out.
These tasks took less than 10 minutes and I earned $1.60.
Resources for Micro taskers:
I have written a full blog post about this, you can see it here – How to earn money watching YouTube videos.
The below websites all offer microtasks.
Teach Online.
Online tutoring is an excellent way to make money from home if you have some teaching experience or knowledge about a specific subject.
What Do You Need To Teach Online?
You will need a laptop or computer, internet connection, knowledge or experience in a specific subject, and falso a webcam.
How much can you make?
This varies from website to website and after doing some research you can expect to earn anywhere from $10.00 all the way up to $60 per hour.
This article shares examples of people earning over $40,000 a year teaching online. 
Resources for teaching online?
There are a number of websites you can apply to, below are just a few for you.
Sell Photos Online.
There are lots of websites which will pay you for your photos.
You can sell photos of just about anything.
Everyday bloggers, website owners, social media agency's and lots more are looking for images they can use.
You can join sites like FOAP and start selling your photos from your phone.
Take a picture, upload it to FOAP and get paid every time someone buys it.
Foap is just one website which pays you for photos, there are lots more.
So, if you are going to try this method to make money online then upload your images on as many websites as possible.
Here are a few websites which pay you for photos:
Say goodbye to your old technology.
Have you got an old phone or iPad lying around? If so you can very quickly sell it over on EcoATM.
To date, they have bought over 24 million devices to be recycled or reused for a second life.
EcoATM accepts mobiles of all walks of life, from new models to broken phones.
How it works:
Visit an ecoATM machine near you and get paid on the spot for your phone. Currently, there are over 4,000 available.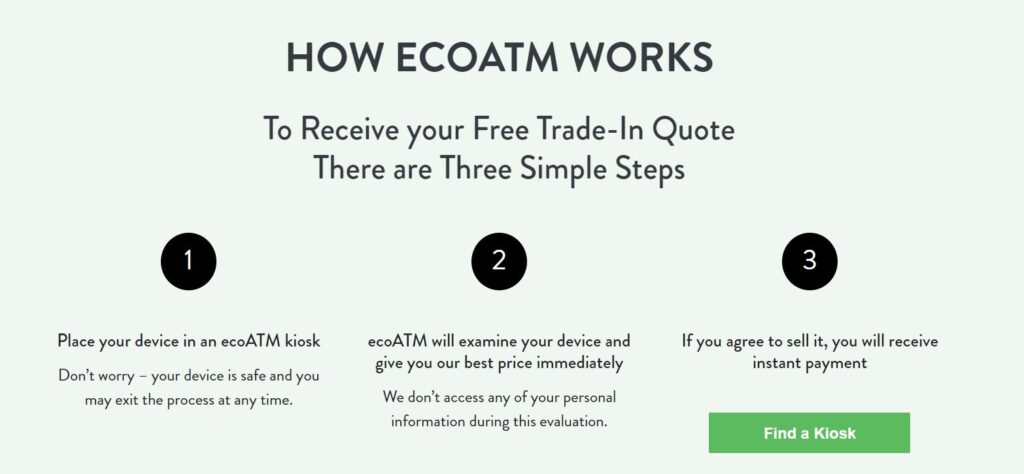 Sell Your Old Clothes.
If you have any unwanted or unused clothing, then why not sell them for some extra cash?
There are plenty of sites that will buy used items and even offer a service where they'll send someone around with the bag in order to take away all your unwanted clothes. 
Resources.
One of the biggest platforms you can use to sell your unwanted clothes is called Vinted. 
Work as a TV Or Film extra.
TV and film sets often require non-speaking actors to help create scenes in order to make a scene more realistic.
It's not necessary for you to have prior acting experience either.
How Much Can You Earn?
As much as £250 a day. However, a working day on the set can be very long!
Resources.
I have found two websites that offer roles as extras. These are Extra People and Casting Collective. 
Mystery Shopping.
Mystery shopping is an awesome way to make some extra money and many people do it.
I started this many years ago and you can get paid for many different tasks and you also get lots of freebies. 
You simply visit a shop/restaurant/bar/supermarket and buy something and or ask questions. 
After your visit, you fill in a questionnaire and get paid. 
In the past, I have visited restaurants and ordered meals (for free), visited Tesco to check out a cereal promotion, bought products in boots and lots more.
Resources For Mystery Shopping.
There are several websites that offer mystery shopping, you can check out Market Force and HGEM.
More Ways To Earn Online Include the below list and at some point, I will update you with resources and other bits, but for now here is a simple list with other ideas.
Delivering food

Entering competitions

Completing online survey

Tasks for money

Rent out your parking space

Freelance jobs 

Offer your services online or offline

Market trading

Buying & selling gift cards

Playing online games

Using cashback sites

Get Paid To Search the web

Review websites and apps for extra cash

Recycle your old phone

Claim back tax

Offer Gigs or services on sites like Freelancer, Fiverr and more

Sell books

Sell your old films

Babysitting

Dog walking

Animal sitting

Earn money walking

Rent out your property to feature in films or TV series

Take part in clinical trials

Write stories

Investing

Internet Marketing

Review Apps on your phone

Graphic design

Create Custom T-Shirts

Teach Music lessons online

Online Translation

Rent out your car

Make money from advertising on your car

Use Fitness apps to make money
Phew!
That, for now, concludes this article – The Ultimate Guide To Make Money From Home.
This article will be updated every couple of weeks so be sure to check back for updates and resources. 
I really hope you found something which you can get started with today.
Just remember this, when it comes to making money from home, that it is absolutely achievable and possible.
Yes, it will take some time and effort and some of the suggestions on this page will take more or less than another.
But, all of these are proven and tested ways to make money online and from home.
Please do not do what 99% of people do and that is QUIT within a few weeks.
If you really want to start making enough money from home to replace your job or start bringing in a decent side income then it will take time, effort and consistency.
I really wish you the very best of luck with whichever method you pick.
If you have any questions or comments then please leave them below for me.
Until next time……..
Other Articles You May Like: 
How People Are Earning Thousands Sharing Products.
Real Ways To Make Money From Home,
60+ Ways To Make Money From Home.
Simple Ways To Get Free Amazon Gift Cards.
How To Make Money Dropshipping Products.
Thanks for reading.
Take Care & Keep Smiling
Mark
THIS POST MAY CONTAIN AFFILIATE LINKS, PLEASE SEE MY DISCLOSURE FOR MORE INFO