Affiliate Marketing Case Study.
Welcome to today's article which is an in-depth case study.
Inside this case study, I will share with you, step-by-step how I earned $11,500 (£8,193.64) in just 30 days with affiliate marketing.
If you are on this page because of the "big numbers" and don't know how affiliate marketing works or what it is, then please let me quickly explain.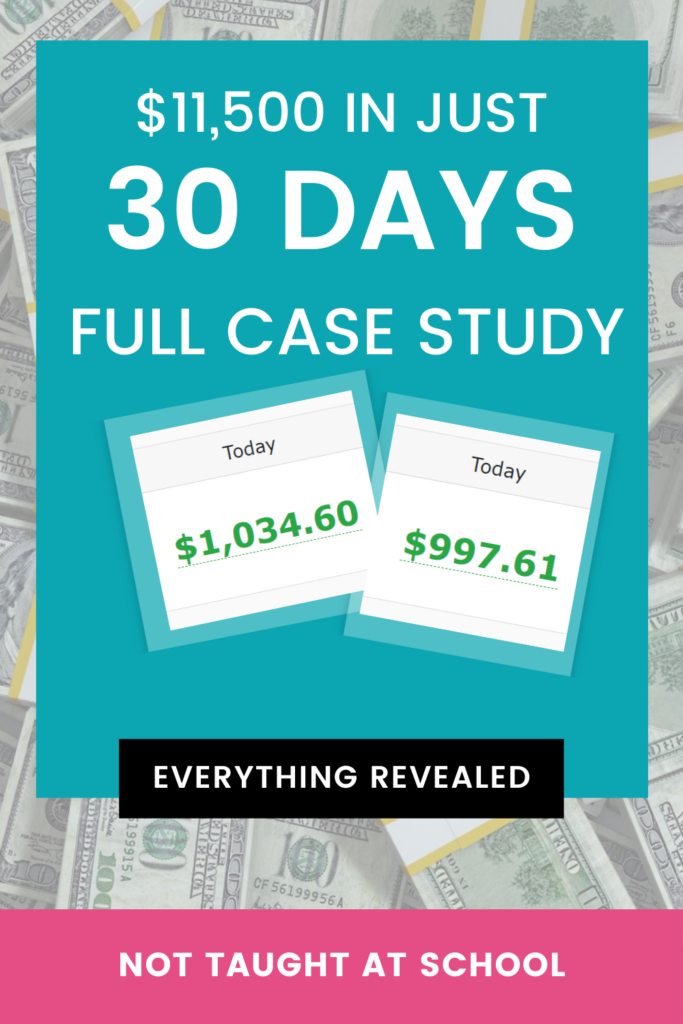 What Is Affiliate Marketing?  
Affiliate marketing is a way to promote products and make money online without having your own product or business.
It's an easy way for businesses to reach new customers online while also providing a steady stream of income for their affiliates.
Affiliate marketing is a form of performance-based advertising, where affiliates create content about products and services they would recommend to their audience and receive a commission when they make sales.
Nearly every company in the world has an affiliate programme and you earn money by simply sharing or recommending a product.
You can sign up with companies like….
Amazon

Etsy

Ebay

Argos

Asda

& Thousands more!
Once you have joined an affiliate programme you then get given a link, you share that link and if someone buys a product or service you can earn a commission. 
Commissions you can earn can start anywhere from 1% on platforms like Amazon and go all the way to 100% on platforms like Warrior Plus. 
Previously I use to focus on low ticket items where I could earn £1-£5 a day. 
In the last 18 months, I have focused all my attention on high ticket items.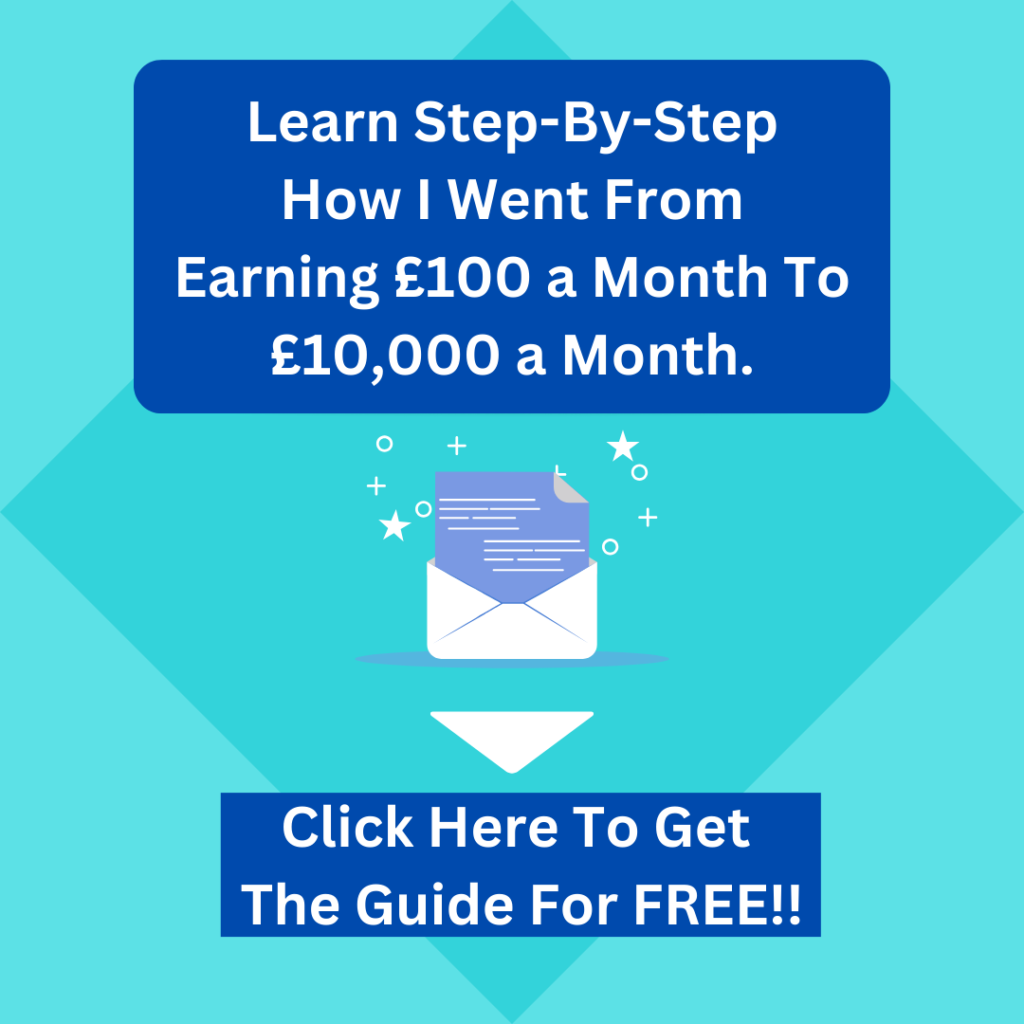 This means instead of sending someone over to Amazon and earning a couple of quid I can now earn over £200/£500/£700 and sometimes even £1,000 from just one person buying a product.
And it takes just about the same amount of time and effort.
High Ticket Affiliate Marketing.
This case study is based around a high ticket product, normally for this product I would earn over £700.
However, the product was running a promotion and instead of earning £700 we the affiliates could earn £215.
Whilst this is some drop, the potential with this was still huge.
So, today I will take you behind the scenes of this affiliate marketing campaign.
You will see absolutely everything, including the product, the content I created and how I sent traffic to the content. 
Below is a short video walking you through absolutely everything. 
I hope that all made sense for you?
As you saw in the video, affiliate marketing isn't that hard, and what I love best is that anyone can get started with affiliate marketing.
Plus you don't need any experience and you can do this from absolutely anywhere in the world.
Once you have done the "work" you can be earning for many years down the road. 
And with affiliate marketing, there is no cap on how much money you can earn. 
But, I would highly recommend you to focus on high ticket affiliate marketing compared to low ticket marketing. 
Resources For Affiliate Marketing.
Below is a screenshot I shared with my Facebook group.
I earned $1,000 which is just over £700 and I was nowhere near my laptop or doing any work.
This money came in from "work" I had done previously.
And this is just one reason why I love and recommend affiliate marketing. 
Plus, this is just one product I recommend. 
Here is a screenshot from another affiliate platform I am a member of. 


Getting started with affiliate marketing is incredibly easy, however, many people fail or don't make much money because they don't learn the basics properly or they focus too much on "low ticket commissions"
If you want to learn affiliate marketing correctly then below I have two resources to share with you.
Resource 1.
This is called the 15-day business builder challenge and costs just $7 (About £5.50 in the UK)
Without a doubt, this is one of the best courses I have ever taken to learn about high ticket affiliate marketing.
It walks you through everything in 15 days. 
And it also comes with a private FB group, coaching and lots more.
Inside the course looks like this.
This course is very eye-opening and in (my opinion) worth a lot more than the price of $7.
If you want to learn all about affiliate marketing and in particular "High Ticket" but still haven't taken that next step then I encourage you to invest in yourself by signing up for the challenge. 
>> CHECK OUT THE 15 DAY CHALLENGE HERE <<
Resource 2.
This is an eBook called – The Insiders Guide To Affiliate Marketing.
The book costs just $2 (About £1.50).
It is packed full of step-by-step action plans for you to get started the right way with affiliate marketing.
And it is only 90 pages in total so you can read this in a couple of hours.
Inside the book looks like this…..
>>> Grab this awesome Book Here <<< 
Final Thoughts On This Affiliate Marketing Case Study?
Overall I am very happy with how it went, and the best part about this is that if the company ever do another promotion I have everything in place. All I will have to do is send traffic to the blog article. 
I know that affiliate marketing is an awesome way to make money online, but it's important to know what you're doing.
Especially because there are many people who don't and they end up spending hours and hours of their time before eventually quitting and moving onto the next money-making venture. 
If you want to make money with affiliate marketing then invest your time and learn it properly, once you learn then start taking action.
And if you want to learn and understand affiliate marketing properly then check out the 15-day challenge. 
It changed everything for me and that is why I recommend it to anyone who is interested in affiliate marketing.
>> CHECK OUT THE 15 DAY CHALLENGE HERE <<
Related articles you may find useful include:
How To Start Affiliate Marketing For Beginners 
How Lots Of Ordinary People Are Earning Thousands Sharing Products. 
Free Affiliate Marketing Courses 
The Best Make Money Online Courses Under $100
How To Make Money Drop Shipping Products.
Thanks for reading.
Take Care & Keep Smiling
Mark
THIS POST MAY CONTAIN AFFILIATE LINKS, PLEASE SEE MY DISCLOSURE FOR MORE INFO