In this article, I am going to share several ways you can make money using Google Maps.
I will also share different examples that I use daily to make money, everything I am going to share in this article is very simple to get started with and is also available worldwide.
Plus you do not need any experience or special skills to get started, in fact, I stumbled across this opportunity about 18 months ago and once you start to understand how it works and everything comes together the potential to earn is unlimited.
So if you are looking for different ways to earn some extra money with Google maps then read on.
[Remember to join my free member's area as we continue to update this with additional ways and resources to make money from home]
What is Google Maps?
Google Maps is a very simple web mapping service created by Google.
It offers many things like:
Satellite imagery.

Aerial photography.

360° interactive panoramic views of streets.

Street maps.
It also offers directions and route planning so many people use this as a sat nav in the car. But it also covers route planning by bicycle, foot and public transport.
Is Google Maps Free?
In short yes, there is a premium product within Google Maps but for what we need there isn't any money required.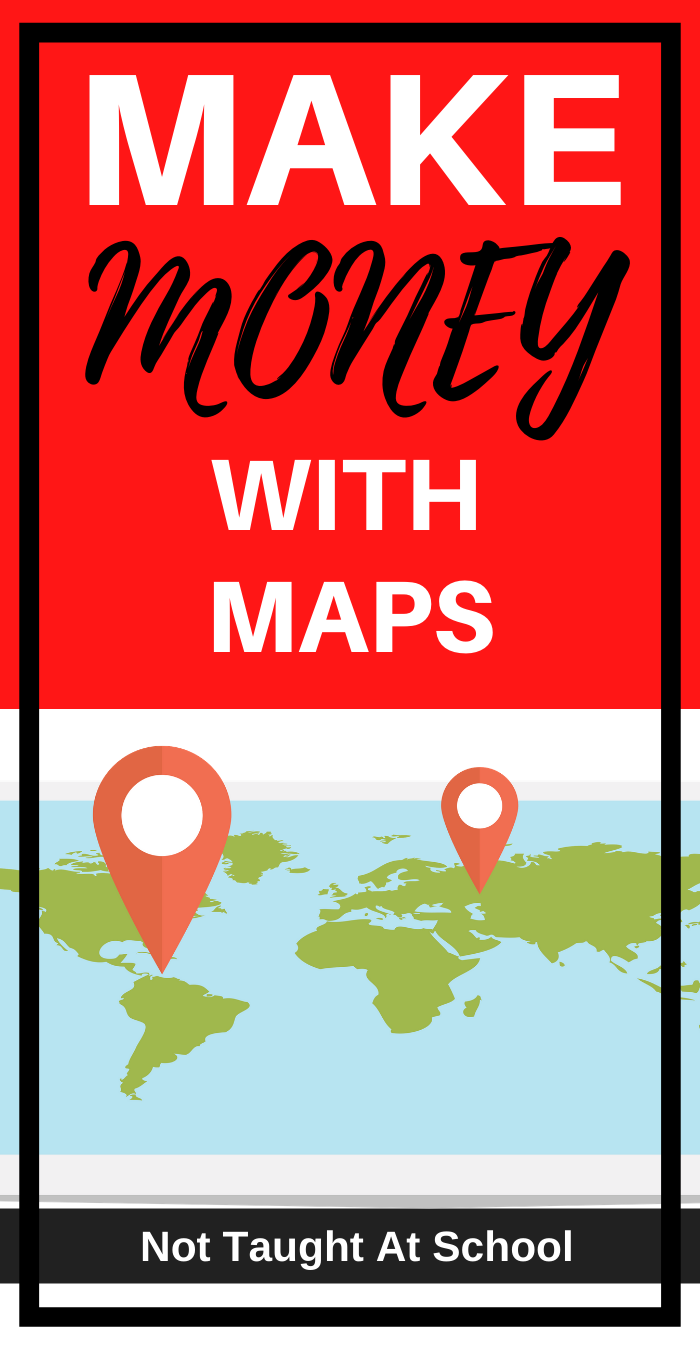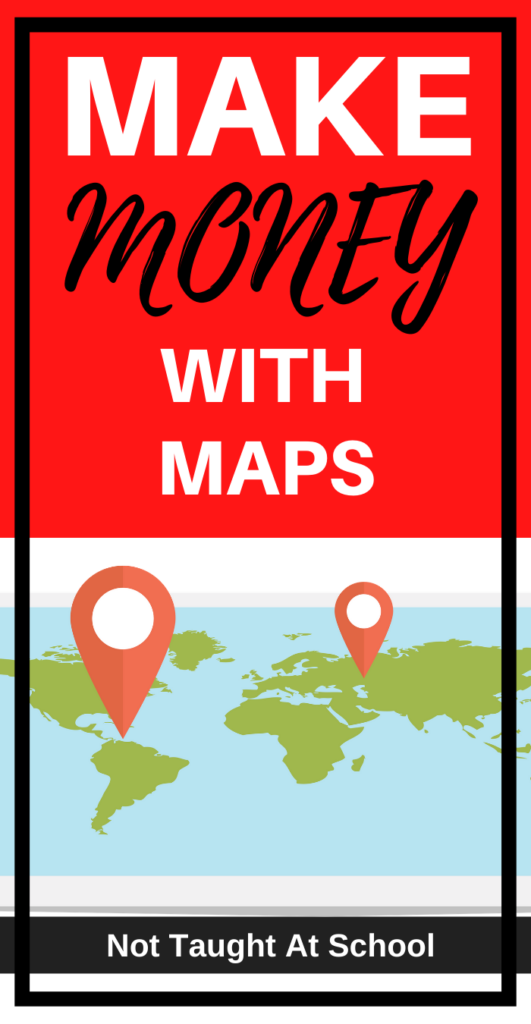 How Can We Make Money With Google Maps?
At first glance and after reading what Google maps actually is, many people including myself would question how you could even earn money using Google maps.
It turns out there are several ways you can actually earn money with Google Maps.
This includes but not limited to the following examples:
Ranking in the map pack.

Helping businesses claim their Google My Business Listing.

Finding businesses who need help to move up the rankings.

Creating websites for local businesses.

Running social media accounts like facebook and Instagram for businesses.

Setting up keyword campaigns for advertisements

Lots more.
All of the above can be done without any previous experience and I will not only share how each of these work but I will also give you real-life examples.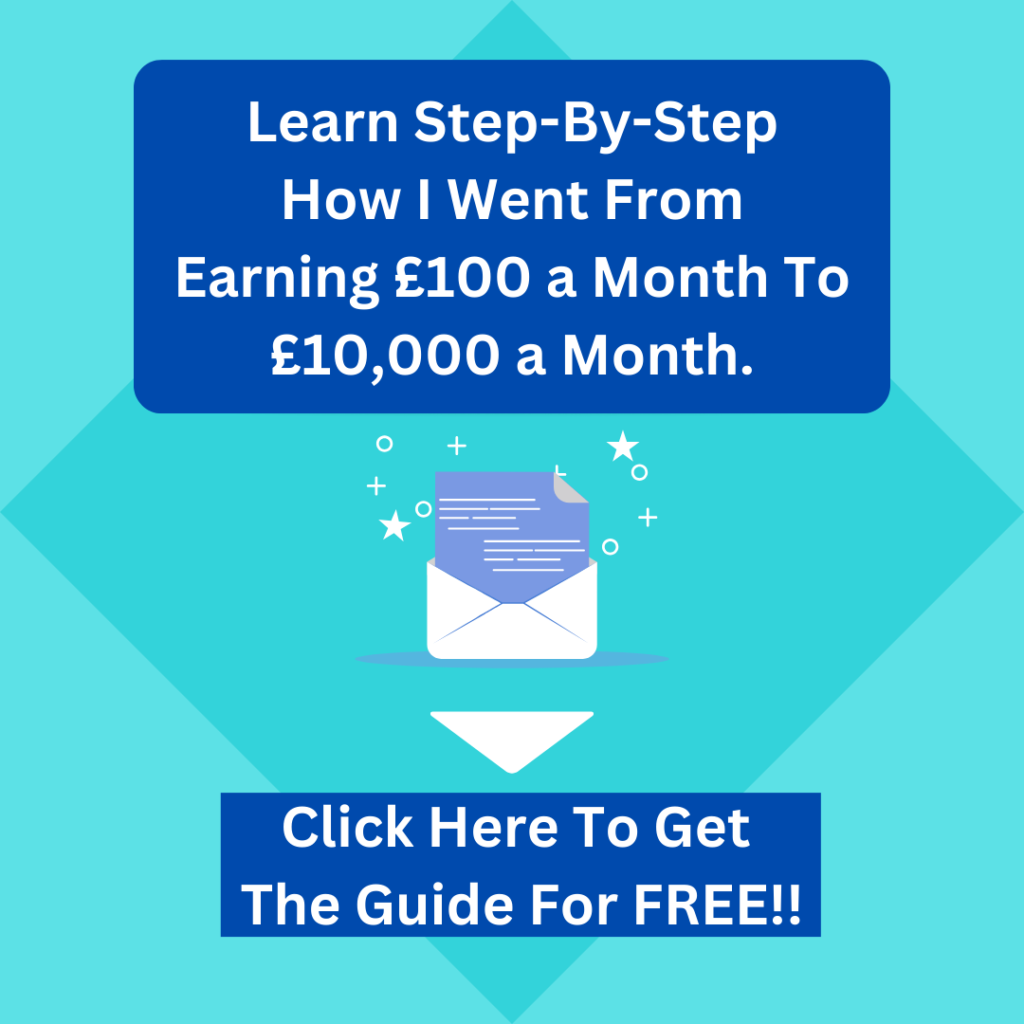 Examples To Make Money With Google Maps.
Let's start with a very common query which people are entering into Google maps every day.
Recently I went away for a short break with my family and whilst away I loaded up Google maps and typed restaurants in the local area.
Now, based upon your specific location Google will bring up a list of restaurants, (this works for anything, bars, restaurants, gyms etc)
Google maps will provide you with a full list of all the local restaurants, it will also share key information like.
Restaurant name

Address

Contact details

Menus if available

Reservations

Delivery options
Here is an example of how this looks.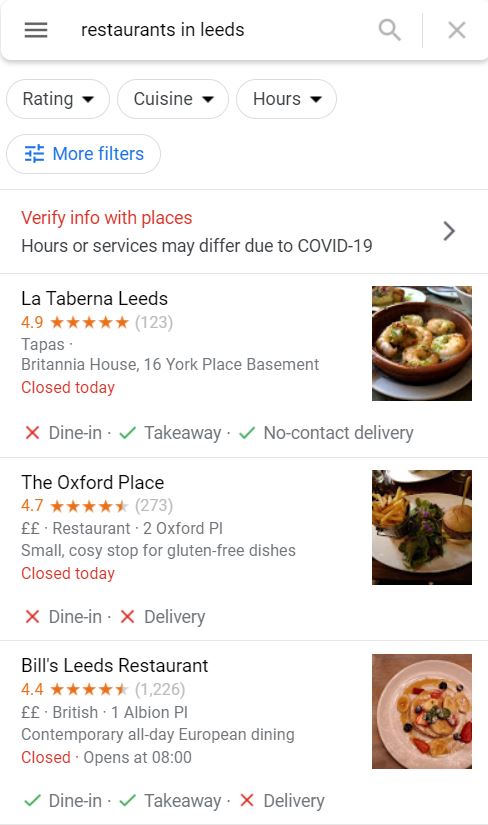 I looked at a couple and booked a restaurant within 5 minutes.
In total, the search "restaurants in Leeds" brought up over 80 different places.
Did I look at each and every one?
Of course not, I looked at the ones in the top 3 and booked one of these.
Do you think restaurant owners would like to feature in the top 10? 5 or even 3?
The restaurants in these positions receive the most visits to their websites and in doing so get more customers through the doors.
But here is the thing, many restaurant owners have no idea how to get their listing in the top results. Some restaurants don't even have a listing on Google maps.
Here are just a few things required for listings to rank in Google Maps.
Verifying a Google My Business Listing.

Add information to your Google Maps business listing with correct phone number, business address, opening hours.

Add photos to your Google Maps business listing and geo tag them.

Google Map Citations.

Reviews.
It sounds like a lot doesn't it?
What If I told you this could all be done in an hour. 
If you knew how to do all of the above and then could help businesses with their Google rankings do you think they would pay you?
You bet they would.
Have a watch of this video where I walk you through the whole process from start to finish.
It really isn't as difficult as it sounds and in this video, I show you how quickly you can find businesses and how to get everything set up and running.
A Creative Way To Earn Money With Google Maps.
One of the best ways to make money with Google maps is to search for businesses and then check out their online presence including website, social media channels like Facebook, Twitter, YouTube, Instagram, Pinterest etc and then offer some kind of marketing service.
You can help businesses with many things like
Creating videos for their marketing.

Build a website.

Looking after their social media channels.

Running Facebook ads.

Setting up Google campaigns and much more.
The best part?
You can get started very quickly with all of these and again you do not need any experience or skills.
There are lots of tools and resources available online to help you with everything you need.
Have a watch of this video where I share how to create and sell videos very quickly using Google maps.
To create videos normally you would need to spend hours, but with this software, you can create a very professional looking videos in under 10 minutes.
➡️ Check Out Vidnami, CLICK HERE ➜ ➜ ➜ Vidnami FREE Trial
Offer This Service To Local Businesses.
Using this method you can very quickly start to get clients on board using a combination of Google Maps and Get Response.
What I love about this method is that once you set this up it becomes a genuinely passive income which pays you every month for little to no work.
Plus this is very simple to do and you can get started with this today.
The below video walks you through the process.
For this, we use a piece of software called Get Response.
You can use this software for 30 Days entirely FREE.  CLICK ➜ ➜ ➜ HERE 
Multiple Options To Make Money With Google Maps.
Here is another video I shared showing you a number of different creative ways you can make money and I also share several resources to help you.
As a reader of this blog you can still get access to the course mentioned at the end of the video very cheaply, on the sales page it will show the course for $67 but when you click add to cart there is a HUGE 84% saving, see below image.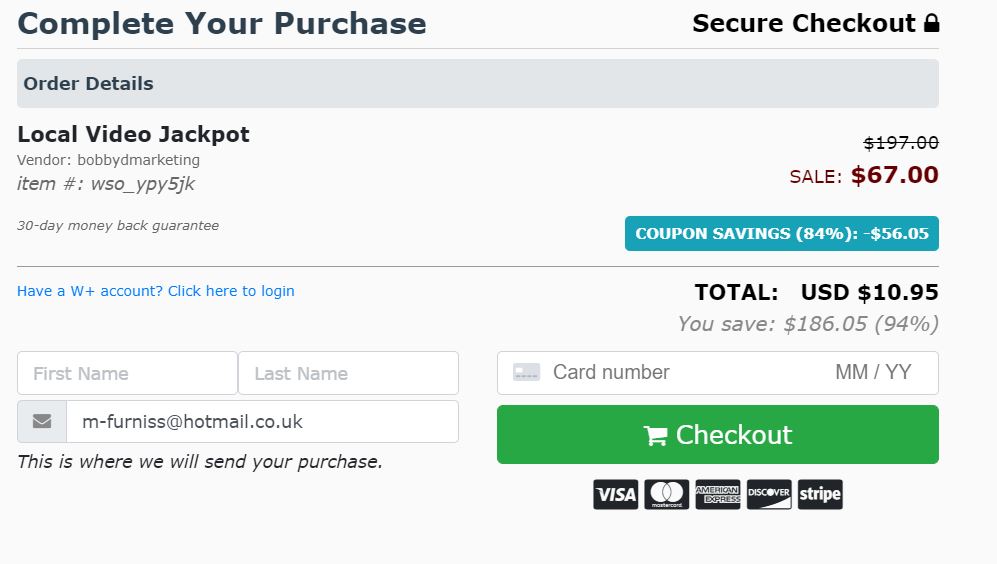 ➡️ Check Out Local Video Jackpot, CLICK HERE ➜ ➜ ➜ Local Video Jackpot
Creating Instant Websites With Google Maps.
Using what we have covered so far you can use Google Maps to find hundreds of businesses who do not even have a website.
Once you find one of these businesses you can very quickly and for free create a website template which you can sell to them for thousands.
This works incredibly well and using the tools I share in this video you have an endless amount of websites and templates you can play around with.
Running Facebook Ads Using Google Maps.
This is a service I offer clients and once you learn how to set up a Facebook advert you can create these very quickly. The below video walks you through the entire process is less than 18 minutes.
Overall this is an excellent way to make money working with local businesses.
Conclusion.
Making money with Google Maps is an awesome way to start earning online, you can run this as a side hustle or turn it into a full-blown business.
Lots of companies and business owners are clueless about most of this.
Many are not aware of rankings in Google Maps and how it can affect their business in a very positive way.
It is our job to let them know about all the benefits, what we can do for them to achieve better results and ultimately get more customers.
Using what we have covered in this article will help you to start earning money on Google Maps.
Other Articles You May Like: 
How People Are Earning Thousands Sharing Products.
Real Ways To Make Money From Home,
60+ Ways To Make Money From Home.
Simple Ways To Get Free Amazon Gift Cards.
How To Make Money Dropshipping Products.
Finally, be sure to check out my FREE member's area.
.
Take Care & Keep Smiling
Learn More / Earn More / Save More / Start Living More
THIS POST MAY CONTAIN AFFILIATE LINKS, PLEASE SEE MY DISCLOSURE FOR MORE INFO