Ideas To Make Money Online From Home.
If you're looking for a great way to make some extra money in the UK, then look no further. This article is packed with six simple ways to make money online in the UK that require little effort and cost very little to start. 
In fact, most of the things we are going to cover in this article are absolutely free to get started with.
And as always, I will link out to several resources for you, share some simple ways to get started and I have even included a couple of videos to show you how everything works with some examples.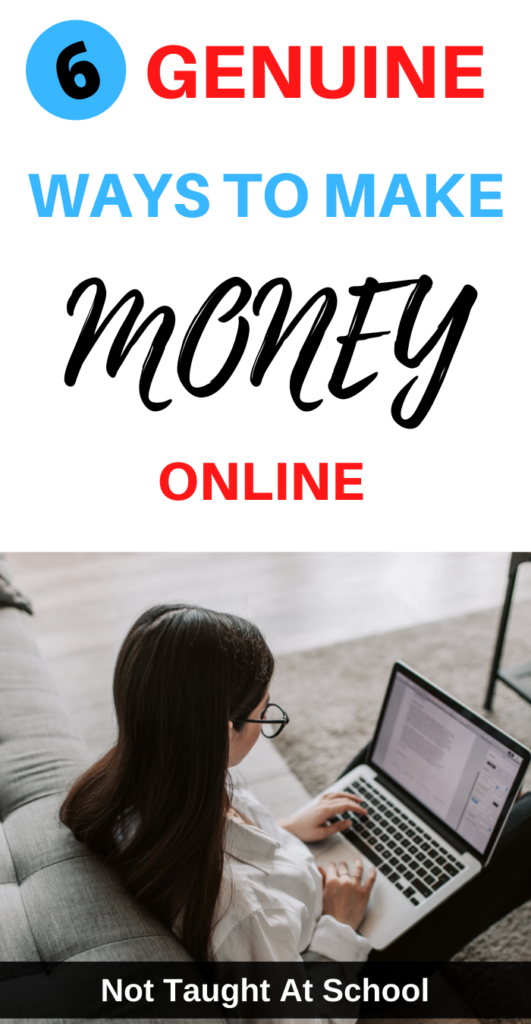 Genuine Ways To Make Money Online In The UK.
Quick side note, if you are reading this from another country then don't worry as 5 out the 6 can be done from any country In the world.
And if you want some free resources for making money online and from home then be sure to join my member's area as there are lots inside including courses, ebooks, PDFs and more. Plus it is free to join. 
1 – Participate in focus groups to share your opinion about products and services.
Have you ever had a chance to take part in a focus group? If not, I recommend that you do! These groups help companies understand how products and services are perceived by their customers.
Would you like to help shape the future of products and services?
Participating in focus groups is a great way to share your opinion with companies. You will be paid for your time, and it's fun! It can also be a good opportunity to get feedback on how well you think you communicate.
Imagine being able to tell others about what it was like when you were part of the development process for new products or services. This could lead to more opportunities for you and the rate of pay is very good.
One of the best companies that offer this service and work with some of the biggest brands around the world is called Respondent.
How to start with Respondent?
Sign up with Respondent here and create an account (this is free)
Next,  you can start searching for all of the opportunities available on the website.
Jobs are updated daily and there are lots of different research studies you can participate in.
Once you have created an account this is what it looks like inside the dashboard.
You can very quickly see what each research group is about, how long it will take you and more importantly how much you will be paid to take part. 
Plus nearly all of these research groups take place online so you can do this from home which is awesome!
2 – Create a blog and monetize it with ads, sponsored posts, or paid reviews.
A great way to make money online is through your own blog. You can have ads on it, write sponsored posts for companies and get paid for them, or otherwise create content that you can also make money from with platforms like Amazon and eBay.
Blogging has become very popular over the past few years because it allows people to share their thoughts with others while also earning some income from many different options.
The internet is filled with blogs that are making a killing.
I recently shared the below video on the YT channel of just 3 blogs that earn over $100,000 per month!!!
If you want to learn (for free) how to start a blog, get your very own blog up and running today (Again, for free) then I highly recommend a platform called Wealthy Affiliate. 
>>> CHECK OUT WEALTHY AFFILIATE
3 – Sell your skills on freelance websites.
If you have a talent that you want to sell, look for websites such as Upwork and Freelancer.com where people are looking for freelancers like you.
These freelance websites are a great way to make money and It's really easy too, all you need is a laptop and the internet!
Upwork and Freelancer are just two websites where people post jobs that they need to be done and freelancers bid on them.
You can find all sorts of freelance work there from website design to writing to programming.
If you have skills in any of these areas then this is the place for you! There are thousands of jobs posted every day so it's easy to get started making money online with your talent today.
4 – Start a YouTube channel and monetize it with ads, sponsorships, or merchandise sales.
Did you know that YouTube is the second largest search engine in the world?
You can use this to your advantage by creating videos and uploading them on YouTube. This will help you build a brand, grow an audience, and make money!
You can make money from your videos by monetizing them with ads, recommending products and earning commissions, working with companies, product placement, affiliate marketing, or even crowdfunding.
The best part about it is that you don't have to be a professional video maker, just create content around a topic or niche and start uploading videos.
And you can do this without any of the following….
Being on camera.

Having to talk.

Spending lots of money on equipment.

Any experience.
Plus, the great thing about YouTube is that once you get your videos up on the platform they can be making you a passive income, even while you sleep!
Once your channel starts growing there are companies who will pay to advertise their products on your channel or video. This means more revenue for you and more exposure for them! A win-win situation if I've ever seen one!
I now have several successful YouTube channels and all of these bring me in a passive income every day. And on many of them, I don't speak and also I am not on camera either.
If you are interested in starting your own channel or want to learn more about YouTube then check out my free course below.
I also have many articles about YouTube which you can take a look at here —- How To Make Money On YouTube.
5 – Become an affiliate marketer.
Did you know that affiliate marketing makes up the majority of online sales? There are tons of great programs to join.
If you're looking for a great way to make money then being an affiliate marketer is the way to go.
You can earn commissions on products and services sold through your website, blog or social media accounts. It's easy, fun and super rewarding.
You can partner up with thousands of companies like….
Amazon

eBay

Etsy

Asda

Groupon

Last Minute Holidays

And Thousands more.
I've been doing this for years now and have made thousands online through my own websites, blog and YouTube channels.
This has allowed me to quit my job so I could work on projects that are more fulfilling than just getting paid by the hour.
The amount of money you can earn with affiliate marketing is uncapped and you can earn years down the line from "work" you do one time.
Here is a screenshot that I shared with my Facebook group…
I earned $1,000 in a single day and this was from JUST ONE affiliate product I share.  Years ago I wouldn't have imagined this was ever possible. 
It seems ridiculous that you can earn this amount of money in a single day, plus, I earned this whilst I wasn't even at my laptop or doing any "work".
When it comes to affiliate marketing,  it is incredibly easy to get started with, however,  many people fail because they don't learn the basics properly or they focus too much on "low ticket commissions"
If you want to learn affiliate marketing correctly then I have two resources for you. 
Resource Number 1. The 15-day business builder challenge.
This costs just $7 (About £5.50 in the UK) and is, without doubt, the best course I have ever taken to learn about affiliate marketing.
It shows you everything you will ever need to know when it comes to affiliate marketing. 
Also, it is very affordable and gives you so much when it comes to starting your own online business with affiliate marketing..
Inside the course looks like this.
Altogether there are 15 videos and after you complete each one you are then given assignments. These are to help make sure you understand everything you have learnt in the video.
If you have been wanting to start an online business or earn online with affiliate marketing but still haven't taken that next step then I encourage you to invest in yourself by signing up for the challenge. It really is eye-opening and very much worth the money.
>> CHECK OUT THE 15 DAY CHALLENGE HERE <<
Resource Number 2 – The Insiders Guide To Affiliate Marketing.
For the incredibly low cost of just $2 (About £1.50), this book is packed full of step-by-step action plans for you to get started the right way with affiliate marketing.
Inside the book looks like this…..
>>> Grab this awesome Book Here <<< 
You may also find this article helpful – How Lots Of Ordinary People Are Earning Thousands Sharing Products. 
6 – Matched Betting.
If you're interested in making money on the side, matched betting is a cool way to do it.
Matched betting is a simple, risk-free way to profit from bookmakers. It's also easy to learn and doesn't require any experience in gambling or sports.
Plus it is a very profitable, legal way to make money in the UK.
Betting is fun, but it's also risky. You can lose money when you bet on sports or other events.
But there's a way to profit from bookmakers without risking any of your own money! It's called matched betting and it works by using free bets and bonuses from bookmakers to make risk-free profits.
Imagine being able to turn every £1 bet into £2 profit with no risk whatsoever. This isn't just possible; it's simple and straightforward to do once you know how matched betting works.
And to show just how simple it is I recorded the below video and made a £25 profit in a little over 15 minutes live.
I earn over £400+ every month using a website called Profit Maximiser,
This website gives you absolutely everything needed to make money with matched betting.
It also comes with a private FB group, daily offers you can make money with and lots more.
Check out Profit Maximiser and get started with just £1 for 2 weeks.
Final Thoughts On How To Make Money Online In The UK?
While having a job is a big plus financially, it doesn't always work out the way most people want. People get fired from their jobs and start looking for ways to make ends meet until they find another suitable position.
Others are not satisfied with their current jobs or just need some extra cash on the side. Whatever your reason is, you should know that there are plenty of opportunities to make money online.
All it takes is some time, effort and consistency. 
If you pick any of these methods to make money online then stick with it and you will see results, I see far too many people start something and then jump into something else after a couple of weeks. 
Making money online is 100% achievable but it isn't always easy to start.
If you want more ideas to earn money from home then you will love this article – The Ultimate Guide To Make Money From Home.
Other Articles You May Like: 
How People Are Earning Thousands Sharing Products.
Real Ways To Make Money From Home,
60+ Ways To Make Money From Home.
20+ Real Ways To Make Money From Home.
If you have any questions or found this blog post useful then please leave a comment below.
Thanks for reading.
Take Care & Keep Smiling
Mark
THIS POST MAY CONTAIN AFFILIATE LINKS, PLEASE SEE MY DISCLOSURE FOR MORE INFO