July Blog Traffic and Social Media Update 2017
Hello Not Taught At School readers 🙂
So far I have been blogging for nearly 3 months and it has been a huge learning curve.
From building a blog, writing posts, creating images, using social media platforms and so much more.
It has been very hard but extremely enjoyable at the same time.
Seeing comments on my posts from people all over the world thanking me for sharing tips inspires me to continue each day.
Last month I wanted to reach 2,000 page views and I went ahead and managed this! I learnt some great tips in July and these have come from several different groups on facebook I am a part of.
I wrote a post about the different groups on facebook you can join to increase traffic to your blog, If you missed this you can see it by clicking here 
So let's get into this and let me show you how to increase your page views also.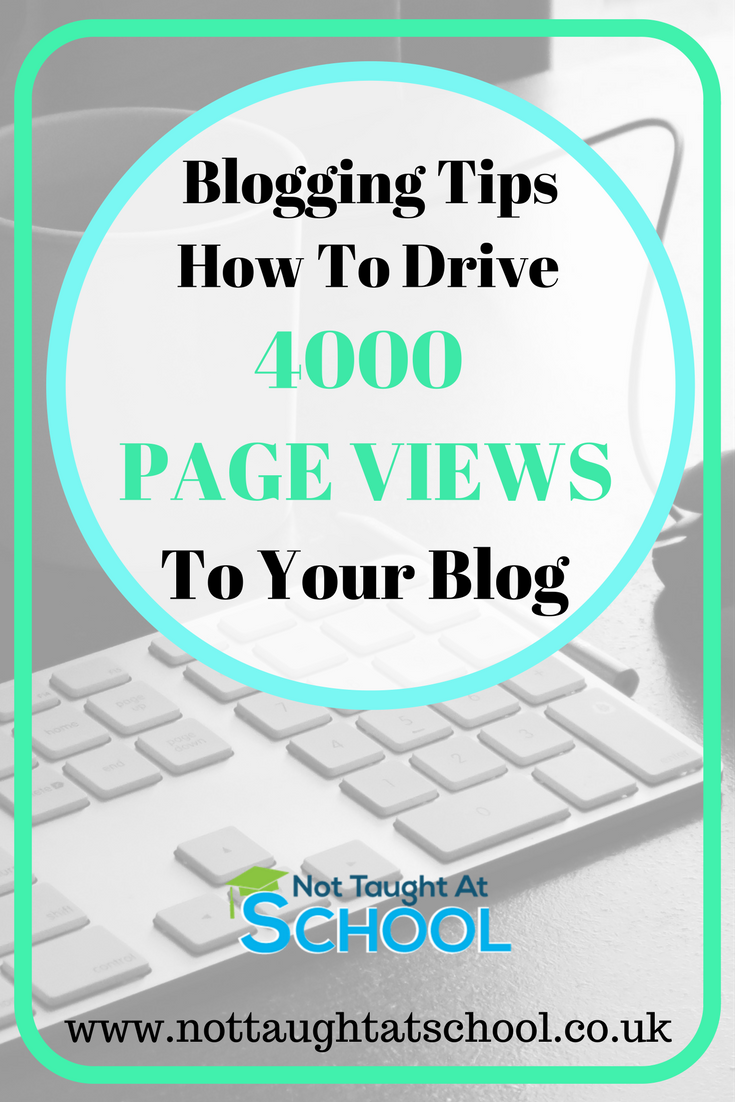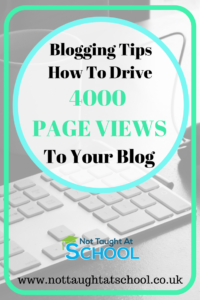 Blog Traffic – July 2017 


3,893 page views! I still can't believe it.
I am incredibly excited to see this amount of views on my blog, only last month I was getting 10 views a day.
Seeing this number is fantastic! As my blog views grow each month this means my posts are helping more and more people.
This is why I set up the blog in the first place, to offer advice and help people get ideas about working from home.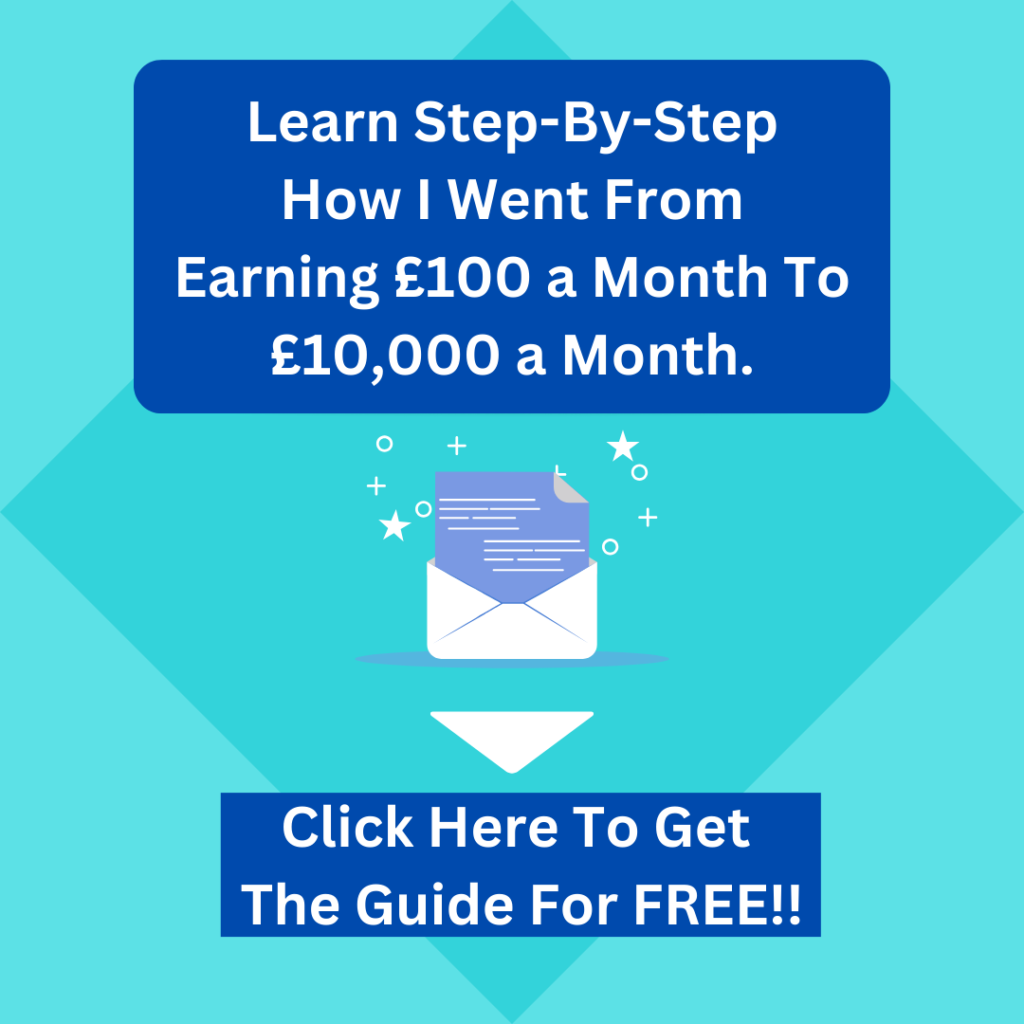 I will be sharing a Blog Traffic and Social Media Update each month.
There are a few reasons why I am going to do this and they are as follows
1 – By publishing them I can't hide away from the facts. If my page views drop then it means I have to work harder.
2 – Setting goals – I think it's very important to not only set goals but also share them with others. I can look back on the previous month and see where I need to focus on more to hit these goals.
3 – Sharing with other bloggers. I read other bloggers updates and this really encourages me and gives me guidance. I hope you get some benefit by me sharing this with you too.
Goals from last month –
Grow blog traffic to over 2000 views – Yes – I actually received 3,893 page views.
Increase Pinterest followers to 1200 – Yes – Only just as I now have 1218 followers.
Grow facebook page to 50 likes – Fail – Currently, I have 37 likes on the page.
Guest post for another blog – Yes – I have written a post for another blog and am just waiting on the article to be published.
I still can't believe I managed to get nearly 4000 page views! This was achieved without a doubt by being active in the facebook groups and Pinterest groups.
If you want to get the full list of the groups I use daily then click the picture below which has 11 great groups for you to join.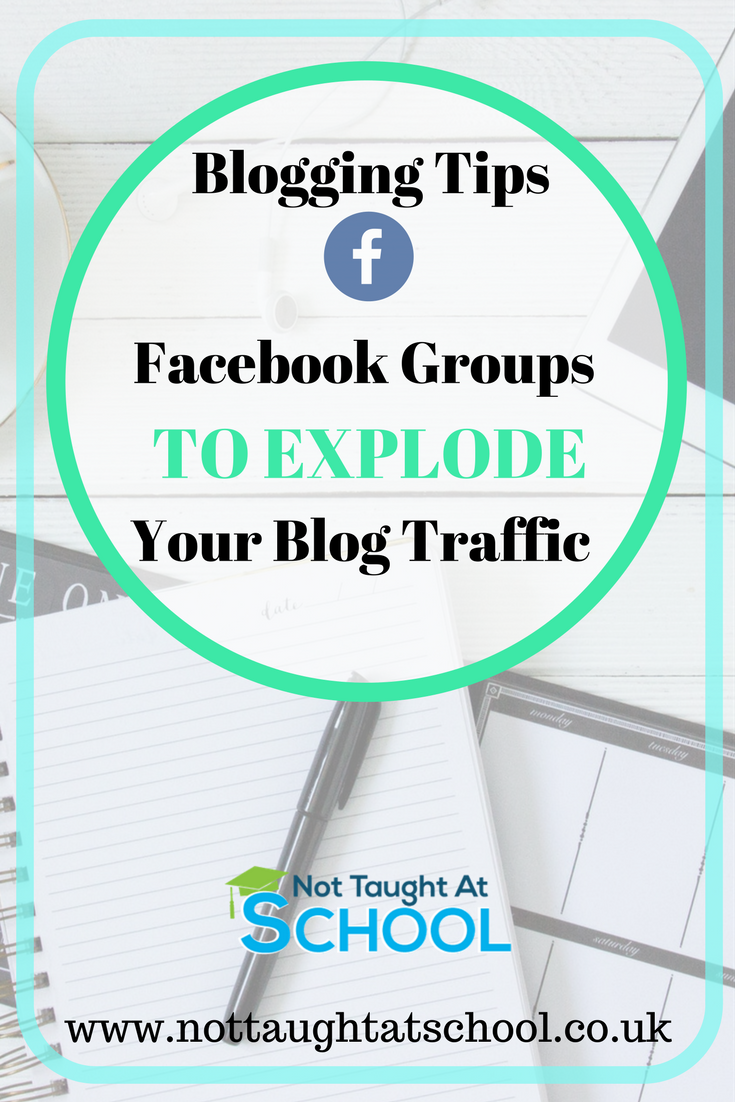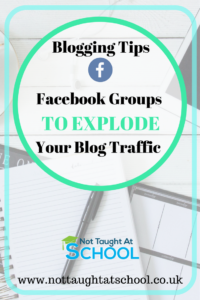 Pinterest
Still continued to be my biggest source to get people over onto my blog. I have been getting about 20 new followers each week which is awesome.
You can follow me on Pinterest if you like by clicking here 
I have found that since I have joined more group boards my pins are getting shared a lot more and my monthly views on Pinterest go up each day.
More shares = more blog traffic.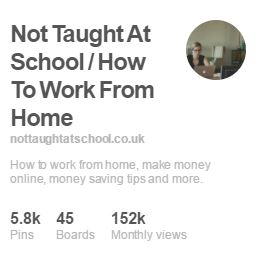 Also, another great tool I use on Pinterest and recommend to you is Tailwind, I wrote a full post which goes into lots of details that you can see here.
It allows you to schedule your own pins and share other peoples at the same time.
It will save you HOURS & HOURS.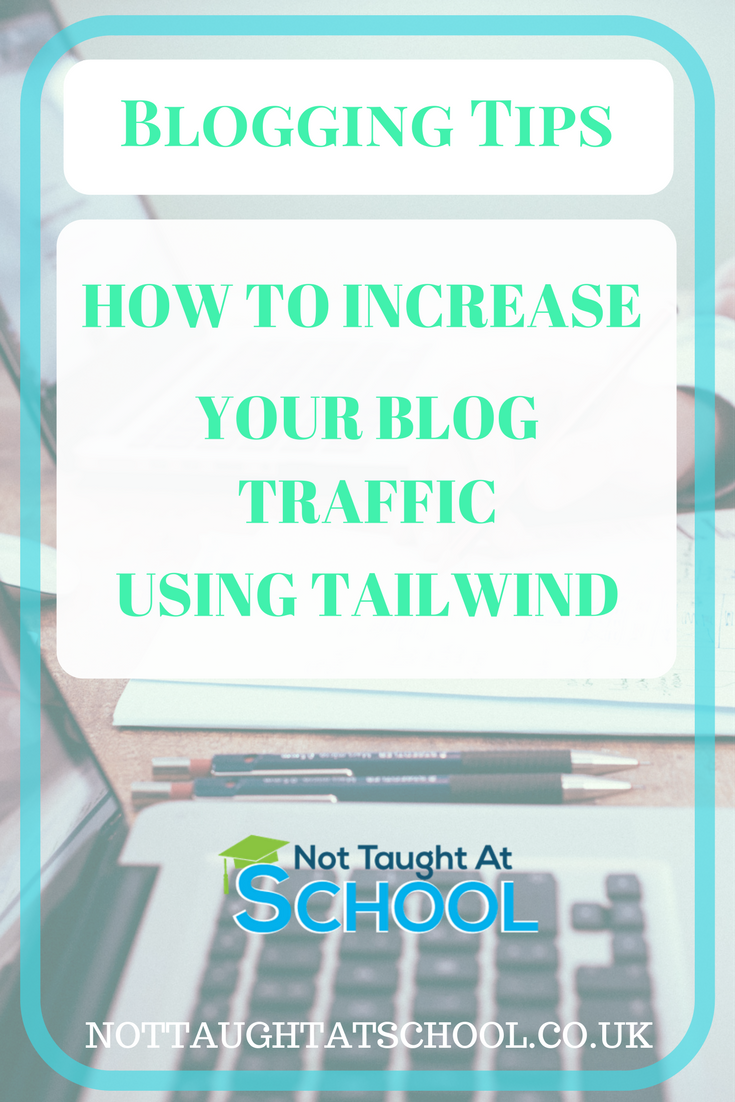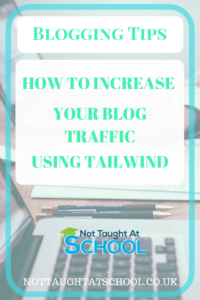 Posts Views
I check my google analytics every day at exactly one minute past midnight to see the updates from the previous day.
Sounds a little crazy I know. But it's important to understand where your visitors are coming from and what they are interested in.
Looking at the results for July it's very clear what people are reading on my blog and I can write future blog posts around this subject.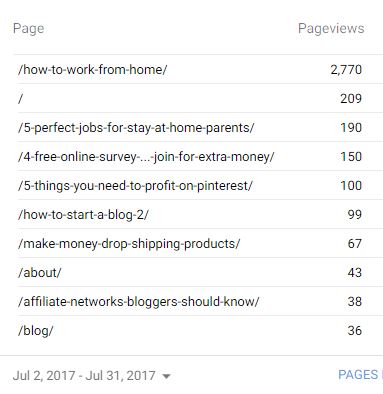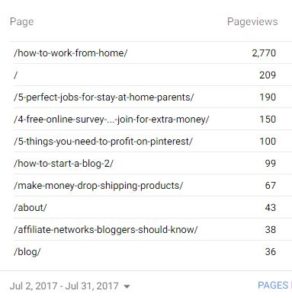 Currently, my post on how to work from home had 2,770 page views in July.
It has been shared over 1,900 times on Pinterest and it still gets shared every day even though I wrote the post in May.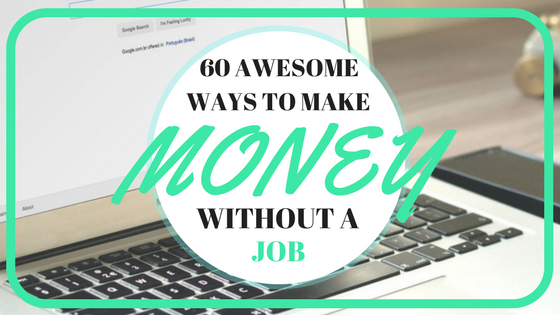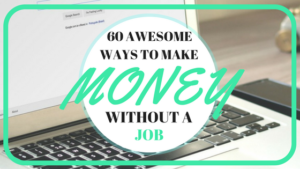 Quora – I joined at the beginning of June and have had some success on this social platform.
If you are not familiar with Quora its basically a huge question and answer site.
Users ask questions and the community can answer them, and one of the best things about the site is you can include a link back to your blog.
I now get several requests a day from people asking me to answer questions about working from home.
In July I received over 6000 views on my answers and some people clicked through to check out the blog also.

Goals for August 2017
5000 views on the blog – I feel a little uneasy writing this number but he who dares and all that 🙂
Pinterest – Join more group boards – I would like to be in 60 group boards by the beginning of September.
Followers on Pinterest up to 1500 – It stands to reason the more followers you have the more chance you have to get your pins shared and people viewing your blog posts.
Facebook page to 80 likes – While it's not a big priority for me it's still good to have a presence on Facebook.
Interviews – I want to start an interview series with people who work from home full time so they can share some great tips with all my readers.
Key Word Ranking and Bounce Rate – Whilst the traffic from Pinterest is great we all know the king of traffic is Google, so I am doing more research on how to rank on Google and use more key words to get blog traffic.
Final Thoughts
It's hard, to keep up with a blog. It requires a lot of time and effort.
I am sat writing this at my kitchen table at 1.38am to be precise, I have spent over 5 hours travelling today and had a meeting that lasted 6 hours.
It would have been so easy to just sit down and watch some telly or go to bed.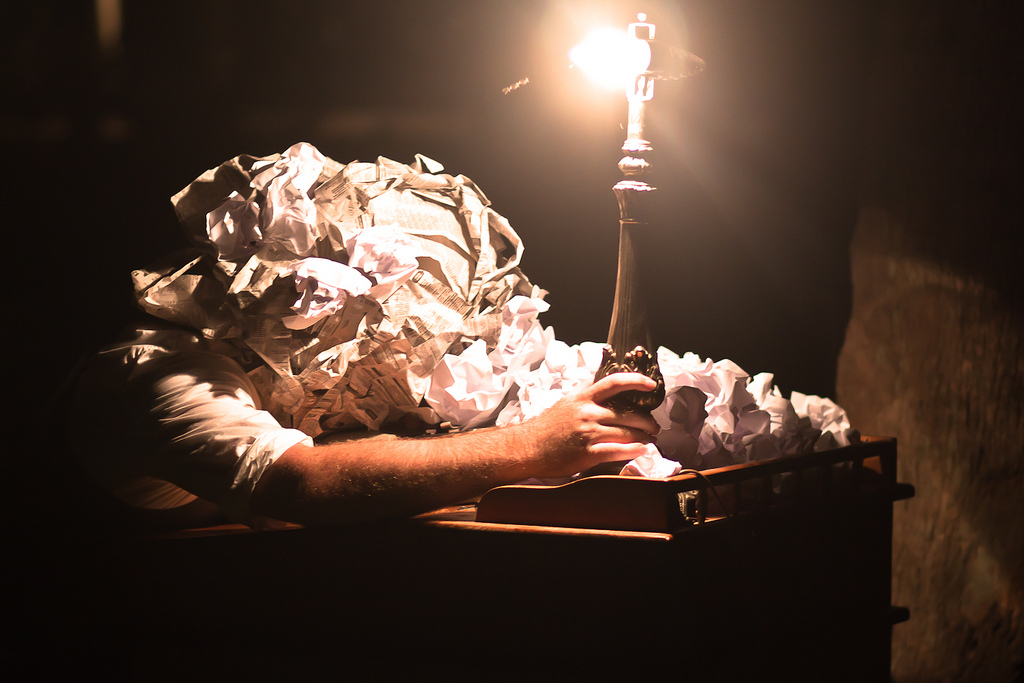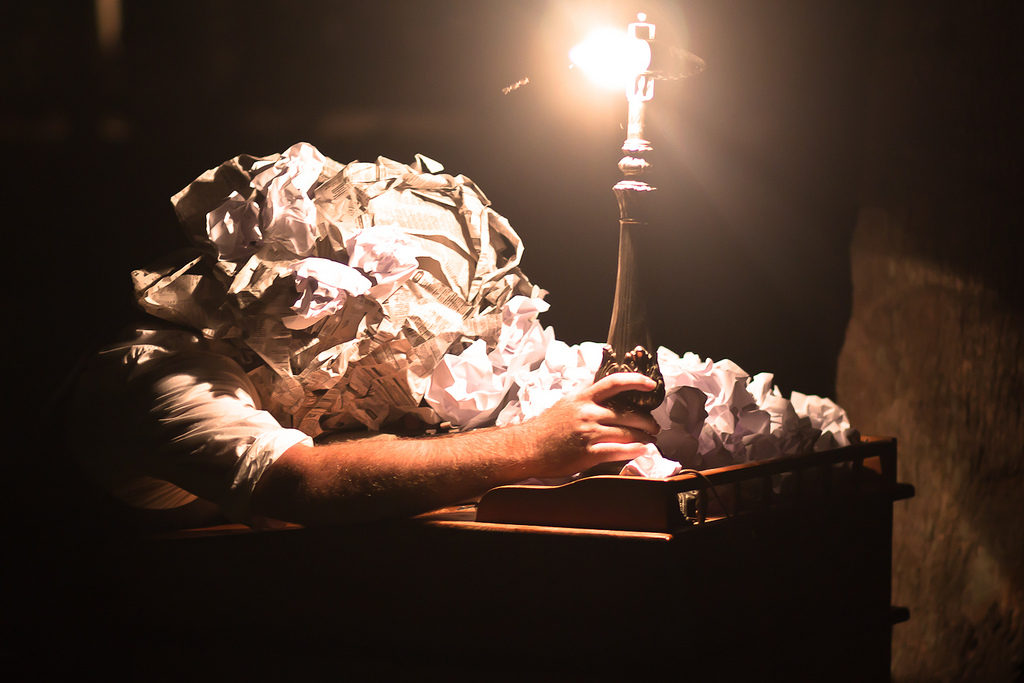 HOWEVER, I know it will all be worth it, as one day this blog will generate an income for me and my family. I just know it.
My blog will only fail if I don't put in the time and effort to keep learning and helping others.
So my advice to you is keep going also.
If you are getting little to no page views then join some of the groups I mentioned in this post, the people in the groups are awesome and everyone helps each other.
You will get more blog traffic from these groups.
It can be very overwhelming when you first start a blog and you may want to quit.
You will have to put in a lot of hours and people may be rude about your blog and not understand your reasons for wanting to create a blog.
Just remember why you started it in the first place and keep going, it does get easier. Apparently 🙂
Take Care & Keep Smiling
Furn
Learn More / Earn More / Save More / Start Living More
Affiliate Disclaimer:
======================================================
While I may receive affiliate compensation for reviews or promotions on this channel I always offer an open and honest opinion related to the product or service itself.
My goal is to help you make an informed and best purchasing decisions, however, the views and opinions expressed are mine only.
With any purchase, you should always do your own due diligence before making any kind of purchase.
By clicking on links or purchasing products I recommended on this page may generate an income for this website from affiliate commissions and you should assume we are compensated for any purchases you make. ======================================================