Welcome to our latest interview in the series -Earn Extra Money From Home – Part 2.
I really enjoy writing these articles and hope you enjoy them too.
By sharing these stories I hope to give you some inspiration.
Maybe you have an idea about making some extra money online?
Or maybe you are interested to see how other people earn some extra money online and from home?
Whatever your reason I hope throughout this series something really stands out or helps you to start on your journey with earning extra money from home.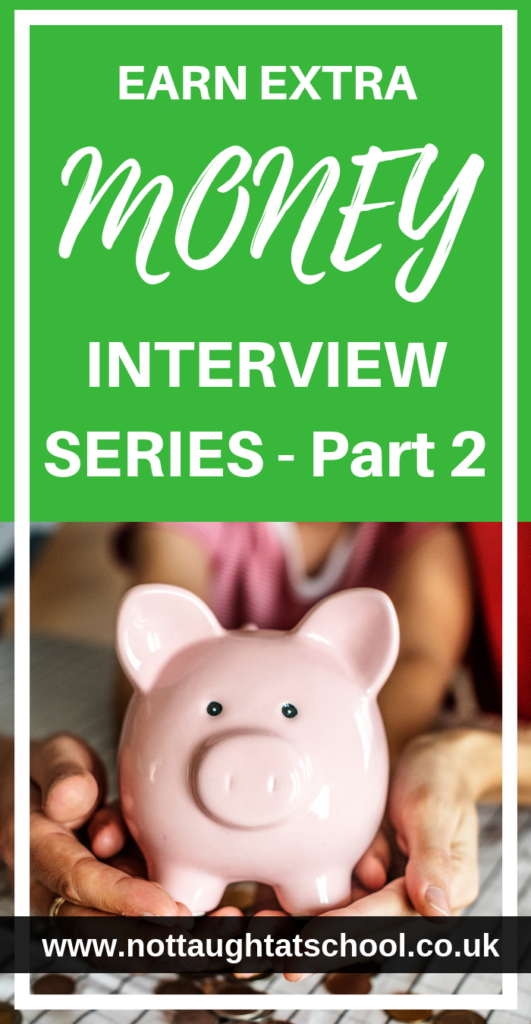 Today we get to meet Pete, civil servant, film extra and blogger. Take it away Pete…..
1. Please, can you tell the readers a little bit about yourself – what you do/enjoy/where you live/family etc.
I'm 39, married with 3 children aged between 10 and 6. I work for the Home Office and have done so since I left university.
My wife is a childminder which she does from home, so our house is always busy!
We live in the South East and have done all our lives. My wife and I both grew up in a village, so we prefer a quiet life and the big city isn't for us.
When I'm not running around after my family, I enjoy watching football. Oh, and a bit of blogging.
2. What is your favourite way to make money online? (Or offline?)
My favourite way to make money is working as an extra. Although there are long periods of waiting around, you get to meet some very interesting people.
Nearly all extras have other jobs, so you get to meet a real mixture of people. And it's quite funny listening to them complaining about some of the stars they've worked with.  Plus, the pay isn't bad too.
3. How did you come up with the idea for your side income and when did it start?
I saw a Facebook message that a film company was looking for people to appear as extras in a movie that was being filmed locally around 2 years ago.
A couple of my friends and I decided to go for it. They both dropped out, but I thought it would be fun so decided to go for it.
4. What were your initial goals?
My only goal was to appear in a movie. Even just a glimpse of me would be something I would love to show my grandchildren in 30 years time.
5. Have these changed over time?
My goals haven't changed. The back of my head is about the best result at the moment. I will keep trying until I'm famous… or at least you can get a glimpse of my arm or leg.
6. Tell us about your blog and what content you share with your readers.
My blog is a mixture of ways to save money and make extra. Although there is more content for working families, I try to write posts that appeal to a whole range of people.
7. Do you use social media to promote your blog and or side hustle? If yes, which platform(s)? Has it had an impact?
I use Facebook and Twitter to share both new and old content. I don't have much joy from Twitter but get quite a few views from Facebook. Also tried Pinterest without much luck but haven't bothered with Instagram.
8. Where can readers find you online?
My blog is Household Money Saving or you can take a look at my first job as an extra here.
And that concludes another interview.
Thanks to Pete for taking the time to complete this.
If you are looking for some great tips about becoming a film extra then check out Petes top tips —–> Here.
If you enjoyed this interview then you will love some of our other interviews.
These include how to make money writing, a blogger who paid off $60,000 of debt, a pro seller on Etsy and much more.
Check out the interview series —–> Here.
Other articles you may find useful include:
60 Ways To Make Money From Home.
15 Of The Best Money Saving Apps.
5 Perfect Jobs For Stay At Home Parents.
Simple Ways To Get Free Amazon Gift Cards.
How To Make Money Drop Shipping Products.
Make Money With Online Surveys.
Finally You May Like My Course – Real Ways To Earn Online From Home.
This course is packed with 3 hours of videos and PDFs including:
How To Make Money Online
A proven step-by-step guide to making money online and from home.
Some of the best ways to generate a passive income.
How to start your online venture and how to expand.
This course isn't free but I have purposely set the price low so anyone wanting to start earning some extra money from home can get started today.
You can check it out on Udemy by clicking the image below.
Thank you again for reading today's article.
Take Care & Keep Smiling
Furn
Learn More / Earn More / Save More / Start Living More
THIS POST MAY CONTAIN AFFILIATE LINKS, PLEASE SEE MY DISCLOSURE FOR MORE INFO