Welcome fellow YouTuber. 
Today, I have some awesome tips to share with you which have helped my videos get hundreds of thousands of views. 
And you will be happy to hear these tips take very little time to implement.
What I am going to share in this article is a very easy way to get more views on your YouTube videos. 
To get more views on YouTube there is a really simple method which consists of optimising your title with a mix of your keyword phrase plus a click word.

Simple Way To Increase Your YouTube Views.
Lots of people spend hours creating their video but they spend hardly any time optimising their video for views. 
This can be done in a number of ways and it doesn't take long to do. 
Once you have finished your latest masterpiece and are ready to upload it, the first thing we want to focus on is the video title.
There are a ton of things you can do that will allow you to easily drive more views to your YouTube video if you understand what I'm going to share in this article.
Optimized YouTube Video Title.
Key Word + Click Word.
A great video title will always include two sections, a target keyword phrase and a click word.
I bet you've heard lots about keyword phrases or search engine optimisation, but have you really heard?
Are you implementing "click words"
You should because they'll make all the difference to your title and click-through rate.
Below are some examples of "Click Words" to include in your video title.
Astonishing
Backdoor
Banned
Be the first
Become an insider
Behind the scenes
Bizarre
Blacklisted
Bootleg
Censored
Classified
Closet
Concealed
Confessions
Confidential
Controversial
Cover-up
Crazy
Cringeworthy
Elusive
Extraordinary
Eye-opening
Forbidden
Forgotten
Hidden
Hilarious Hush-hush
Illegal
Illusive
Incredibly
Insane
Insider
Interesting
Invitation only
Key
Limited
Little-known
Login required
Lost
Members-only
Myths
Odd
Off the record
Off-limits
On the QT
Outlawed
Priceless
Private
Privy
Psycho
Remote
Restricted
Ridiculous
Secret
Secrets
Shh!Shocking
Smuggled
Sneak peek
Spoiler
Strange
Stunning
Supersecret
Thought-provoking
Top secret
Trade secret
Unauthorized
Unbelievable
Uncharted
Unconventional
Under the table
Under wraps
Underground
Undiscovered
Unexplained
Unexplored
Unheard of
Unique
Unlock
Unsung
Untold
Unusual
Wacky
Withheld
Zany
If you want to get more views on your YouTube videos start including "click words" in your titles today.
The Benefit method.
As you are creating your video title think about all the viewers on YouTube that would be interested in the video you're going publish.
And then, with the topic in mind, think about what is the thing they want?
What is the viewer really wanting to see?
Will they benefit from watching your video? What you NEED to do is include the benefit in your video title.
Here is a powerful example.
Let's say you are planning to create a video about losing weight.
If we type that into the YouTube search bar, the number one suggested keyword phrase is… lose weight fast.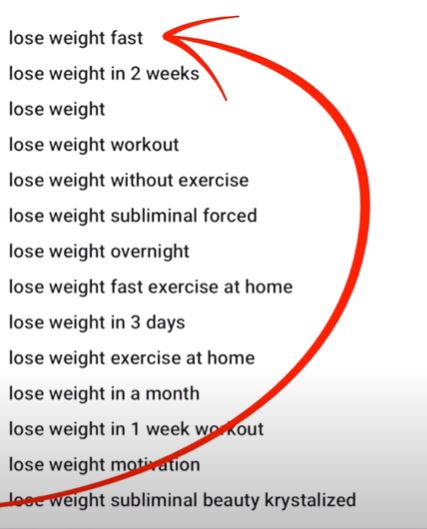 This is the benefit to the viewer – Fast.
People don't want to lose weight slowly.
They want to lose weight in 7 days, or even quicker!
And here is another tip.
Get specific.
The more specific you get, the more believable it is and the more clicks you will get on your video.
Example – How To Lose 20lbs in 20 days.
This is very specific. It's not fast.
It is in 20 days.
That's more believable. And as it is more believable, you will get more clicks on your video resulting in more people watching your YouTube video.
The Fear Method.
This is a great example From Nick Nimans YouTube channel.

Notice the thumbnail – Your channel won't grow if you do these things.(Fear)
The keyword phrase in the video title is – Mistakes NEW YouTubers make.
The "Click Word" is in the thumbnail.
Including both of these is a great way to get more views and this video from nearly a year ago is marching towards 1 million video views.
YouTube Thumbnails.
As we saw above, the thumbnail is an incredibly important part of getting views on your video.
When it comes to creating thumbnails here are some quick tips for you.
Make Them Curiosity Driven.

Include Background Colors to Make Your Text Pop.

Use Your Keyword Phrase (Or Fear Method) on the Thumbnail.

The Font Called "Lilita One" seems to work well.

Include no more than four lines of text in your thumbnails.
I have written an in-depth article about thumbnails which you can see here – 7 Tips To Create YouTube Thumbnails That People Click On.
The software I use to create thumbnails is called Thumbnail blaster and it is designed purely for thumbnails.
I shared the below video on my YouTube channel which shows you the software, how it works and the benefits of using this over other thumbnail creators.
>> Check out Thumbnail Blaster <<<
Turn YouTube Into A Passive Income Stream.
If you want to really take your YouTube channel to the next level then feel free to check out my brand new course – YouTube Passive Profits. 
YouTube Passive Profits is what I use to teach with my one-on-one students over a 4 week period.
Unfortunately, due to time restraints, I no longer offer a coaching programme, however, I have put everything into this course.
It took over 6 weeks to record, edit, upload and lots more to ensure this is jam-packed with the best content and advice to really grow your channel and earnings quickly.
I lift the lid on how you can fast track your channel, make way more money than other YouTubers and reveal lots more inside the course.
Here are just a handful of testimonials from some of my students who have taken the course.
How To Get More Views On YouTube [Cheat-Sheet]
The Ultimate YouTube SEO Cheat-Sheet.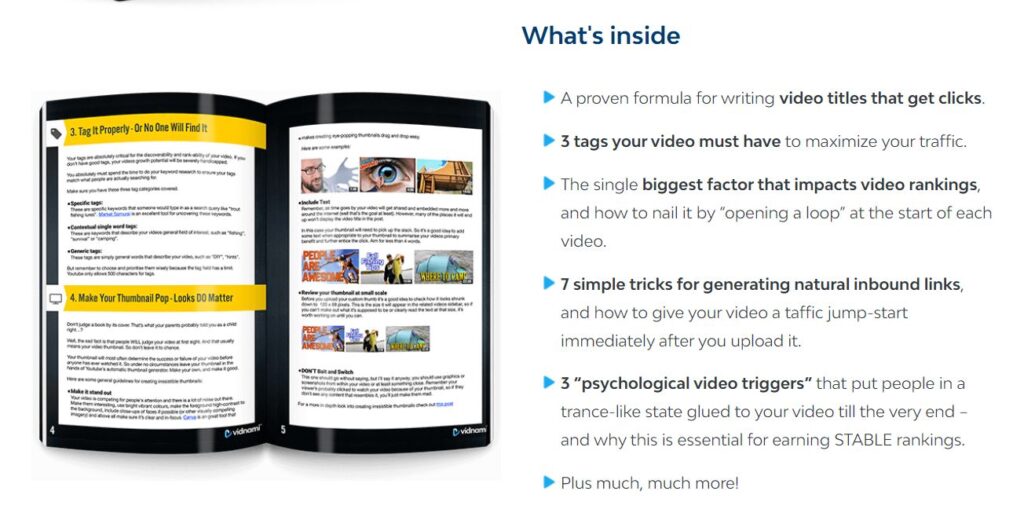 I picked up this FREE cheat sheet about 6 months ago and it shares some really awesome tips.
Inside there are 22 tricks that professional marketers use to boost rankings and sales with YouTube videos.
Other tips included in this cheat sheet include.
Video tags your video MUST have to maximize your traffic

The single biggest factor that impacts video rankings

3 "psychological video triggers"
And that concludes this article – How To Get More Views on YouTube.
I hope you found it useful? If you have any comments or questions let me know below and I will answer within 48 hours.
Thanks for reading and below I will link to some other YouTube articles for you.
Other YouTube articles you may find useful:
5 Proven Methods To Get More YouTube Subscribers.
How To Make Money On YouTube Without Creating Videos.
FREE Mini-Course – Make Money On YouTube.
Thank you again for reading today's article.
Take Care & Keep Smiling
Learn More / Earn More / Save More / Start Living More
THIS POST MAY CONTAIN AFFILIATE LINKS, PLEASE SEE MY DISCLOSURE FOR MORE INFO