Welcome to today's articles – How To Get More YouTube Subscribers 5 Proven Methods.
I have been on YouTube for a little over 8 months now, in the beginning, it was very frustrating.
Do you find it frustrating?
You can spend so much time trying to get everything just right:
Researching for the video.

Filming and editing.

Creating a thumbnail.

Looking at tags to use.

Giving the video a good description.
After going through all of this and hitting publish it can be disheartening to see your video with just a handful of views.
This is exactly what was happening to me, so I decided to spend as much time as possible learning and understanding the YouTube algorithm and how to get not only more views on your video but also subscribers.
So How Do You Get More YouTube Subscribers?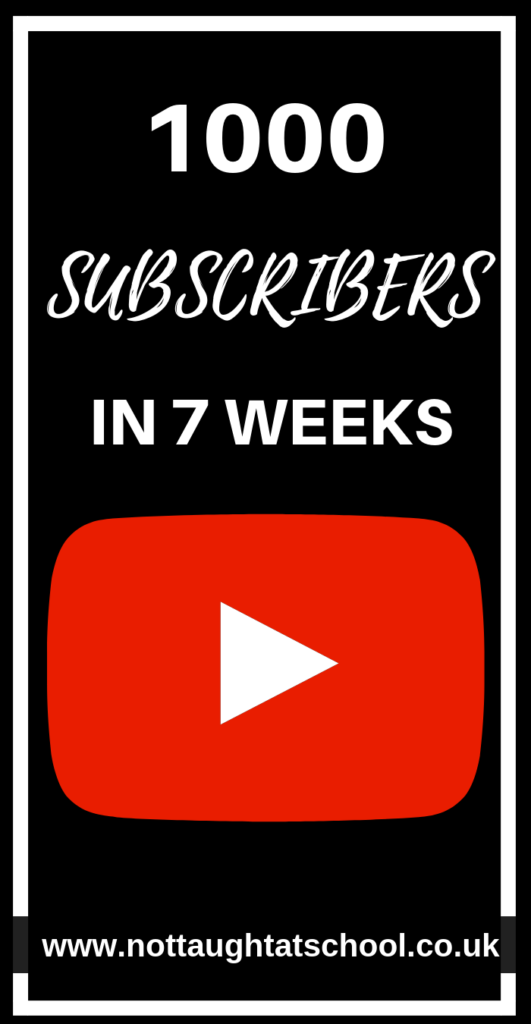 First, let me tell you what not to do.
Please do not join Facebook groups and participate in sub for sub. Not only will this be very time consuming but also not worth your time.
First YouTube will know exactly what is happening and if anything this could potentially harm your channel. Plus lots of these subscribers end up leaving your channel.
Next, I wouldn't advise paying for any software or service to get more views or subscribers. I have seen in several groups where people have paid to get views only for these to disappear once YouTube realizes these are spam views or bots.
After many weeks of testing and tweaking, I finally settled on a simple 5 step upload process and it really started to get some traction in December when I got 300 new subscribers in a week.
Let me show you my YouTube subscriber stats before I started using this process.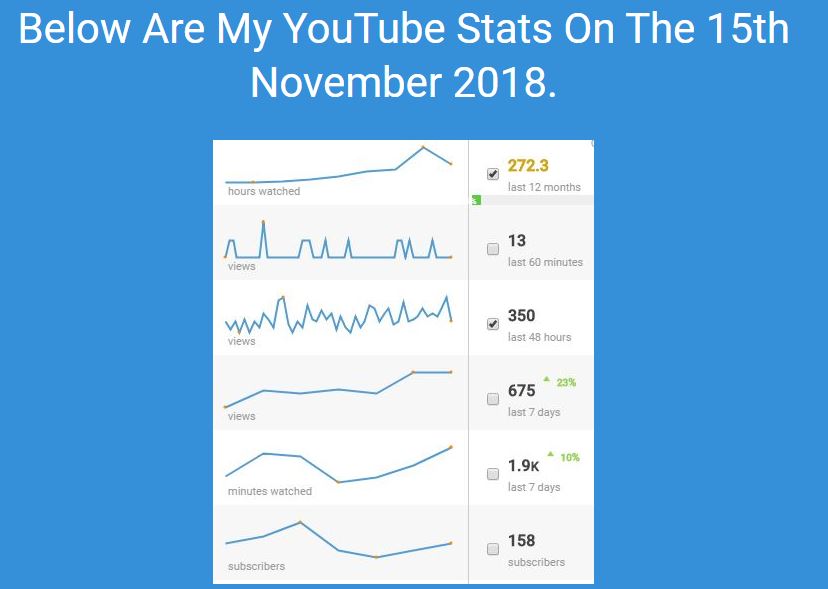 At the time of writing this, my current subscriber total is 1305.
What I really like is that not only are the subscribers coming in on a daily basis but also my watch time and views are also on the up.

Quick Update – I have just released my FREE YouTube course.
This course is packed with 2 hours of videos and PDFs including:
How To Quickly Grow Your YouTube Account

A Proven Step-By-Step Guide To Getting More View & Subscribers

Optimizing Your Video Description For The Best Results

Much More
If you want a proven method for growing your YouTube channel quick then you should take a look….
5 Steps To Getting More YouTube Subscribers.
I have recorded a short video showing you the process from start to finish and also it includes some really awesome free tools that you should definitely use.
1 – Get Vid IQ
This is an awesome free tool to use.
If you are serious about growing your YouTube channel you need this.
Once you have this installed it has some really great features to help your channel grow. Not only does it show you how well your videos are optimized for YouTube, tags to use for each video but it also has something called a channel audit.
The audit will show you which videos are working the best, the type of content to double down on, the videos with the most and least likes and so much more.
Here is a screenshot from one of the features on Vid IQ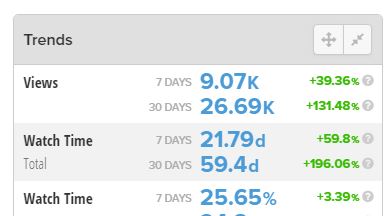 Check out Vid IQ ——> Here.
2 – Use Long Tail Keywords To Get More Subscribers.
Using long-tail keywords is a really simple way to get your video in front of more people.
An example of this would be the video above.
The video is called How To Get More YouTube Subscribers.
Now I could have just gone with – Get YouTube Subscribers, however, this currently has 22,200 people searching this every month so my video would likely be appearing on page 10 or 11.
By calling the video How To Get More YouTube subscribers it has a better chance to appear in front of more people because there are only 5,400 searches for this each month.
How do I know the number of people searching – How To Get More YouTube Subscribers each month?
I use a free tool that I covered in the video. (Yes I'm trying to get you to watch the video if you didn't as it will really help you)
3 – Relevant Tags.
Tags are important on YouTube.
These form part of the video SEO (Search Engine Optimization)
The quickest and best way to find your tags is using a free website called Rapid Tags.
You simply type in your title and it will display all the tags to use.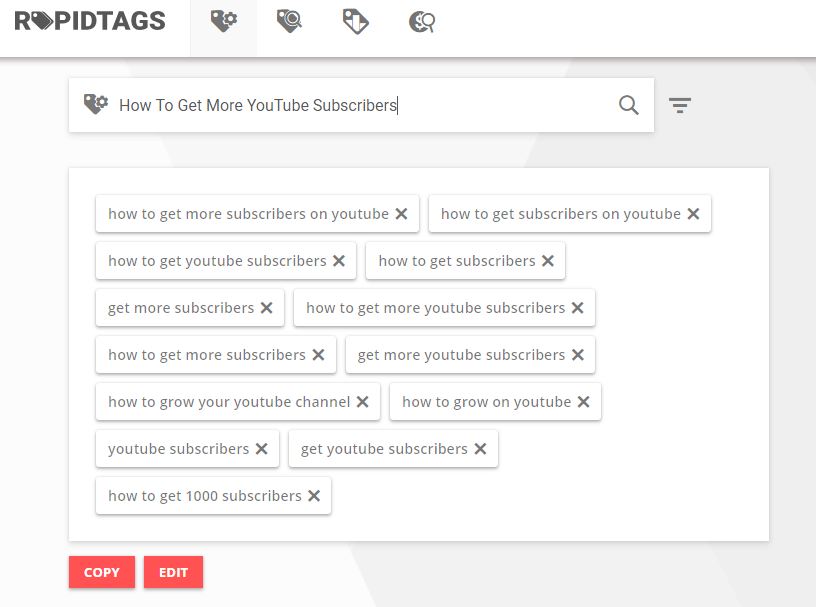 Check out Rapid Tags —> HERE
4 – Thumbnails To Attract More YouTube Subscribers.
When I first started my thumbnails were terrible.
I have played around with various colors, fonts, and formats.
What I have found best to work is large text.
In the video, I shared several examples of what I tested and the format I have settled on now.
Whatever font or text you go with just make sure it stands out and instantly tells people what your video is about.
5 – Backlinks For YouTube Videos.
YouTube is a search engine. It is owned by the worlds biggest search engine Google.
Backlinks are one of the biggest ranking factors for any content on the web, whether that is blog articles like this or videos on YouTube.
Backlinks are other sites pointing into your video.
This tells the search engine, in this example YouTube, that this content must be relevant to the viewer's search term because not only is it optimized with relevant keywords and tags but also many other sites are linking into this video.
Whenever you have uploaded a video takes just ten minutes to share it.
YouTube makes it very easy for you to do this with the share button below each video.
I share my video on all platforms available including Facebook, Pinterest, Twitter etc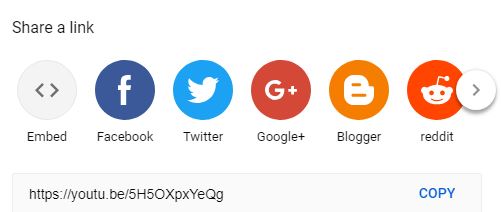 And that's pretty much it.
Update – I have just released my new course – YouTube Passive Profits.
This is EVERYTHING I know about YouTube!
The course is broken down like this……
Overview Of The Blueprint.

How To Start Properly.

The Fast Method.

Keyword Research.

Creating The Channel.

Video's Made Easy.

The Upload Process.

Get More Eyes On Your Video.

The Money Module.
If you want a proven method for growing your YouTube channel then you will love this, I have lots of student testimonials, including Youri who grew his channel to over 100k subscribers in over a year.
I hope you found this article useful?
If you have any question please comment below.
Other articles you may find useful include:
>> Make Money On YouTube FREE Course
>> How To Get More Views on YouTube (SECRET METHOD)
>> How To Create A YouTube Cash Cow Channel [From Scratch]
>>  7 Tips To Create YouTube Thumbnails [That People Click On]
>> How To Get More YouTube Subscribers 5 PROVEN METHODS
>> Make Money On YouTube Without Creating Videos
Finally, be sure to check out my FREE member's area.
Thank you again for reading today's article – How To Make Money On YouTube Without Making Videos
Take Care & Keep Smiling
Learn More / Earn More / Save More / Start Living More
THIS POST MAY CONTAIN AFFILIATE LINKS, PLEASE SEE MY DISCLOSURE FOR MORE INFO