YouTube is a great way to make money online, you can upload videos about anything you want and get paid for it!
The more views your video gets, the more money you'll earn from ads on your video. And you can earn from affiliate marketing, sponsored videos, merchandise, your own products and much more.
However, one of the things that put many people off is having to appear on camera or even talking. 
Enter the latest trend – A YouTube Cash Cow Channel.
What is a YouTube Cash Cow Channel?
In short, a YouTube Cash Cow Channel is a channel built to make as much money as possible. 
And it does this by creating videos that hopefully get thousands or even millions of views and the reason for this is quite simple. 
Once your channel is monetised,  YouTube pays you for every thousand views in the form of Google AdSense (Those annoying adverts over videos)
Many people are jumping on this trend as you're not on camera showing your face, having to talk or even create the videos yourself.
Instead, you're simply hiring a team that's going to make the videos for you, so you can make money on youtube without making videos yourself which then makes it an actual business instead of being a personal youtube creator.
Now, whilst they may seem like the dream for many people, it isn't without some drawbacks, mainly money!
However, I run several YouTube cash cow channels and I will share my methods with you in this article, but first, let's look at how this would normally play out. 
Traditional YouTube Cash Cow Requirements.
Usually, you need plenty of money to start!
When you start outsourcing this work you need to pay for the following.
The Script For The Video

Video Editor To Create Actual Video

Voice Over Artist

Thumbnail To Be Created
Realistically you should expect to pay anywhere from… on the high end $100 (£71) to the low end $30 (£21) Per Video!
And, even if you managed to get all of the above done for $30 a video, this is still going to cost you a lot of money.
When you create a new YT channel you should expect to upload at least 20/30 videos before YouTube fully understands what your channel is about and starts recommending and sharing your content. 
So if we take 30 videos x $30 you can expect to be out of pocket to the tune of around $900 (£640) to start getting some traction on your channel. 
And at this point, you still won't be earning money if you are relying purely on Google Adsense to earn money on YouTube. 
You see, before YouTube will start paying you for having ads on your videos you need to meet some requirements first. 

YouTube Monetization Requirements.
Before you can start running ads on your YouTube channel you have to become a member of the YouTube partner programme. 
And to become a YouTube partner you need to achieve the following….
Had more than 4,000 public watch hours in the last 12 months. 

Have more than 1,000 subscribers.

Finally, a linked AdSense account.
The last one is simple but it is the first two which people struggle with sometimes. 
And to me, it seems crazy that you would be spending all this time and effort relying on just YouTube AdSense to earn money. 
If you include affiliate marketing from day one you can be earning right of the bat. 
And instead of earning from just one revenue stream for your videos, you could have two for doing the same amount of work. 
So, let's break this all down into really simple to follow along with steps.
And by the end of this article, you can have your very own YouTube Cash Cow Channel up and running today without the huge expense and potentially earning from day 1. 
Starting a YouTube Cash Cow Channel.
Step 1 – Niche.
First, you need to decide on which niche you want to create videos in.
There are literally thousands of different niches, however, when it comes to a YouTube cash cow channel the most popular ones to go with are the following…
Top 10's, Luxury channels, Conspiracy theories, Gaming and Anime.
However, if you don't want to go into any of niches I found the below image over on Instagram with plenty of ideas for starting a YT Cash Cow Channel.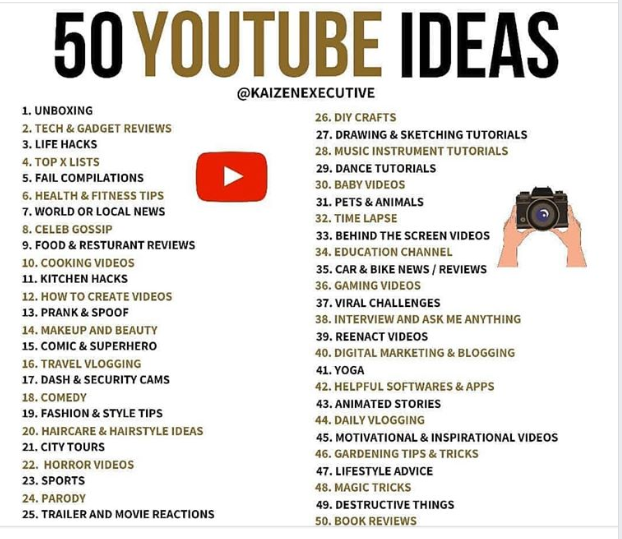 Step 2 – Find Affiliate Products.
Many people skip this part in the beginning and only look at it further down the road to discover there isn't much available. 
Let me share a quick example with you. 
If you have decided on the niche – Health & Fitness Tips. 
You could go over to an affiliate network like Clickbank (which is free to join) and find products you could recommend either in your video or simply include a link to them in your YT description.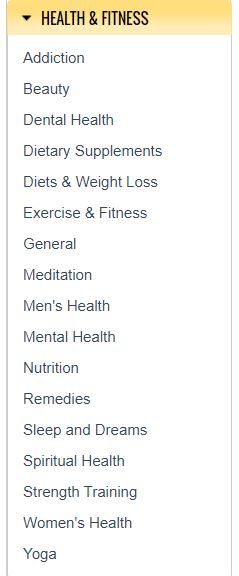 As you can see in the image above, Clickbank has many products available in this niche and you can find plenty of products to recommend and share. 
And you can also earn some pretty decent money from sharing a simple link in your YouTube description or creating a video around a particular product.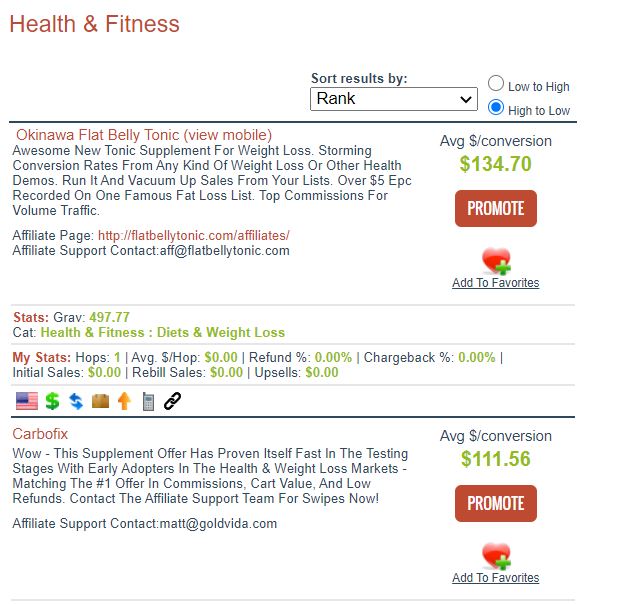 So, now we have decided on our niche and found some products to promote, the next part is coming up with the script for our video. 
Step 3 – Create The Video Script.
For this, we use a piece of software called Conversion.ai. 
This software is awesome and it works incredibly quick. 
Inside the software, you use templates to create your video title and script. You simply put some suggestions in the video topic idea template and it will give you lots of options. 

Once you have got the output from this template we then move onto the video title template. 
Then we take that video title and put it into the video script outline. The software will pump out a script and then you put that into the script hook and introduction. 
In total, this process takes less than 10 minutes (as shown in the video above) Once you have your video script you can then move onto creating the video. 
I have tried and tested several pieces of software for YouTube scripts and nothing comes close to this one. 
The cost? 
You can get full access to this awesome software for just $29 a month (£20) and for this you get 20,000 words a month. 
Plus I have a custom link for this software so you can get an extra 10,000 words for free. 
>>> Get The software and an extra 10,000 words here. <<< 
Or if you want to try it out for FREE then you can do so using the link below. 
>>> Try The Software FREE For 5 Days <<< 
Finally, I have written a full blog article about this software which you can see here >>> Conversion.ai Review
Step 4 – Create The Video.

Ok so next, we are going to use another piece of software called Vidnami for this part. 
This software is incredibly simple to use and it only takes a few minutes to create your video.
You simply take the script from Conversion.ai and paste it into the software.
Then Vidnami uses AI to read your script and it creates a full video for you, And if you don't like any part you can simply edit it. 
How much is Vidnami?
Normally it costs $47 a month but I have a few options for you. 
Throughout the year Vidnami runs promotional offers where you can get it for $29 a month. This is normally 3 or 4 times a year. 
Below is a link to the latest promo they may be running (I update this every time they run the offer)
➡️ Vidnami Promo – 40% OFF For Life ⬅️ 
If there isn't a promotion on then use one of the below links. 
➡️ Vidnami – 25% OFF Lifetime Deal & Bonuses ⬅️
➡️ Vidnami 2 Week FREE Trial ⬅️   
Step 5 – Create a Thumbnail.
For this step, I use a piece of software called Thumbnail blaster.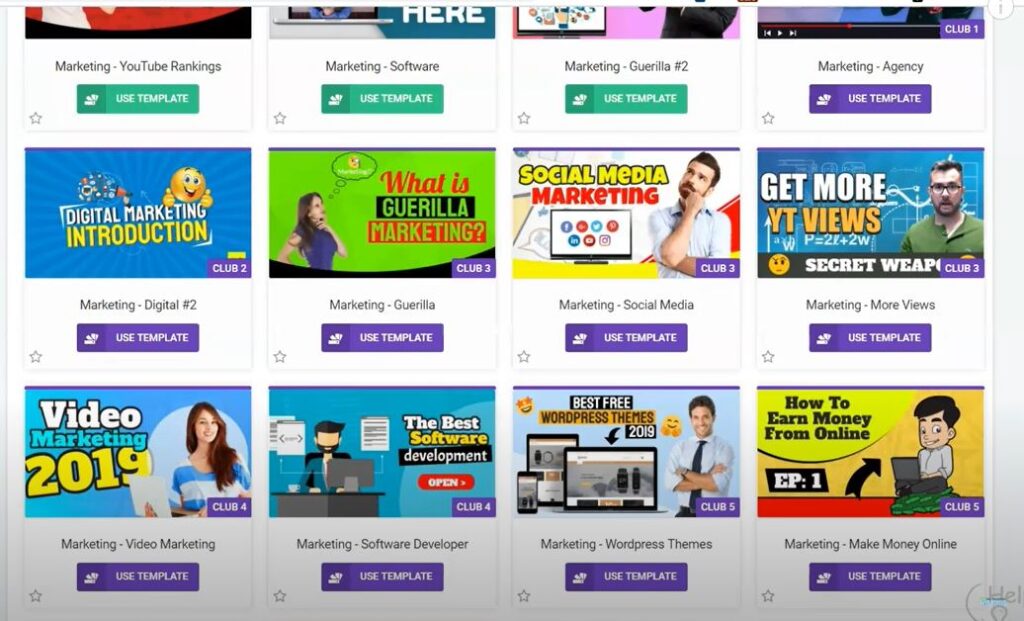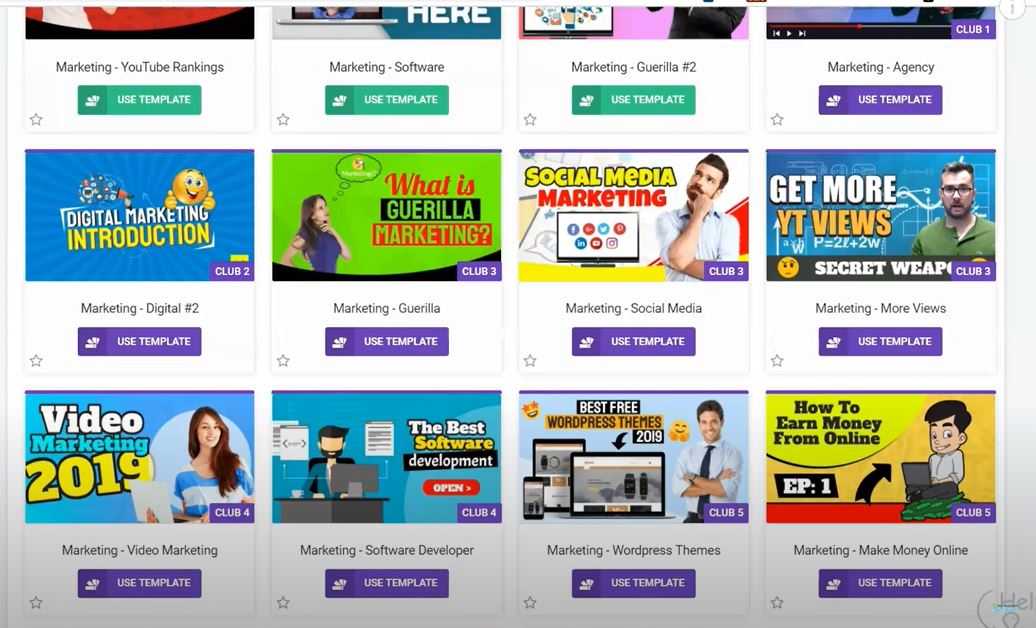 Thumbnail blaster is another awesome piece of software and you can create YouTube thumbnails very quickly. 
Inside the software, there are plenty of templates and hundreds of images for you to choose from.
Simply select any template you like and in just a few clicks your thumbnail is done.
Cost of Thumbnail Blaster? 
It currently costs just $36 (£25) 
➡️ Check Out Thumbnail Blaster ⬅️   
Step 6- Upload The Video.
This is a pretty simple process and once you have added your YouTube title, description and remember to include any affiliate links the final part is to add your thumbnail. 
Once all of this is done, hit publish and your video is up and ready for the millions of views it deserves. 
Actual Costs For A YouTube Cash Cow Channel?
Using all of the software above it will cost you $36 one time for the thumbnail software and $58 (£41) a month for both the video script software and the video creation software. 
This is not only way cheaper than outsourcing all of the work but you will actually get the software that will allow you to create unlimited YouTube videos. 
And all of these work incredibly quick, so realistically you could create at least 2 or 3 videos a day if you have a spare hour. 
Personally, I think £41 a month is an absolute steal to create videos quickly and also have the potential to bring you in some very good money. 
How Much Can a YouTube Cash Cow Channel Make?
Lots!
And there are just so many different examples I could share with you. So we will look at a couple of channels that create very simple videos.
Using the above softwares you can create very similar videos yourself.
Channel 1.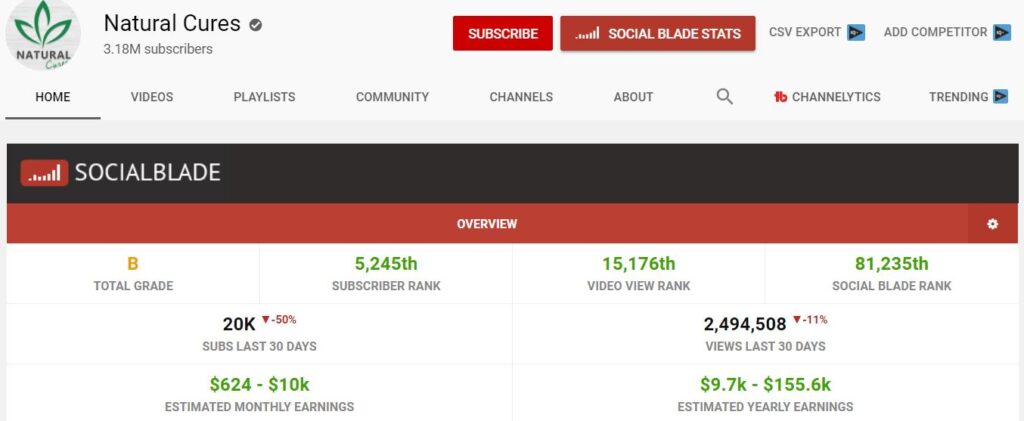 The first channel is called Natural Cures and it is currently earning up to $10,000 a month.
And this channel is uploading videos purely using the Vidnami software. Plus, all of the videos on this channel are under 5 minutes long so these will not take much time to create at all. 
Channel 2.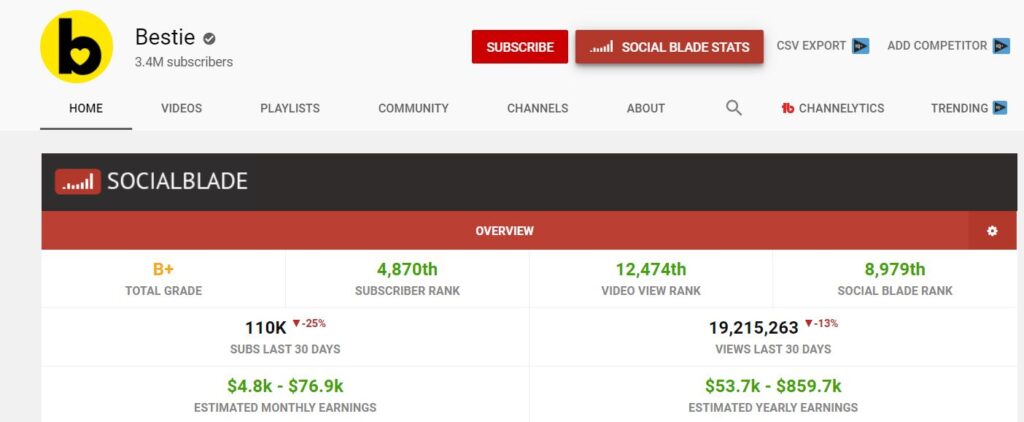 This channel is earning up to $76,900 a month!! Over here in the UK that is just over £55,800 a month.
Very similar to the Natural Cures channel, all of the videos are made using video stock footage and none are over ten minutes long.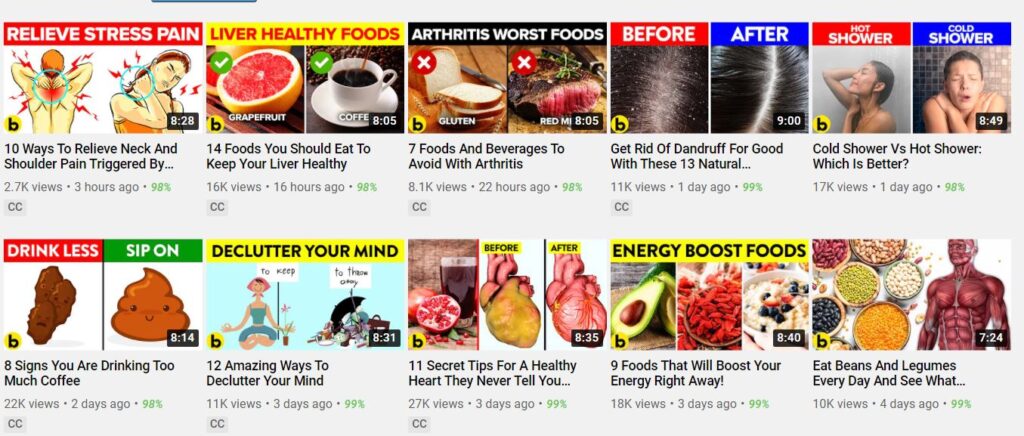 Feel free to go ahead and check out the above channels, both of these create really simple videos and these will not take long to create using the above softwares. 
Final Thoughts On YouTube Cash Cow Channels?
I like to think of my different YouTube channels as online digital real estate, every video I upload to each channel is another asset that will bring in a passive income, over time as each channel grows, so will the income.
As one channel becomes profitable I then move onto another and start the process again. 
I see many people quit YouTube because they think after uploading videos for a couple of weeks they should be getting thousands of views and earning X amount of money a day.
All of the steps above are very simple to follow along with and you can have your own YouTube cash cow channel up and running in the next hour. 
If you want to fast track your efforts on YouTube, with proven methods to grow fast, how to earn more than most YouTubers, step-by-step niche selection, money funnels and much more then feel free to check out my course.
>>> CHECK OUT YOUTUBE PASSIVE PROFITS
Youtube passive profits is my flagship course, previously I use to offer 1/1 training and mentorship, due to the growth of my channels and online business this wasn't something I could continue with as I just don't have enough time in the day. 
So, I spent 6 weeks creating this course and put everything I know about making money on YouTube into it. 
To date, the course has had hundreds of students and plenty of testimonials. Below are a few for you to see….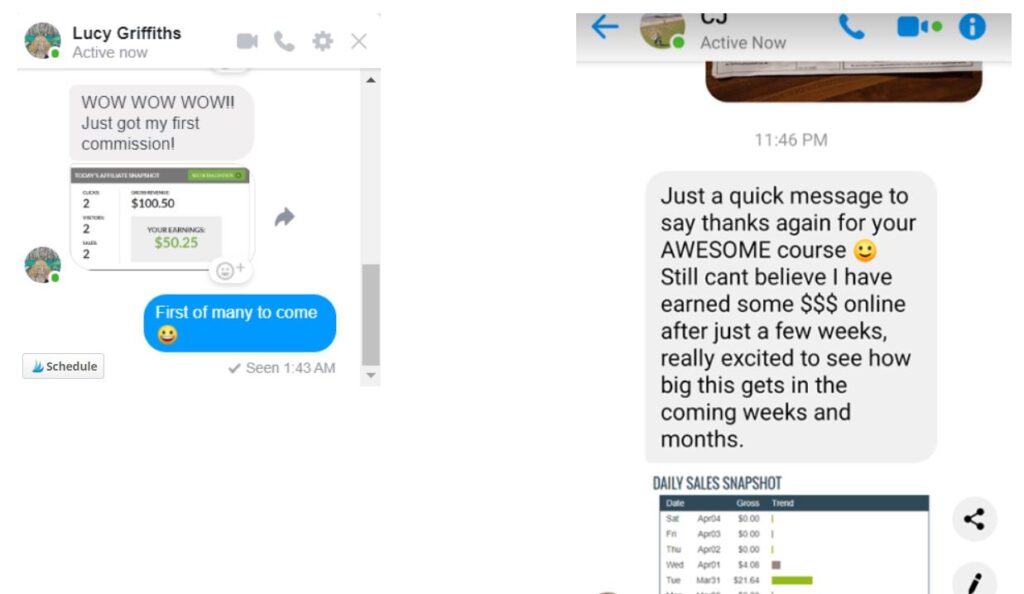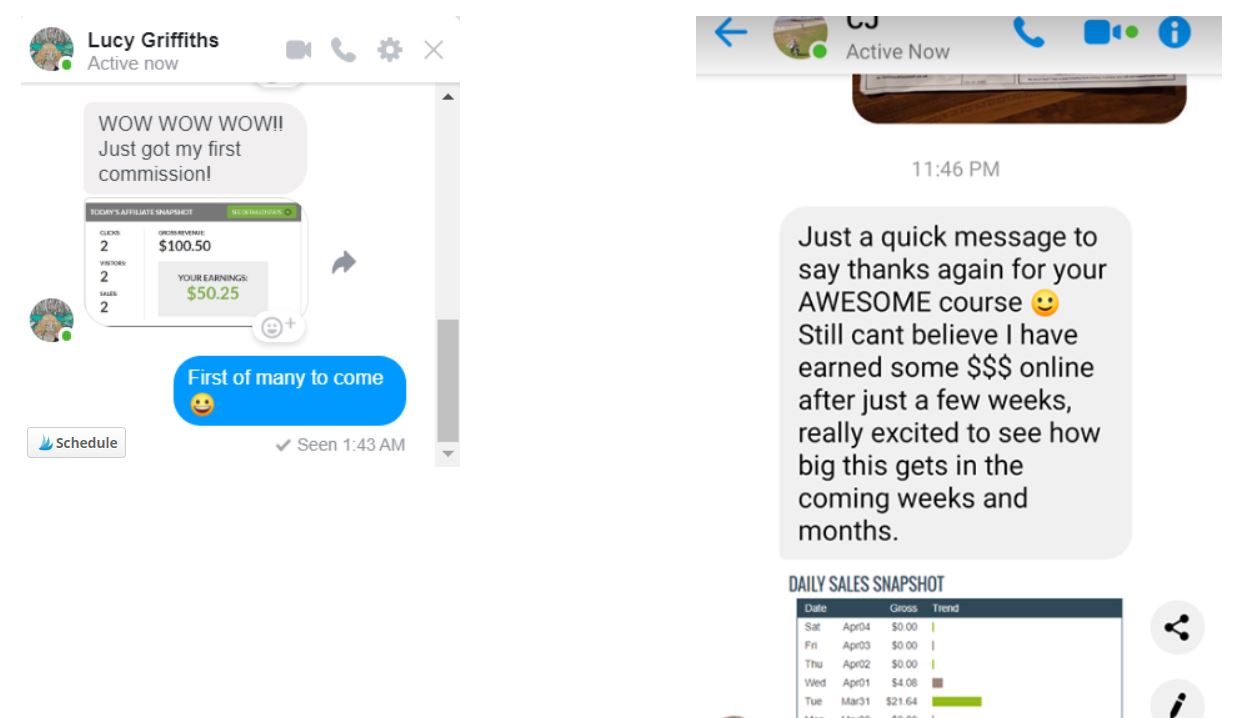 And that concludes this article – How To Create A YouTube Cash Cow Channel [From Scratch]
Thanks for reading,  if you have any questions please leave them below and I will answer within 48 hours for you.
You can find more articles about growing on YouTube below…. 
>> Make Money On YouTube FREE Course
>> How To Get More YouTube Subscribers 5 PROVEN METHODS
>> Make Money On YouTube Without Creating Videos
Take Care & Keep Smiling
Furn
Learn More / Earn More / Save More / Start Living More
THIS POST MAY CONTAIN AFFILIATE LINKS, PLEASE SEE MY DISCLOSURE FOR MORE INFO