I first came across Legendary Marketer back in 2017/2018 when most YouTubers were promoting it. 
Briefly, I took some notice and after doing a little research I put it on the back burner.
At the time the whole programme was changing very fast and one online article would contradict another. Then I would watch a YouTube video and these were also putting out mixed messages. 
Something that didn't appeal to me was that you could only market and share a product you had purchased, The whole "pay to play" method is something I am not a fan of. So I stopped looking into it and moved on.

Fast forward a year later and a very good friend of mine started sharing his experience in a group I am a part of over on Facebook, this sparked my interest again and I started watching his journey. 
After a few months and some late-night conversations, I decided to jump in and see what it was all about.
I bought some of the products and was very impressed with the content inside.  Plus the price point was incredibly cheap.
Then when I started to research some of the other products available, the mixed messages came back. Lots of website reviews and YouTube videos were out of date or didn't include the latest products.
Even articles that are currently ranked on page one of Google are way out of the loop, some even claiming that Legendary is free, (It isn't) 
So today in this Legendary Marketer review I am going to give you the most up to date and accurate information about the whole programme and platform.
Find out what the hype is all about with legendary marketer and their products. Is it just a marketing gimmick or can you really make money? Read on to find out!
Also,  if you just want to check out the bonuses I am offering then jump to the bottom of this article where you will find them. (There Epic)
What Is Legendary Marketer?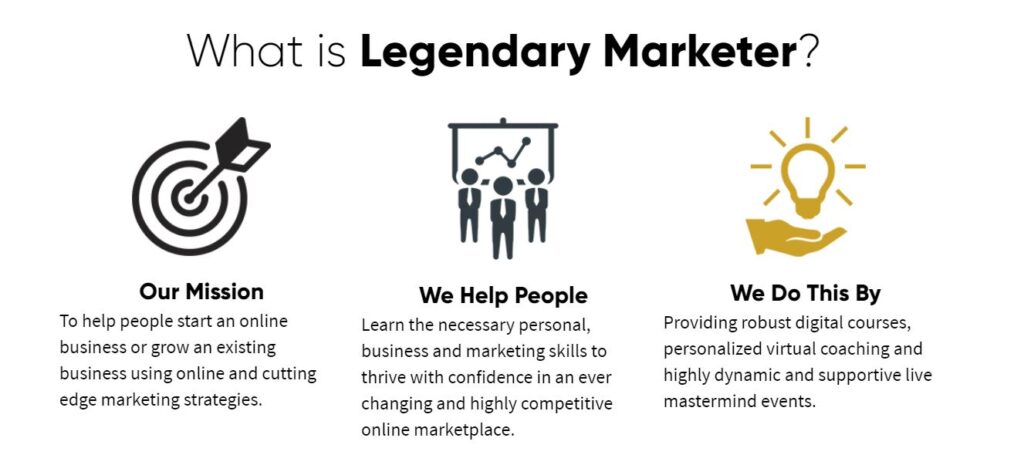 Legendary Marketer is a series of in-depth training material that will teach you how to create and run an online business. If you're looking to learn and build an affiliate marketing business then this is the place to go!
Regardless of your skillset, Legendary Marketer will teach you how to make money online with integrity and caring about what you put out into the world.
David Sharpe is the founder and he's been featured in Forbes, Entrepreneur, and CBS. To date, he has done over $250 million dollars in online sales.
Who is Legendary Marketer for?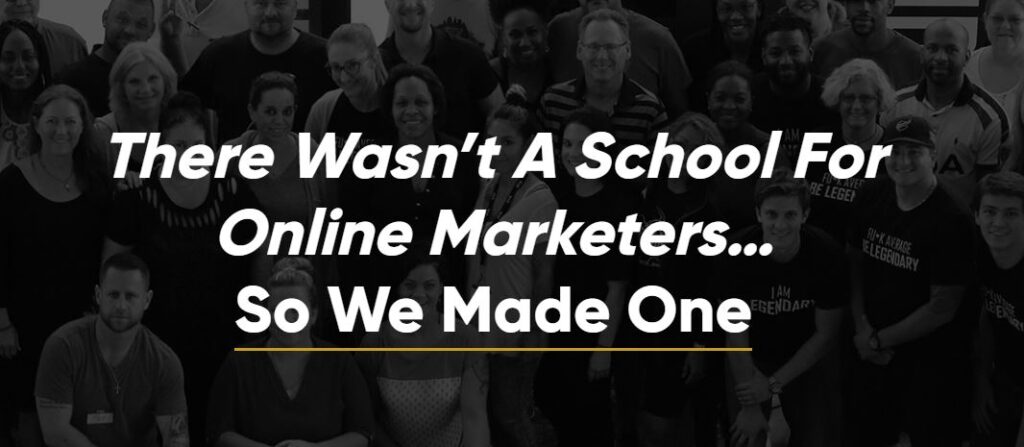 Pretty much anyone who is looking to build an online business with affiliate marketing. 
Most of the products are aimed at people just starting out or with some experience.
Legendary marketer will not only teach you the fundamentals of marketing but they will also give you the resources needed, this includes sales funnels, traffic generation, templates, emails and more. 
And it is all done in a very structured way so you don't feel lost or confused, plus after you finish watching the training there is normally an assignment or questionnaire to help keep you on the correct path. 
However, if you are an experienced affiliate marketer then Legendary also has something for you, that is the affiliate programme which can be very lucrative as once you send traffic to the different products the team take over and do the selling for you. 
Let's Look At Some Of The Products.
Over on the website listed under products, you will find there are currently 7 products, however, there are also a few more which we will cover in this section. 
As legendary offers a wide range of products we will start with the lower priced ones and work our way up. I would also recommend you do not start with the more expensive products either. 
Start with the cheaper products, use them to make some money or gain a better understanding and then look at some of the other options available. 
Copywriter's Playbook.

This is currently the cheapest product they offer and is only $1! 
Previously they use to sell this for $47 but in late 2020 they dropped it to the current price. Even at the previous price point, this course was extremely good value for the money. 
The course is broken down into the following 8 parts.
Part 1: "Getting Perfect Clarity On Your Offer"

Part 2: "4 Steps To Create Buyer Frenzy"

Part 3: "Amateur Pitfalls To Avoid"

Part 4: "Bringing YOU Into Copy"

Part 5: "The Tried & True PMES Formula"

Part 6: "Turn Your Feelz Into Winning Copy"

Part 7: "The 5 Secret Value Triggers"

Part 8: "Sowing 'Copy Seeds' To Harvest More Sales"
Copywriters playbook will teach you step-by-step on how to write good copy.
This is without doubt one of the essential skills you need to learn if you want to be successful with affiliate marketing. Writing good copy will convert your potential customers into buyers. 
It also comes with 6 additional bonuses.
Bonus 1: Dave's Private Copywriting Cliffsnotes

Bonus 2: 250 Headline Email Swipe File

Bonus 3: "The 20 Minute Client Formula"

Bonus 4: "Quick Copy Hot-Seat Critiques"

Bonus 5: Sales Letter, Email, Ad, and Webinar Templates
To get all of the above for just $1 I think you will agree is just an awesome deal.
>>> Check Out Copywriter's Playbook <<< 
15 Second Free Leads.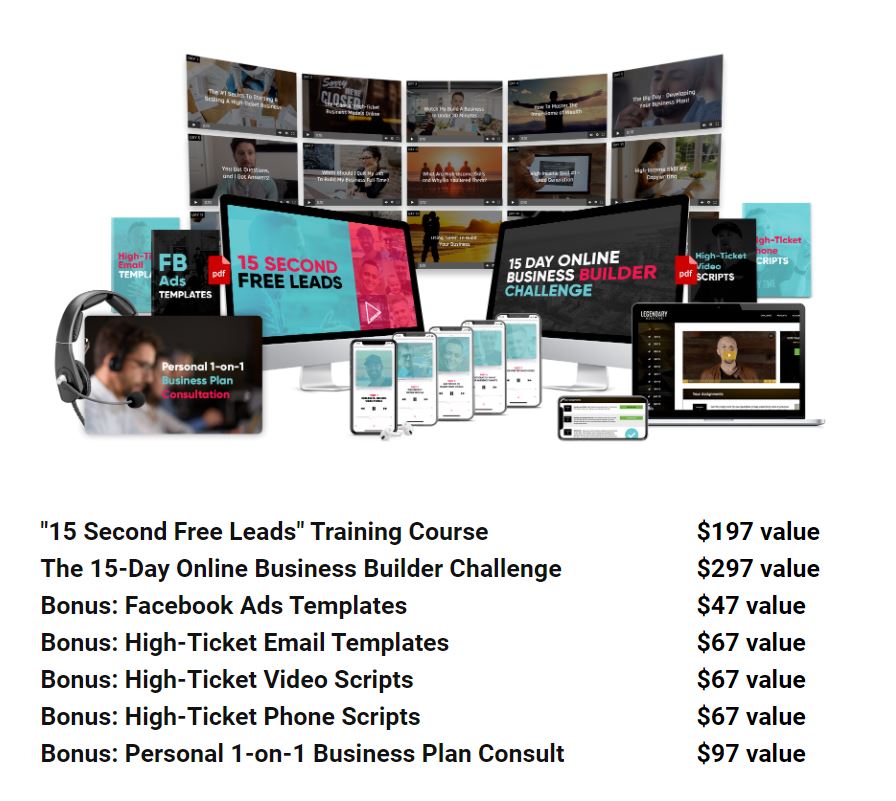 This is the latest edition to Legendary Marketer and focuses on one of the hottest platforms around at the minute…. TikTok.
If you think TikTok is just for kids and only has silly dancing videos you would be very wrong. 
TikTok is growing in popularity every day and you can get a lot of traffic from the platform by uploading very short videos. 
And you can do this without being on camera on even talking which makes it a great option for many. 
Many of the members inside Legendary have started using this platform with very impressive results.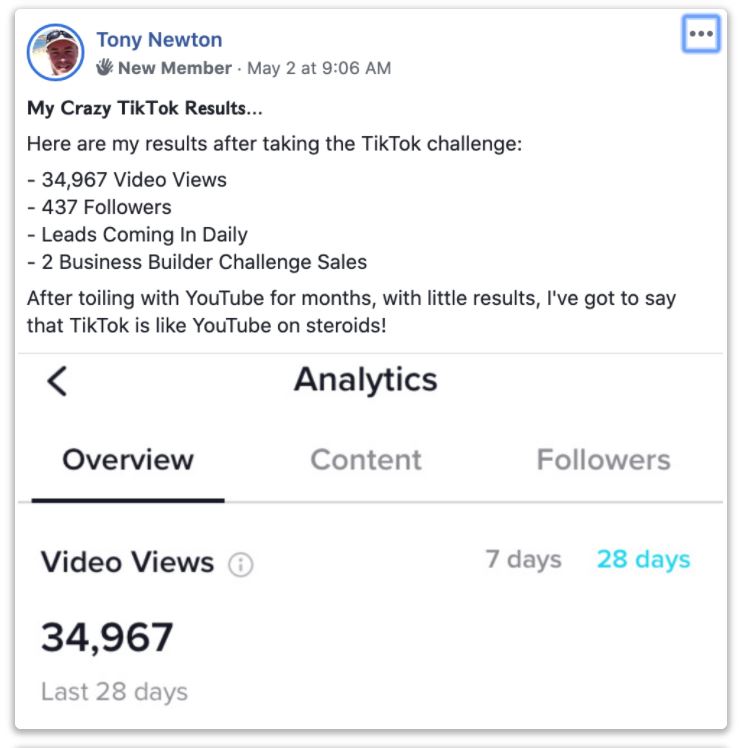 This is a video course and comes in 5 parts.
Part 1 – Endless 15-Second Video Topics

Part 2 – The Perfect TikTok Profile

Part 3 – Get TikTok To Share Your Videos

Part 4 – Post Exactly What Your Audience Wants

Part 5 – TikTok For Technophobes
Like the copywriter's playbook above, the value in this product is just exceptional, however, this also comes with a bunch of free bonuses. 
The bonuses included with this product are as follows.
The 15-Day Online Business Builder Challenge

Bonus 1: Facebook Ads Templates

Bonus 2: High-Ticket Email Templates

Bonus 3: High-Ticket Video Scripts

Bonus 4: High-Ticket Phone Scripts

Bonus 5: Personal 1-on-1 Business Plan Consult
For just $1, this is a complete no brainer as it offers so much.
>>> Check Out 15 Second Free Leads <<< 
The Insiders Guide To Affiliate Marketing.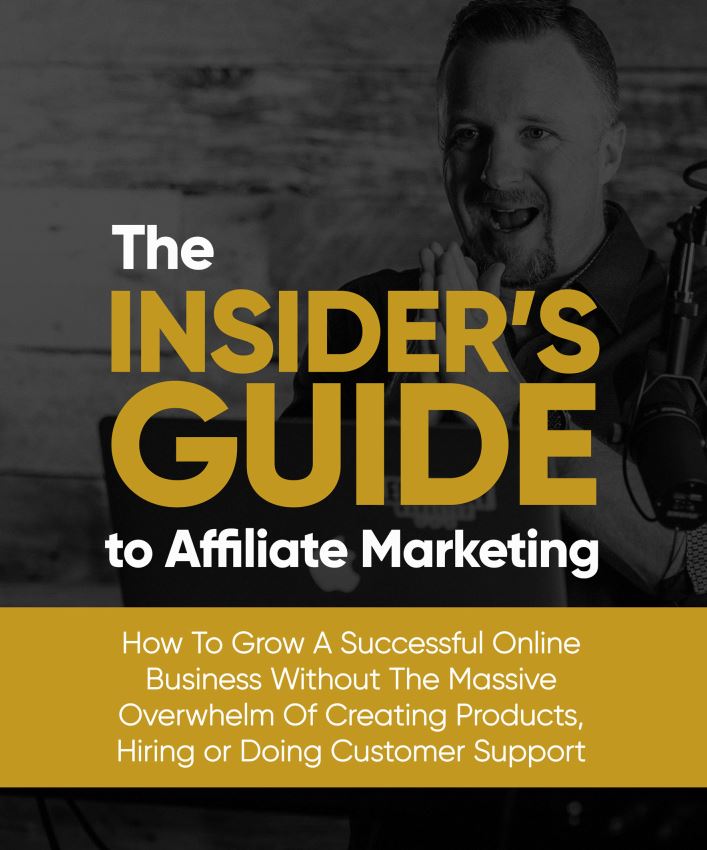 This is currently the last low ticket product that introduces people to the world of Legendary Marketer. 
And it costs just $1.99 (About £1.45)
Inside this eBook, you will find over 90 pages that are packed full of value for any affiliate marketer.
The book is separated into 12 chapters which are then broken further down further into 3 parts.
Setting everything up (The Foundation Of Success)

Running your affiliate marketing business (The affiliate formula) 

How to expand and grow. (Foundation To Longevity)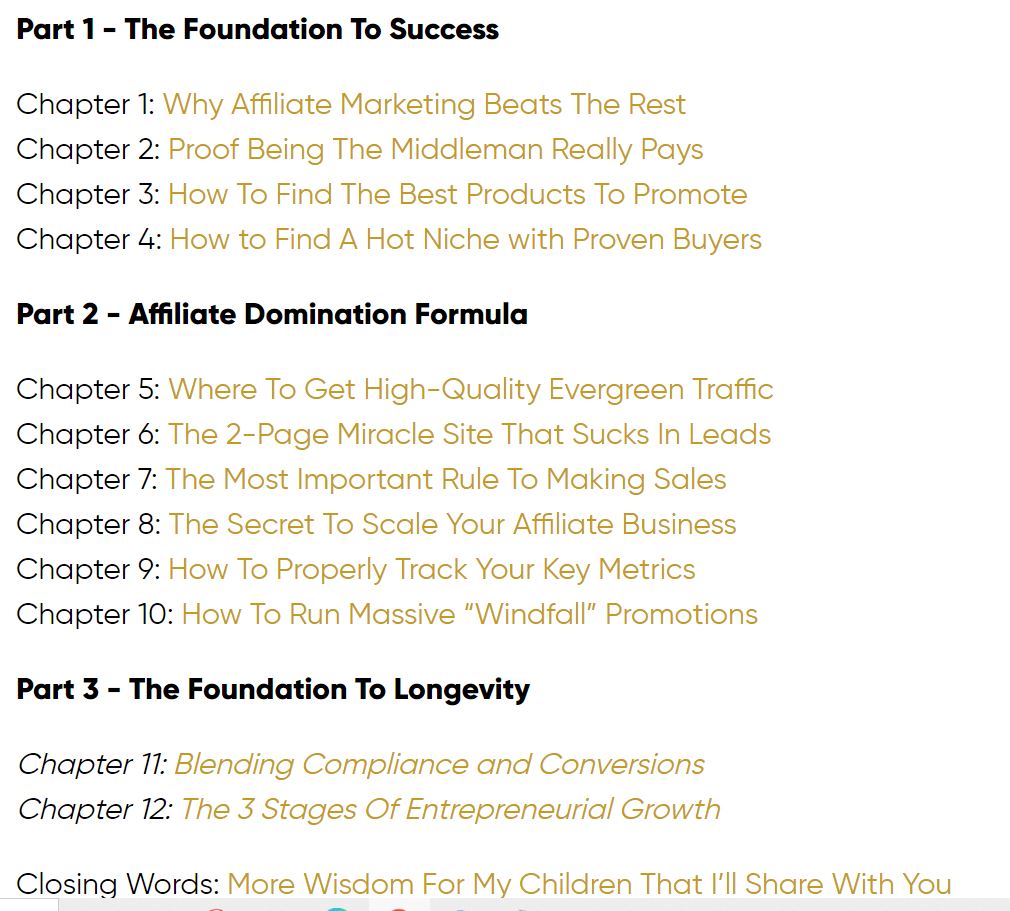 And like the 2 previous products, this also comes with several bonuses which include the following.
Free Bonus 1 – Access To The 15-Day Online Business Builder Challenge.

Free Bonus 2 – Personal 1-on-1 Business Plan Consultation With An Advisor.

Free Bonus 3 – Affiliate Domination" Ads, Email, Video, Phone Scripts, Email Templates, Video and Phone Scripts.

Free Bonus 4 – Access into the private FB group community with over 18,000 other students.
Overall for just $1.99 you are again getting lots for your money. 
15 Day Business Builder Challenge.

This is the "Baby" of legendary marketer, and everything starts with this. 
The business builder challenge is as the name suggests a 15-day training plan to build your very own affiliate marketing business. 
Not only is it very simple to follow along with, but after each day you get given a short quiz, this helps you to learn as you go through the challenge.
Along with the daily videos, this challenge also comes with tasks, assignments, a Facebook group and even your own one on one personal coach who will support you every step of the way.
The 15 days are broken down as follows.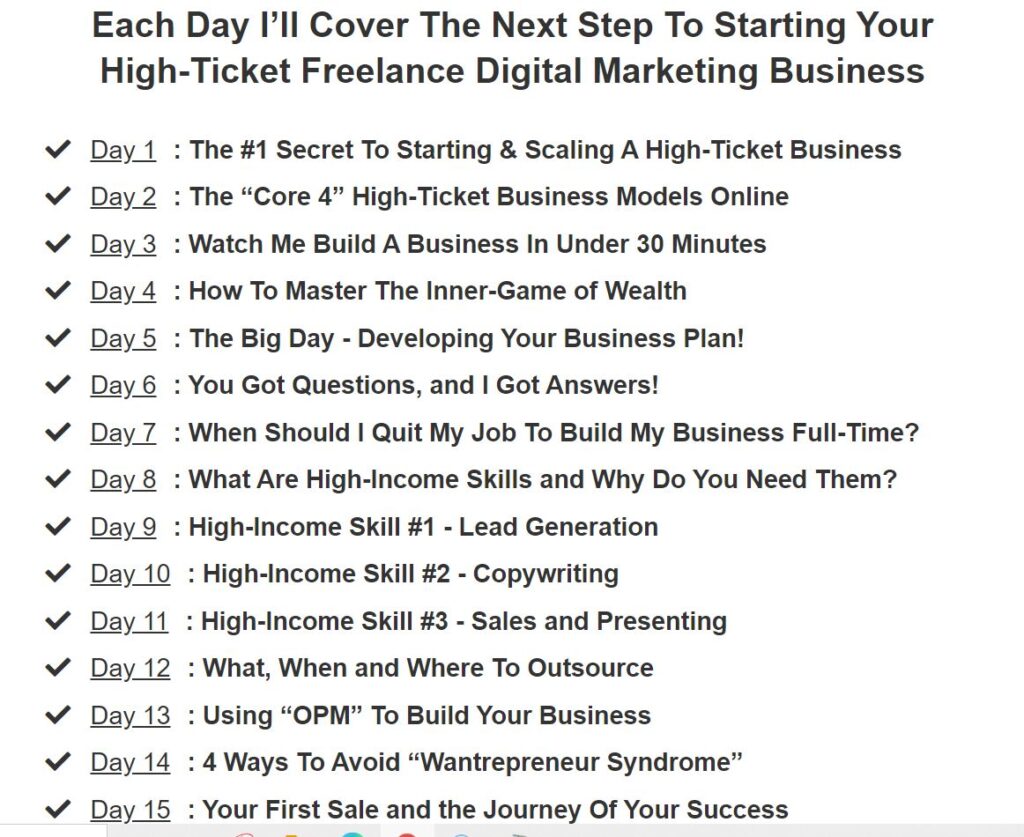 This product costs $7 (£5) however, if you buy any of the low ticket items we covered already (Copywriter's Playbook, 15 Second Free Leads or insiders guide to affiliate marketing) you will also get free access to this training course. 
So, if you want to get the 15-day business builder challenge then save yourself some money and buy one of the products above and you will also get instant access to this awesome course. 
But you will not get some of the unique bonuses that come with this product.
Signing up for the challenge direct will also give you the following bonuses. 
Bonus #1 A Customized High-Ticket Business Plan.

Bonus #2 FB Ads Templates.

Bonus #3 High-Ticket Email Templates.

Bonus #4 High-Ticket Video Scripts.

Bonus #5 High-Ticket Phone Scripts.

Bonus #6 Personal 1-on-1 Business Plan Consultation With An Advisor.

Bonus #7 A Copy Of My Top Converting High-Ticket Affiliate Marketing Funnel
The sales video for this product is very good and the first time I watched it I was hooked after 3 minutes. Have a watch of it below and you will understand exactly what I mean.
>> CHECK OUT THE 15 DAY CHALLENGE HERE <<
 Legendary Marketers Club.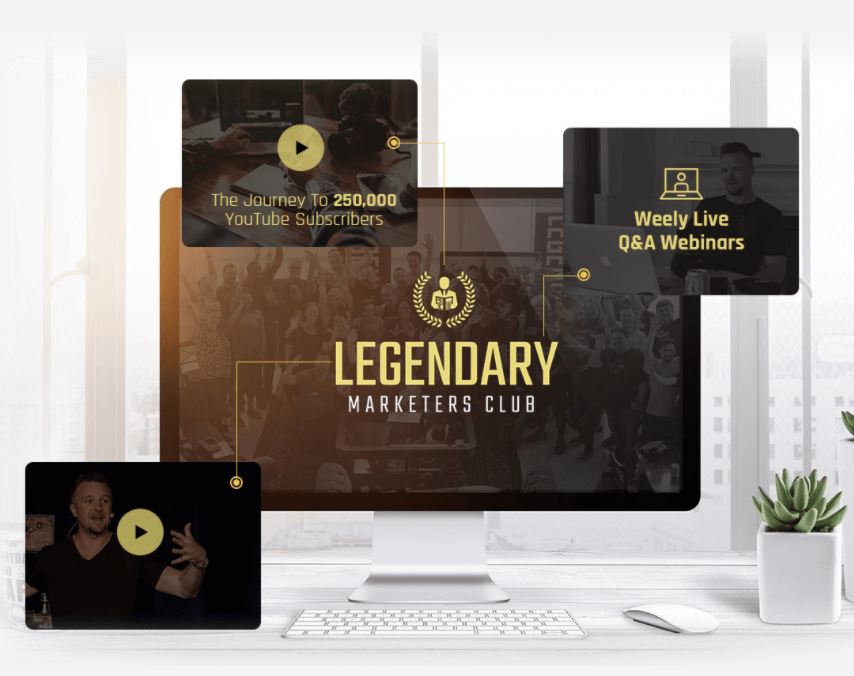 Currently, this product is the only recurring item within Legendary marketer, which means if you join Legendary Marketer as an affiliate you will earn commissions every month from promoting this product. 
Legendary Marketer calls this the "Netflix of marketing training" and for good reason. 
The marketers club is your invite into a private club of top marketers. 
Inside the marketers club, you get weekly live coaching from 6 and even 7 figure earners online, these are all experts in their respective field. 
Inside the member's area, it looks like this.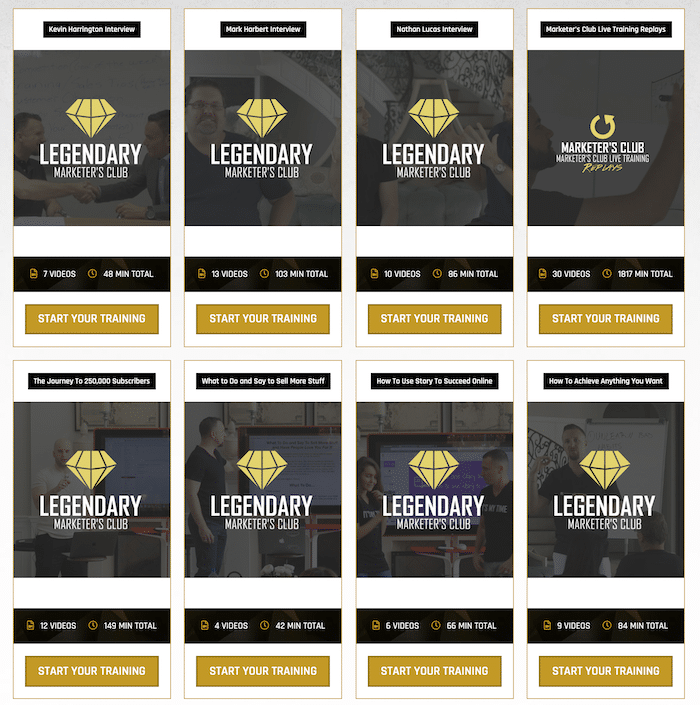 In total there are currently over 100 videos and these contain over 30 hours of content covering everything to do with online marketing.
Not only do they cover things like…. building a successful online business, email marketing, sales funnels, picking which products to promote but also developing your mindset.
This is a big thing for many people and lots of online courses overlook this important factor when it comes to building an online business. 
Below is an overview of what is included in some of the interviews/courses. 
Kevin Harrington Interview:
Kevin was an original shark on the TV series Shark Tank.

This is just over 48 minutes long and is broken down into 7 videos. 

Topics covered in this interview include:

The mindset that leads to confident, clear marketing.

How to leverage social media to boost traffic, leads and sales to your online business.
Nathan Lucas Interview:
Nathan has grown a huge online affiliate business to over 7 figures using YouTube.
This section includes twelve videos and is just over 149 minutes long. 
Inside this mini-course, you will learn about his journey to over 250,000 YouTube subscribers and his exact strategy for earning over 7-figures online as an affiliate marketer.
This was from a live event and many people paid over $10,000 just to be in the room for this presentation, but this is also included when you join the Marketer's Club.
27 Tips to Start & Scale Your Business – 6 videos and over an hour and a half long. 
Jacob Chris shares his exact strategies for growing an online business while working a full-time job.
Many people start affiliate marketing whilst having a job and this training will provide a crystal clear roadmap to help you escape the 9-5 and go 100% online!
The rest of the marketers club looks like this.
Mark Harbert Interview – 13 videos and 103 minutes.

Marketer's Club – Live Training Replays (32 videos and updated)

What to Do and Say to Sell More Stuff (4 videos)

How To Use Your Story To Succeed Online (6 videos)

How To Achieve Anything You Want (9 videos)

Build, Engage, and Sell (4 videos)

Outsourcing is the Key to Balance (4 videos)
Overall, for $30 a month, it is very much worth it.
Where else could you get access to six and seven-figure earners who share everything with you?
This training isn't hype or fluff. It is delivered by people with clear plans and paths to help you achieve your online goals. 
Traffic University.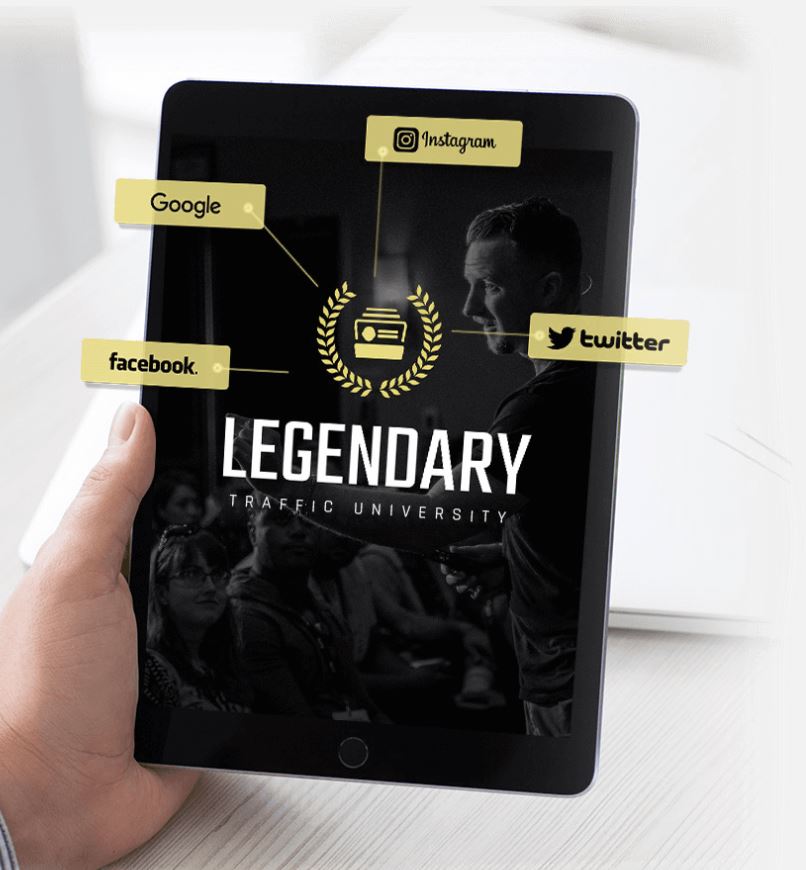 This is the first of the products which are now moving into the more expensive category.
As the name suggests, this is all about getting you traffic (people) to your product, website, affiliate campaign, landing page etc.
When you are an affiliate for any product online getting traffic is the part which many people fail with, however, this course will show you how to drive traffic using various platforms.
We have the world's top advertising experts walk you through, click-by-click, how to succeed with your campaigns.
The awesome thing about this product is that the training is provided by Adskills. 
Adskills is a company that has been around for a number of years and specializes in paid advertising methods.
It is run by a guy called Justin Brooke. Justin ran his own ad agency that made over 7 figures for his clients around the world.
Inside of traffic university, you will learn how to market and share content on platforms like Google, Facebook, Instagram, Youtube, Linkedin, GDN (Google Display Network) and Twitter. 
Also included is creating landing pages for each of these platforms, in-depth walkthroughs and step-by-step guides for getting traffic on all of the above platforms. 
Adskills offer a number of courses on their website and they are not cheap, if you were to purchase the courses individually from them you would be paying in excess of $5,500. 
With Legendary you can pick up this bundle for just $1,497.
Legendary Marketer Business Blueprints.
Currently, inside Legendary Marketer, they offer 4 different blueprints. 
These are broken down into the following:
Affiliate Marketing

Digital Products

Events and Masterminds

Coaching & Consulting
Let's take a look at each blueprint and what they offer. 
Affiliate Marketing Business Blueprint.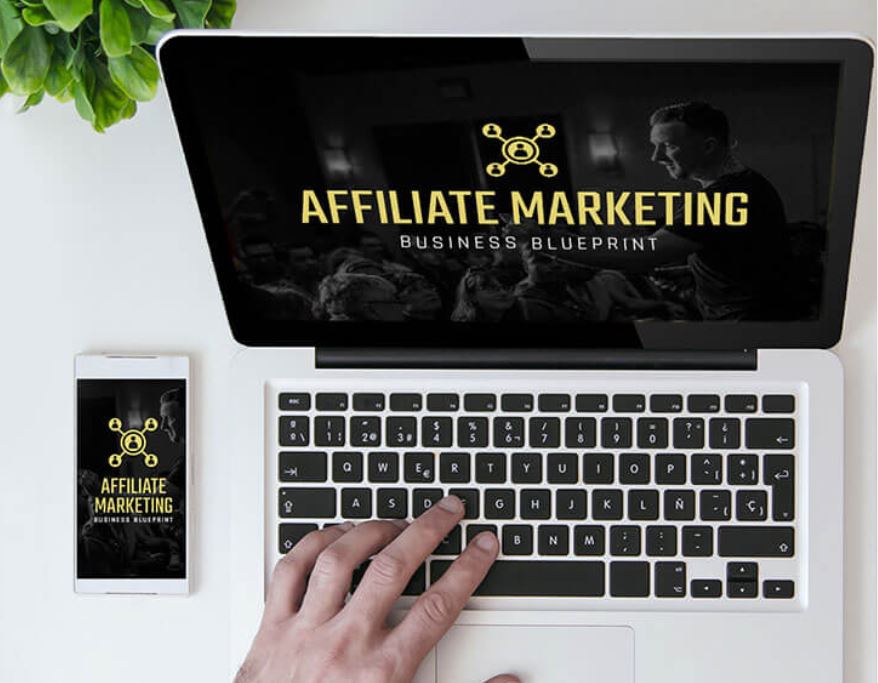 The first blueprint they offer is the affiliate marketing business blueprint and it literally walks you through the entire process from start to finish. 
It is broken down into 4 main parts which include the following: 
Affiliate Marketing

Choosing Your Niche

Affiliate Opportunities

Setting Everything Up
Here is how it looks inside the course.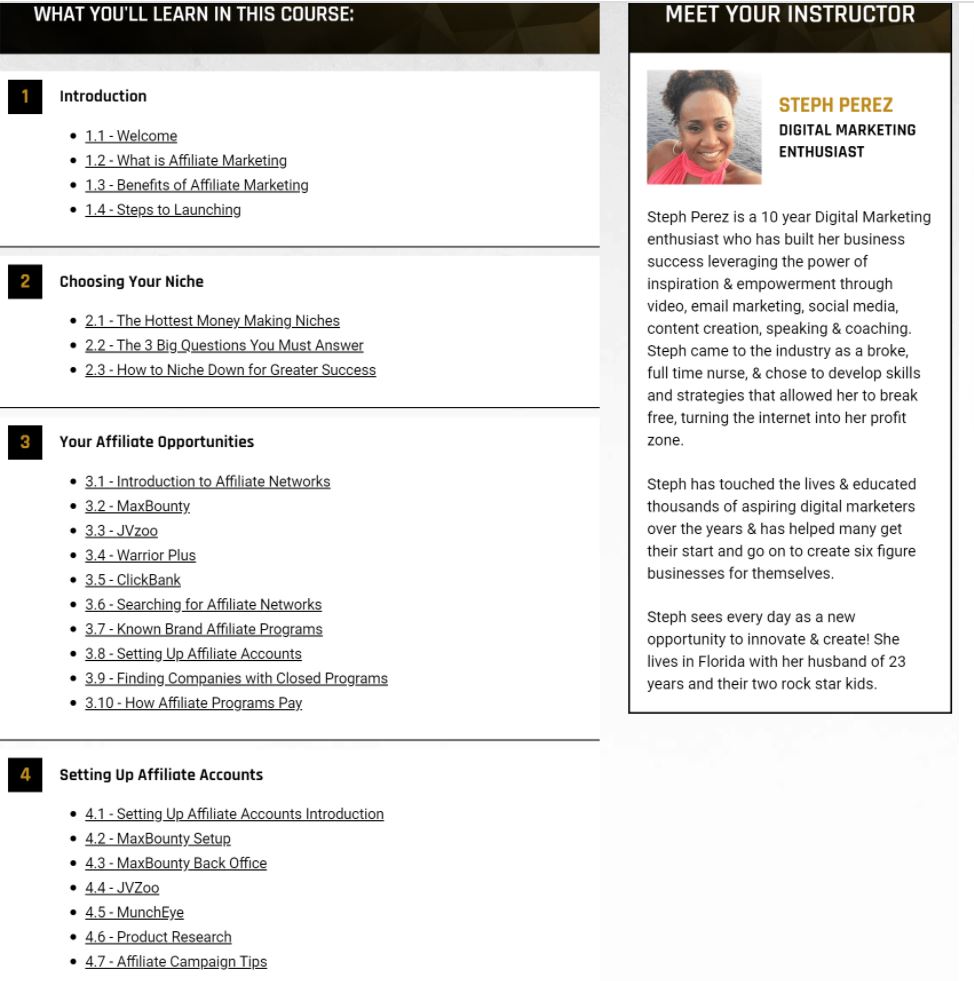 Like most products inside Legendary Marketer, this is very in-depth and comes with actionable steps after each module. 
Not only do you get video lessons but also included is mp3s and written PDFs for each lesson so you can also learn in different formats. 
Cost? $2,500
Digital Products Business Blueprint.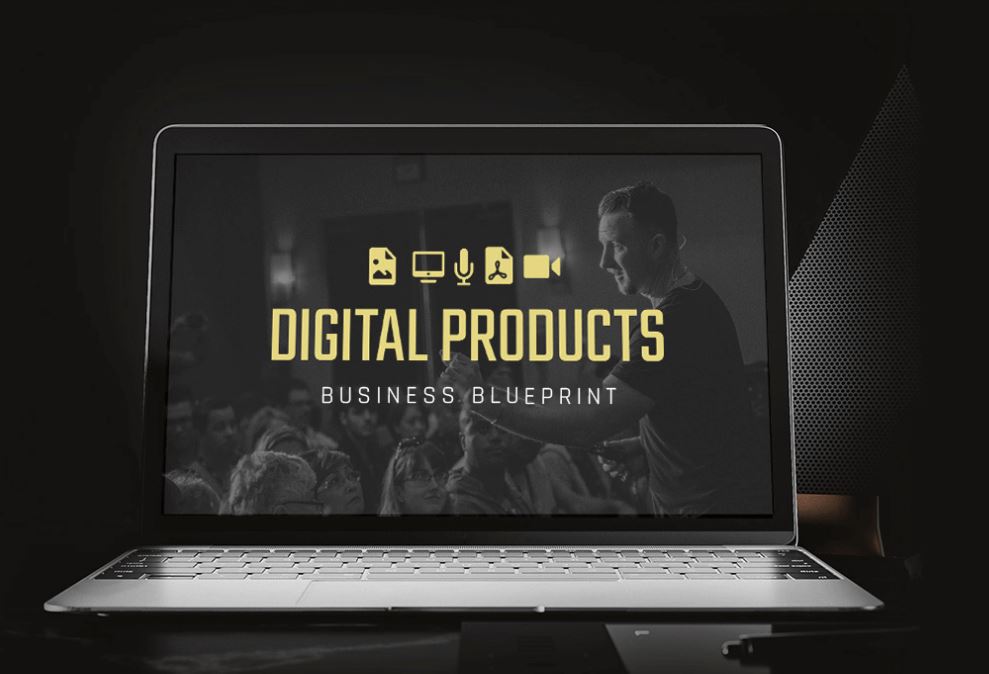 This blueprint is all about creating your own digital product and is taught by Mark Harbett. 
You can create your own online course, ebook, audio files and more. 
Creating your own digital product is difficult and takes time. I know from personal experience as I have my YouTube course and several others. I learnt everything the hard way by watching hours and hours of different YouTube videos, reading blog articles and lots of trial and error.
However, with this blueprint Mark covers everything you will ever need to take your idea to an actual product. And it is very simple to follow along with and is broken down into 7 modules. 
Here is how it looks inside the course.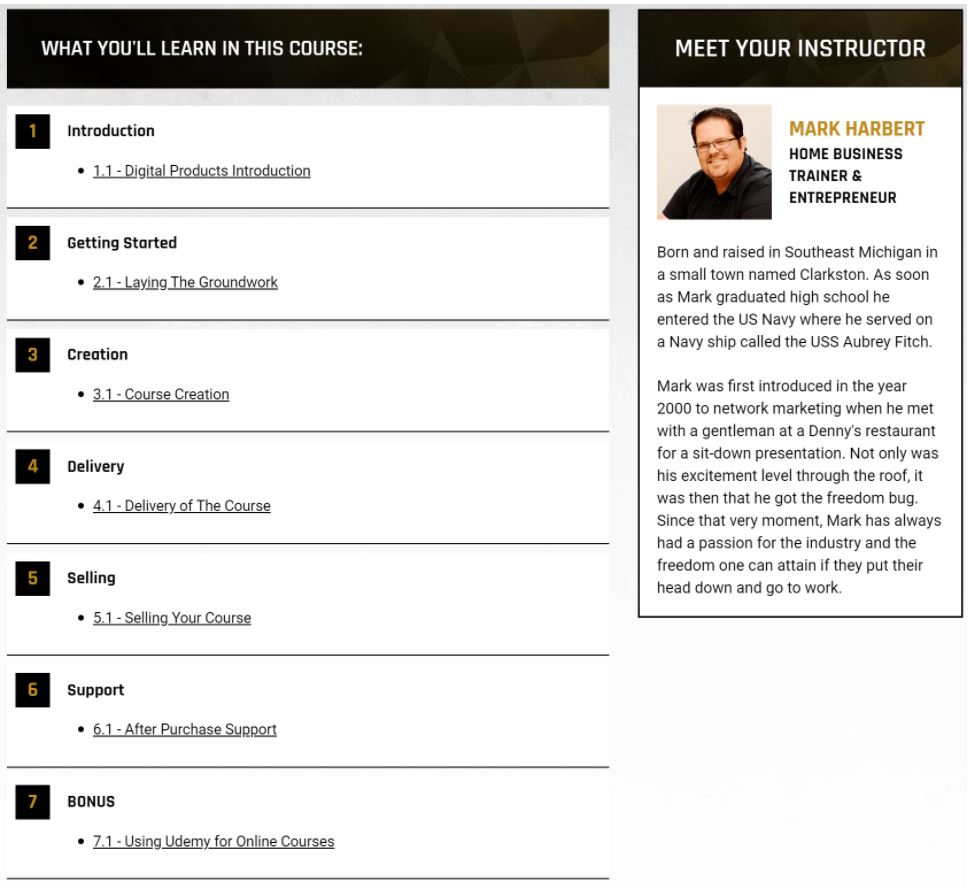 Cost? $2,500 (Again) 
Coaching and Consulting Business Blueprint.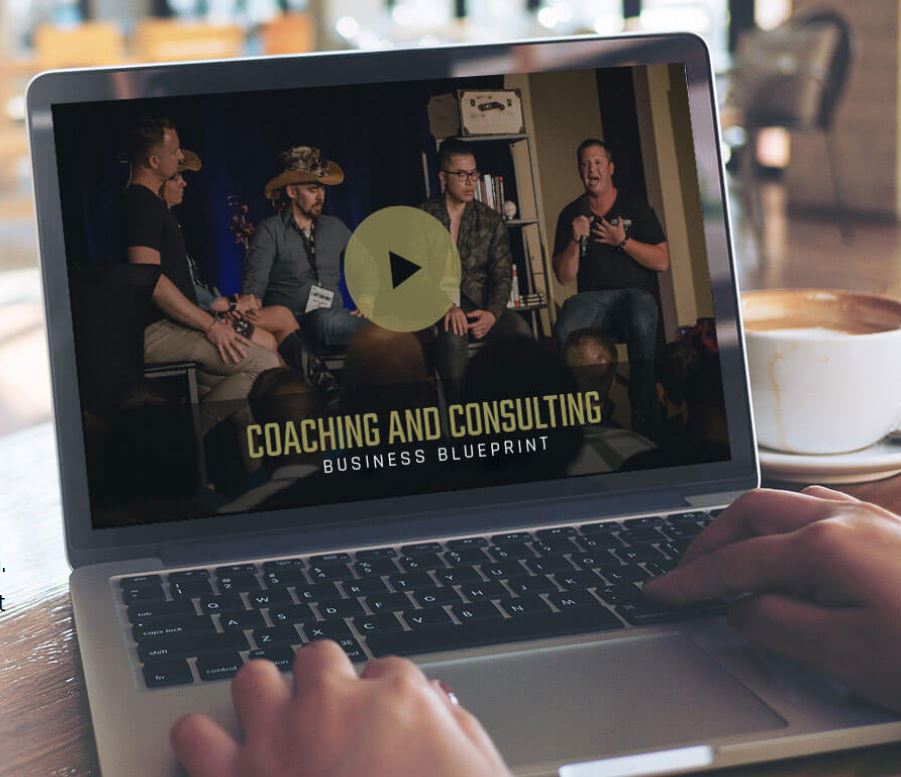 This course is taught by Legendary's very own Dave Sharp. 
The art and science of coaching is an exciting topic and it will open your eyes to lots of things. 
Inside the course, you will learn about….
How to identify your niche

Create your offer

Clarify your pitch

How to deliver your services

Scale your business for maximum profit and minimum stress
Here is how it looks inside the course.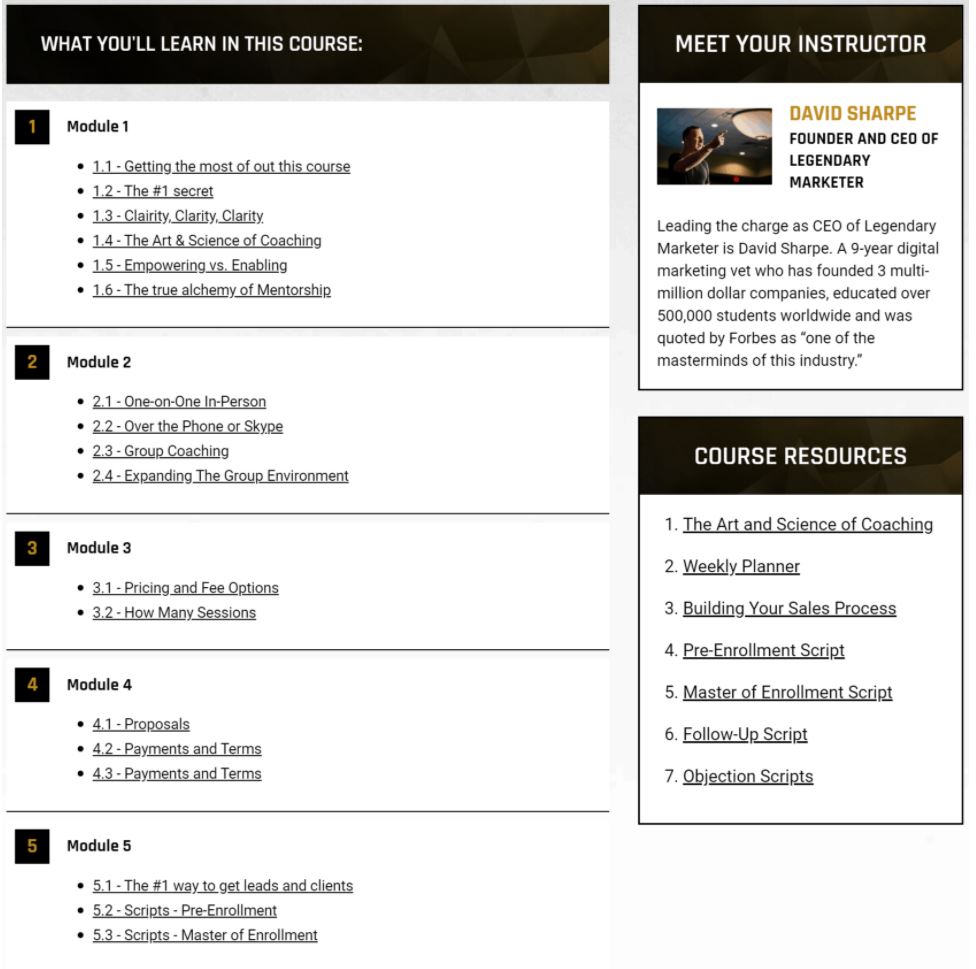 Can you guess the cost?
Yep, another $2,500 price tag. 
Events and Masterminds Business Blueprint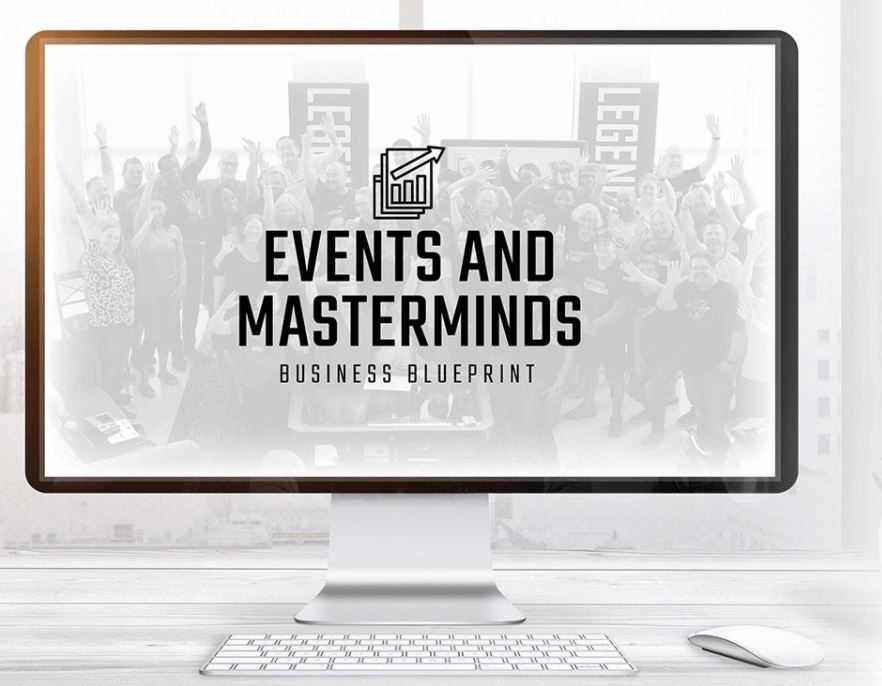 This is the last blueprint inside Legendary and again it is presented by Dave Sharp. 
At some point in the future, you may want to run or host an event or mastermind meeting. 
Whilst many things in the world have gone digital people still want that human contact. And group meetings like this are an excellent way to not only network but also make money. 
Inside the course, you will learn…
The art and science of coaching

How to plan, host and profit from your live event or mastermind

learn how to save on costs,

Who to hire and where to host your events.
And here is what the course looks like inside.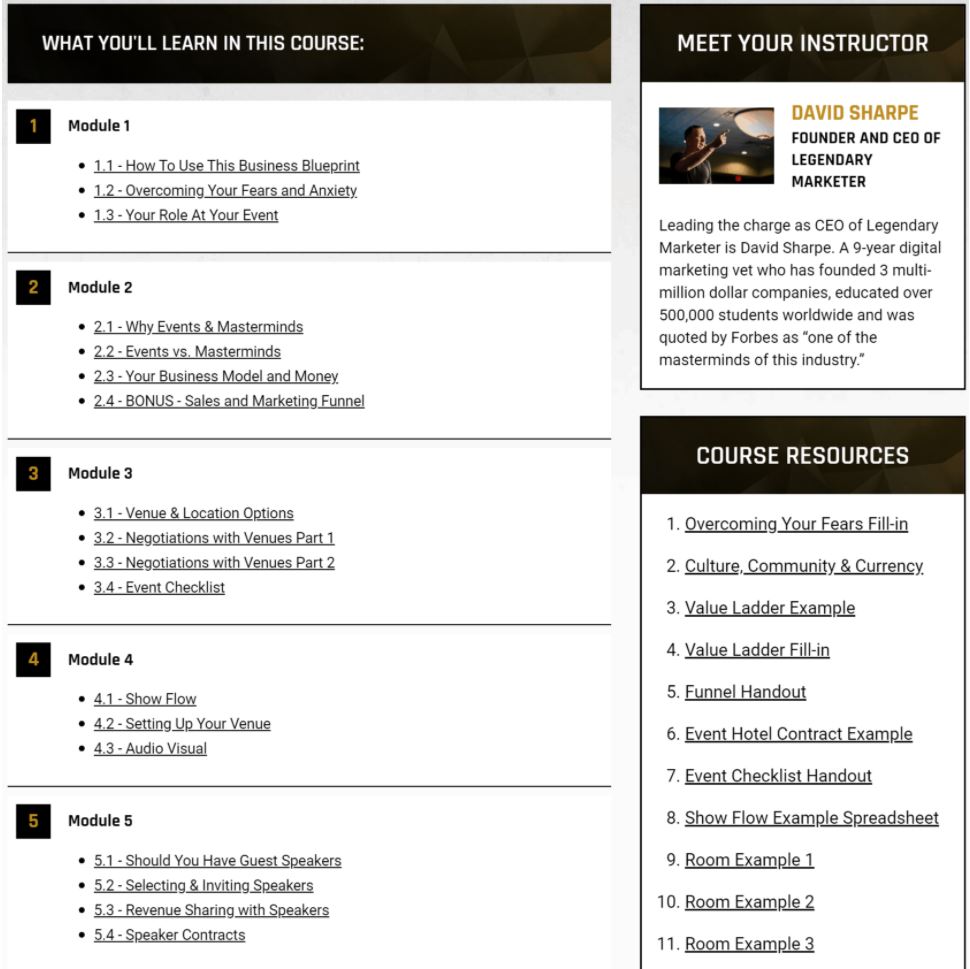 And like all the other business blueprints this comes with the price tag of $2,500. 
Legendary Marketer Mastermind.

These take place throughout the year in various locations. This is where you will get to meet all the "Big Guns" and have the opportunity to network with six and seven-figure earners. 
For this, you have to actually apply to attend and the cost is in excess of $10,000.
Legendary Marketer Affiliate Program.
The affiliate programme is something you can only apply to once you have been through the 15-day business builder challenge. I really like this as Legendary not only care about customers but also their brand and company. 
Also, just because you go through the 15-day business builder challenge it doesn't mean you get to become an affiliate. You have to apply via your personal coach and discuss how you plan to share the products. 
Once You Become An Affiliate You Have Two Options. 
Basic affiliate = free and you earn commissions from 5%-30%
Pro affiliate = $29.95 a month and you earn 20%-60%, plus you can earn additional streams of income, integrate your autoresponder and you get more advanced training included inside the affiliate area. 
Below is everything included in both plans.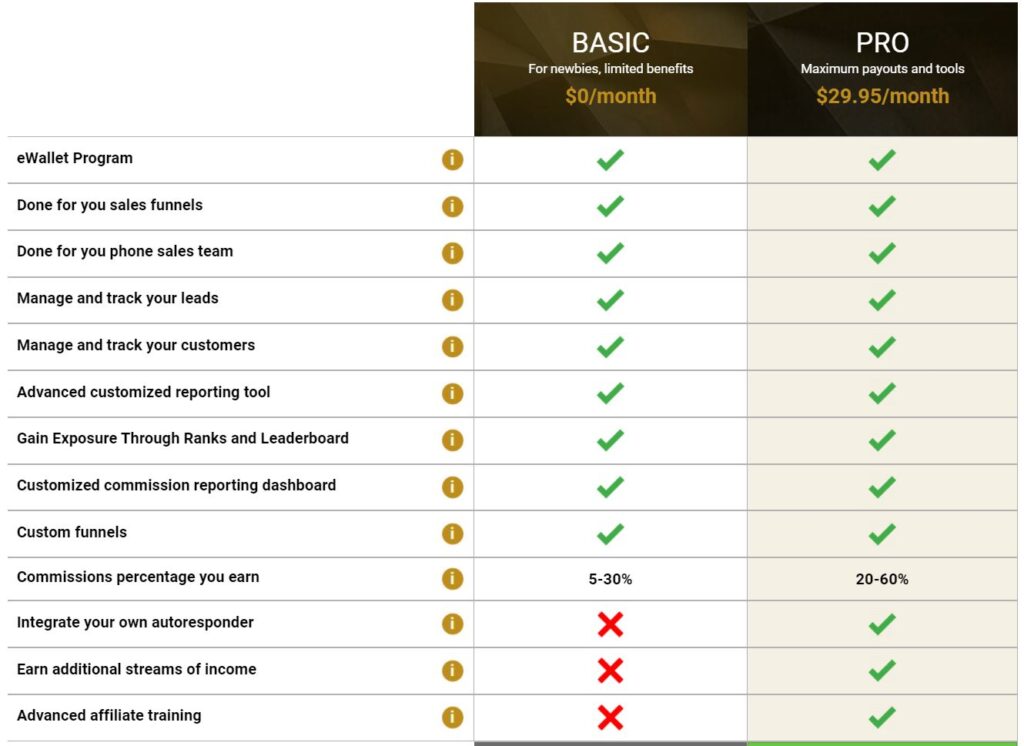 Inside The Legendary Affiliate Programme. 
The back office to the affiliate programme is very easy to navigate and you can access lots of quality training too. 
At the time of writing, there are over 6 hours of training from some of the top earners in the company. 
You can also check your daily leads, commissions, funnels and lots more. 
Something I like is the built-in funnels, you can very quickly grab your affiliate link for any product and also decide which landing page you send traffic to. 
Not only that but for each product you also get lots of resources to promote the product including….
Testimonial Screenshots

Email Swipes

Social Media & Ad Images

Facebook Ad Copy & List of Interests

Ad Videos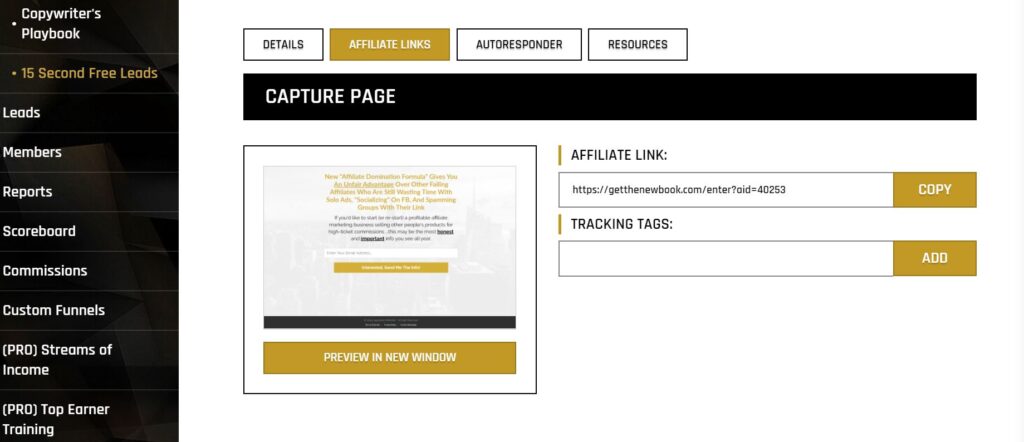 Legendary Marketer Pros & Cons.
Pros:
David Sharpe is an expert in his field, he has made millions online and he takes on much of the training and is very active in the Facebook groups. 
Extremely high-quality content and products shared by experienced online marketers.
The products are continually being updated.
The content inside of Legendary marketer covers all the topics of online digital marketing. 
Get access and support from your own business coach, plus the customer support is awesome and very responsive.
A Facebook group and community of like-minded entrepreneurs all sharing best tips and several live calls a week. 
The affiliate programme is one of the best I have seen. Plus you can also earn passive commissions with ClickFunnels, Get Response and AWeber.  
It

is not MLM and you don't have to buy everything in order to market them.
All products come with a 30-day refund policy.
Cons:
The commissions you can earn with Legendary Marketer vary depending on whether you have a free or paid membership, to get the highest possible commissions you need to join the marketers club which is a monthly payment.
In my opinion, some of the products are overpriced for what you receive. The live events are incredibly expensive. 
The training for affiliates is focused a lot on promoting and sharing Legendary Marketer. 
The

re really isn't any focus on creating evergreen content or SEO strategies.
Legendary Marketer Bonuses.
As with any product I share and recommend the bonuses for Legendary will compliment your journey with affiliate marketing and making money online.
I have included plenty of my own courses and case studies, plus you will also get software, courses for generating traffic and more. 
Case Studies.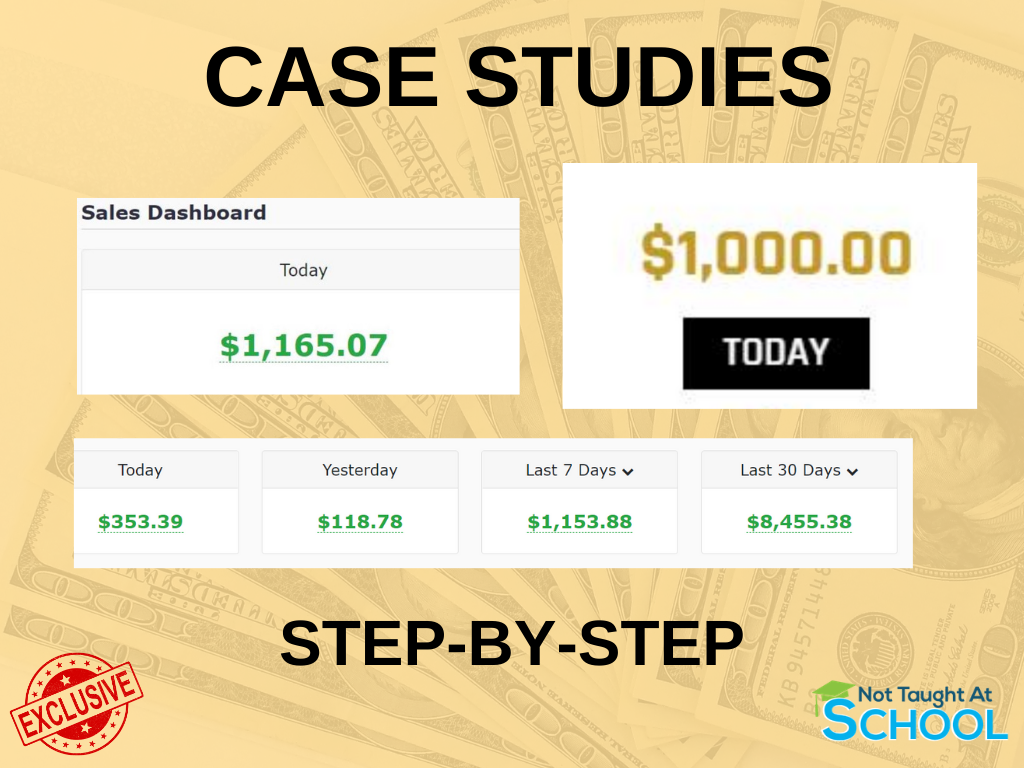 You will get instant access to 4 case studies of mine, this includes the affiliate products, how I marketed them, the funnel and more. These include the following. 
$11,500 In Just 30 Days

$900 a Month Recurring Passive Income

YouTube $6,000 Case Study 

$50,000 Warrior Plus Case Study
Software & Apps.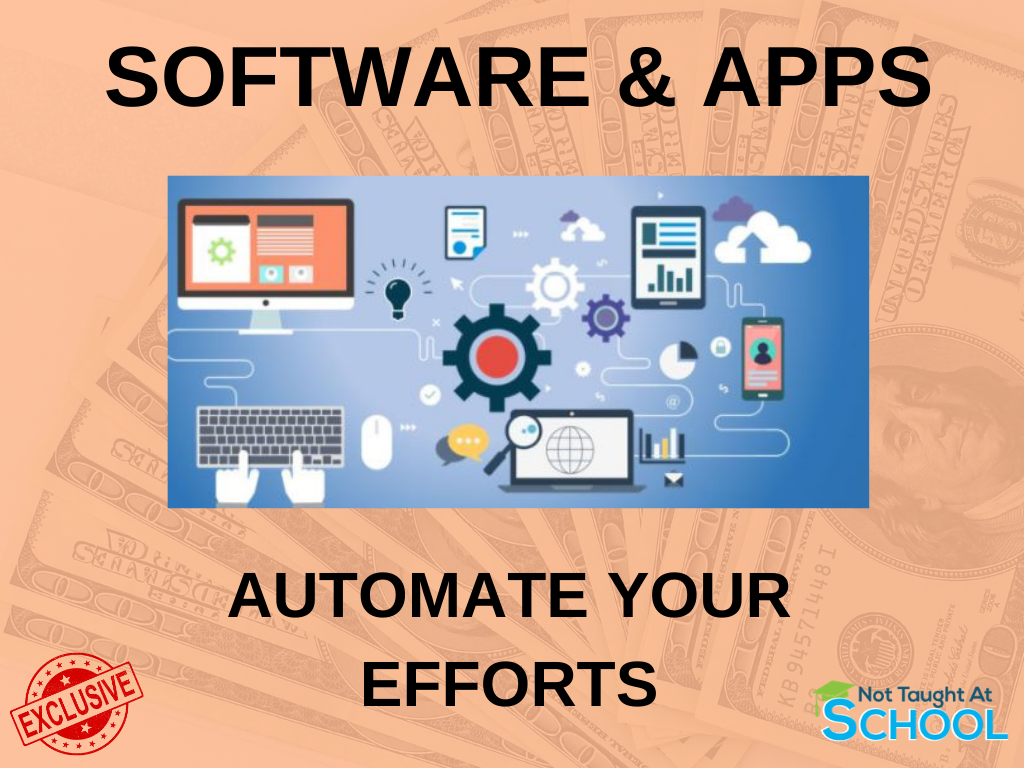 Social Leads.
Create unlimited campaigns, connect to any autoresponder, and collect real emails from all the top social sites like Facebook, Twitter, Linkedin and YouTube.
Facebook Messenger Income Bots.
How To Become A Facebook Marketing Bot Expert, set this up and everything runs on autopilot.
Automation Viper.
Dominate LinkedIn AND Google with this New Auto-content, Auto-posting software.
Funnel Secrets.
Create Sales Funnels that actually convert, cloud-based app so nothing to download.
YouTube Products & Courses.

YouTube Domination.
Learn The Exact Steps & Tools I Used To Get 1,000 Subscribers In 6 Weeks.
iPassive.
Another one of my YouTube courses which shows you how to set up your YouTube channel for maximum profits by not only creating evergreen content in your niche but also using simple money funnels.
YouTube Ranker.
Rank Your YouTube Channel & Generate Hordes Of Traffic To Your Affiliate Products.
YouTube Secrets. 
This is a HUGE bundle and includes marketing methods, cheat sheets, simple mind maps and lots more. 
Tik Tok Products.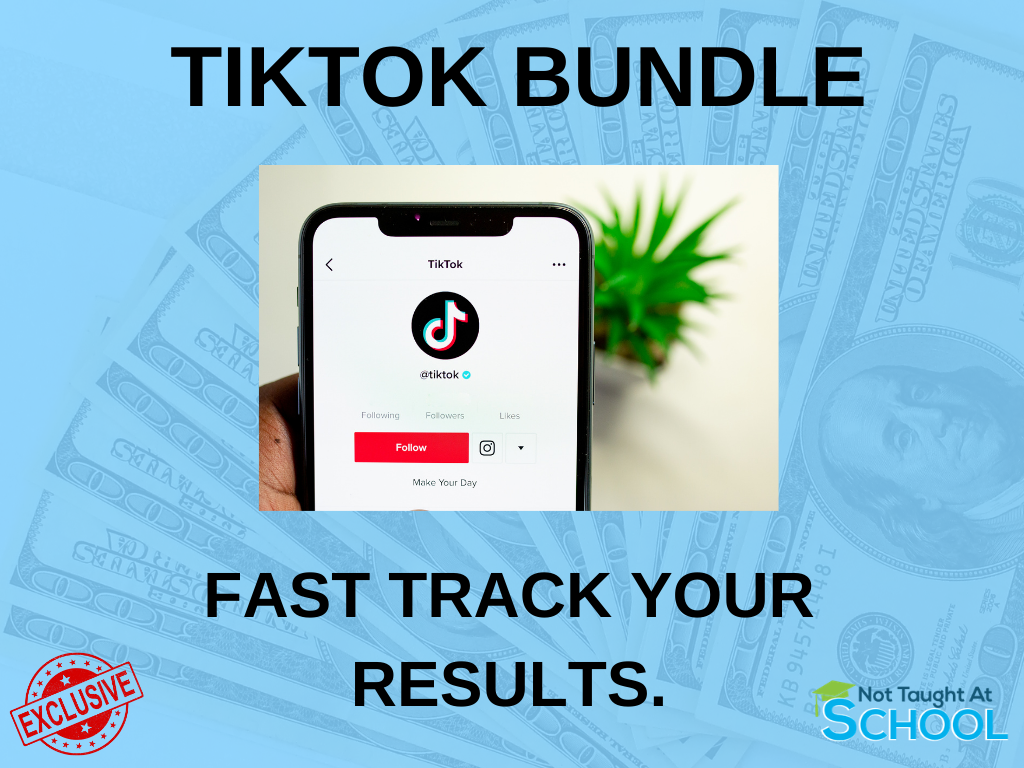 One Minute Magic. 
This is another of my courses and it shows how I grew my account to over 2,000 followers in 7 days and made over $180 in commissions.
Traffic Masterclass.
Inside this course, you will learn how to get more exposure to your offers, increase your level of engagement and Grow your TikTok account fast. 
More Traffic Methods.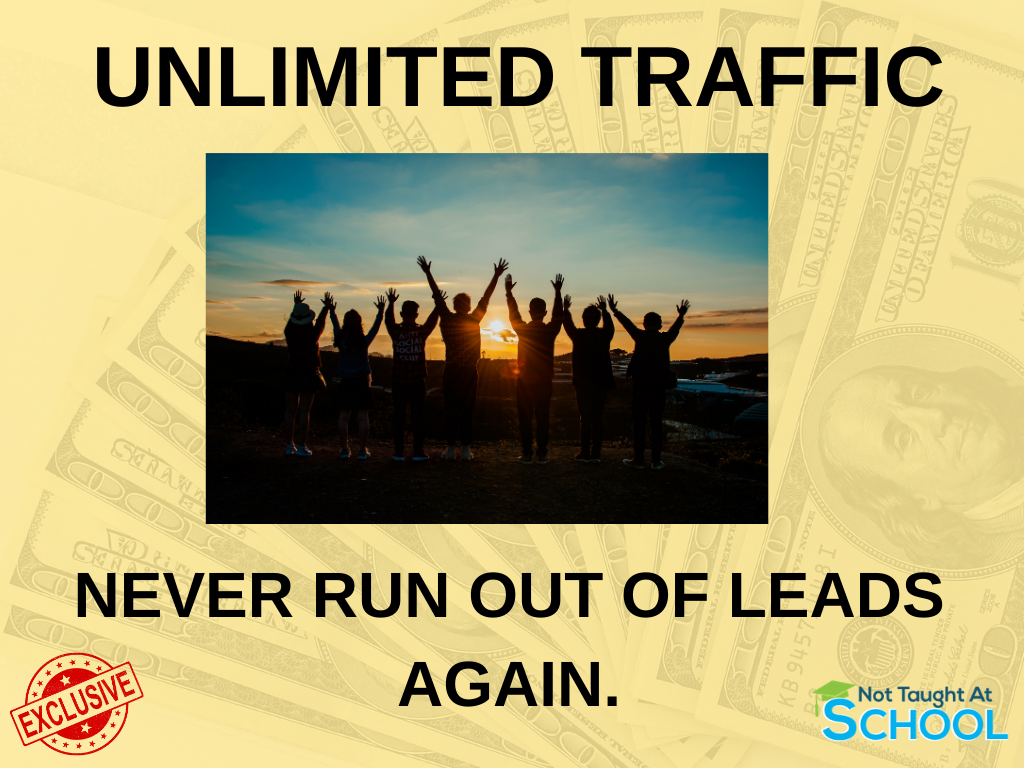 Insta Passive Profits.
Turbocharge your results on Instagram.
Twitter Traffic Secrets.
Learn how to dominate Twitter in this 6 part video course. 
Facebook Groups Unleashed.
Discover How To Start, Launch and Grow Your Own Thriving Facebook Group.
Linkedin Power Bundle.
Attract massive traffic to your products with the latest techniques on Linkedin Marketing. 
How Do I Get These Awesome Bonuses?
Every week I download a list from Legendary of anyone who has purchased a product using my link, I then email you on a Sunday with access to all of the above. You can also find me over in my Facebook group if you have any questions or need help. Join the group here.  
Final Thoughts?
Regardless of your skillset, Legendary Marketer will teach you how to make money online with integrity and caring about what you put out into the world.
This marketing education is for entrepreneurs who want to use their talents in an ethical way by utilizing high ticket affiliate or other marketing strategies.
The best place to start with Legendary Marketer is the 15-day business builder challenge.
Not only is it very in-depth but the price is affordable for everyone ($7) 
Work your way through the 15 days and if you like the content and learn some new skills then move along to some of the other products available. 
Overall, Legendary Marketer has changed the way I focus on my online business, it opened my eyes to lots of new possibilities and that is after ten years in the online space. 
The products, community and team are excellent, there isn't any hype either, if you want to see results then the products and pieces of training will help you, but it will take effort on your behalf. 
Is Legendary Marketer A Scam?
Absolutely not.
Legendary Marketer is an educational platform and they will show you the right way to build an online business from scratch. 
The company will give you the skills to earn more money than you may have thought possible but it will require effort and consistency on your part.
And just remember the disclaimer which is on every single page of the Legendary Marketer website. 
This is not a get rich quick program nor do we believe in overnight success. We believe in hard work, integrity and developing your skills if you want to earn more financially. As stipulated by law, we can not and do not make any guarantees about your ability to get results or earn any money with our affiliate program, information, tools or strategies.
How Does Legendary Marketer Describe Themselves?
Online Marketing Education – Delivered Simply And With Integrity.
Affiliate Marketing –  Frequently Asked Questions.
What Is Affiliate Marketing?
Affiliate marketing is a type of performance-based advertising. It's when an online retailer pays commissions to people who refer customers or visitors.
It is an awesome way for beginners to get started with an online business as you need very little money to get started. In many cases, you can start for free.
How Do I Start With Affiliate Marketing?
The best way to start is by looking for a niche that you are passionate about.
Once you have your niche then you start creating content around that, this can be done in the form of blogs, YouTube videos, answering questions on Quora, sharing content on Facebook and many more ways.
How To Succeed With Affiliate Marketing?
Driving traffic (People) is a necessary part of affiliate marketing.
The key to success in any type of advertising is getting the word out about your product or service, and this can be accomplished by using a number of different methods such as
Social media posts on Facebook, Twitter, Instagram,  LinkedIn,  Pinterest etc.;

Blogging/vlogging (video blogs);

Article writing.

Email campaigns.

Answering questions on sites like Quora

Creating videos on platforms like YouTube or TikTok.
How long does it take to become successful with affiliate marketing?
This is a difficult question to answer, because it really depends on your niche and how much time you are willing or able to spend promoting products.
The more successful affiliate marketers typically have one thing in common: Consistency.
And that concludes this article. 
Did you find it useful? Please let me know in the comments down below. 
Related articles you may find useful include:
How To Start Affiliate Marketing For Beginners 
How Lots Of Ordinary People Are Earning Thousands Sharing Products. 
Free Affiliate Marketing Courses 
The Best Make Money Online Courses Under $100
How To Make Money Drop Shipping Products.
Thanks for reading.
Take Care & Keep Smiling
Mark
THIS POST MAY CONTAIN AFFILIATE LINKS, PLEASE SEE MY DISCLOSURE FOR MORE INFO