Today, I'm going to show you the best side hustles that actually work to make extra money from home or online.
We will start with some simple stuff and as we work our way down the list we will save the best till last (It's worth the wait) 
So are you ready? Great, let's get started!
First Things First, What Is a "Side Hustle"?
According to Investopedia, a side-hustle is an additional job or self-employed business venture that one holds in addition to their regular 9-5 job. This second gig could range from driving individuals around town as an Uber driver or Lyft driver all the way up to becoming an eCommerce retailer on Etsy or eBay.
There are many different side hustle opportunities for entrepreneurs with varying levels of risk and reward involved.
A lot of people use this additional stream of income to pay off debt, save for retirement or even fund their own startup business.
Whatever your reason for wanting to start a side hustle we will share plenty of options in this article and link out to several resources for you.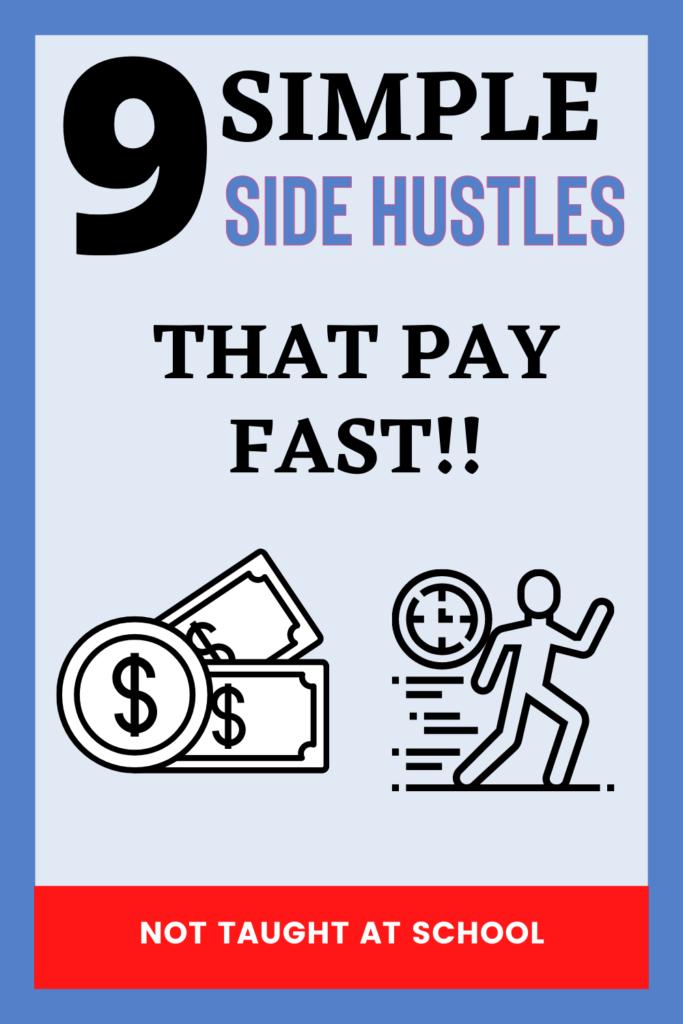 What Are The Best Side Hustles That Actually Work?
Well, these 8 side hustles produce steady streams of income and have a realistic chance of being profitable based on a good work ethic and a little bit of time.
Nearly all of these are completely free to get started with and you can start any of these realistically in the next hour. 
Make Money On The Side: 8 Great Side Hustles To Try.
1 – Driving for Uber or Lyft.
This is probably one of the most popular side-hustles by far. In 2020 alone, over 1 million Americans earned extra cash driving with Uber and similar companies.
The average earnings per month were around £300 ($380) That's not too bad considering you can pretty much start working whenever you want depending on where you live as well as set your own schedule.
Google has over 450,000 searches per month for the term "driving for Uber" with millions of drivers currently thriving on this side hustle alone.
Lyft also offers their own version of ride-sharing where they claim millions are making extra money by offering rides to customers in their spare time.
More recently you can earn money from delivering food and I am sure at some point they will be other opportunities available.
2 – Become an Online Tutor.
This is one of the easiest ways you can earn some money from home. According to statistics gathered from indeed, tutoring is one of the best jobs that can be done outside your normal 9-5 schedule.
It's possible to tutor students all around the world online or at your local library using a webcam connected through Skype or another video chat service.
Not only do you get paid well but you can teach about anything and in most cases, you don't need a degree.
Here are some examples of classes being taught online now.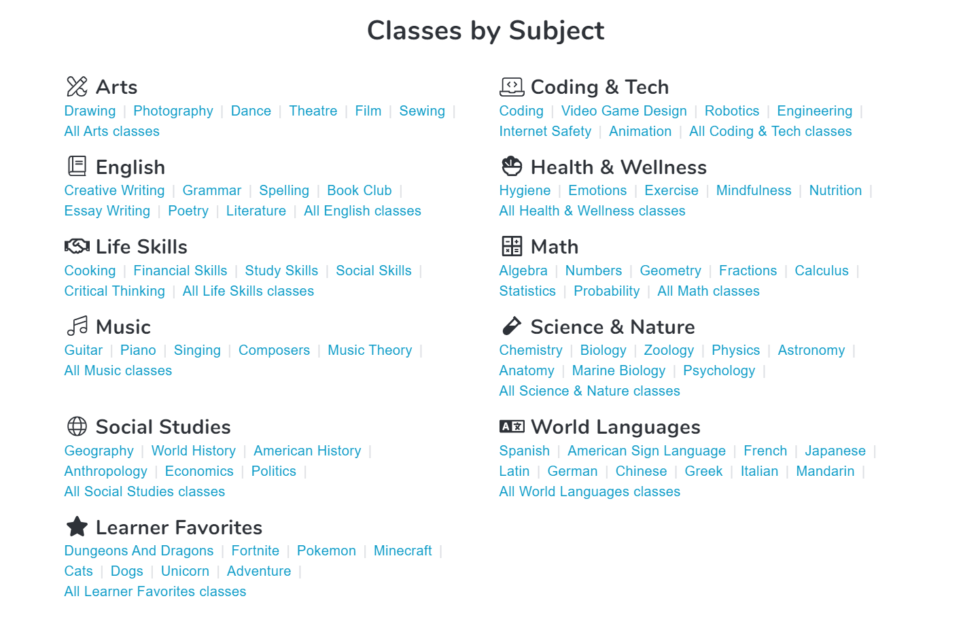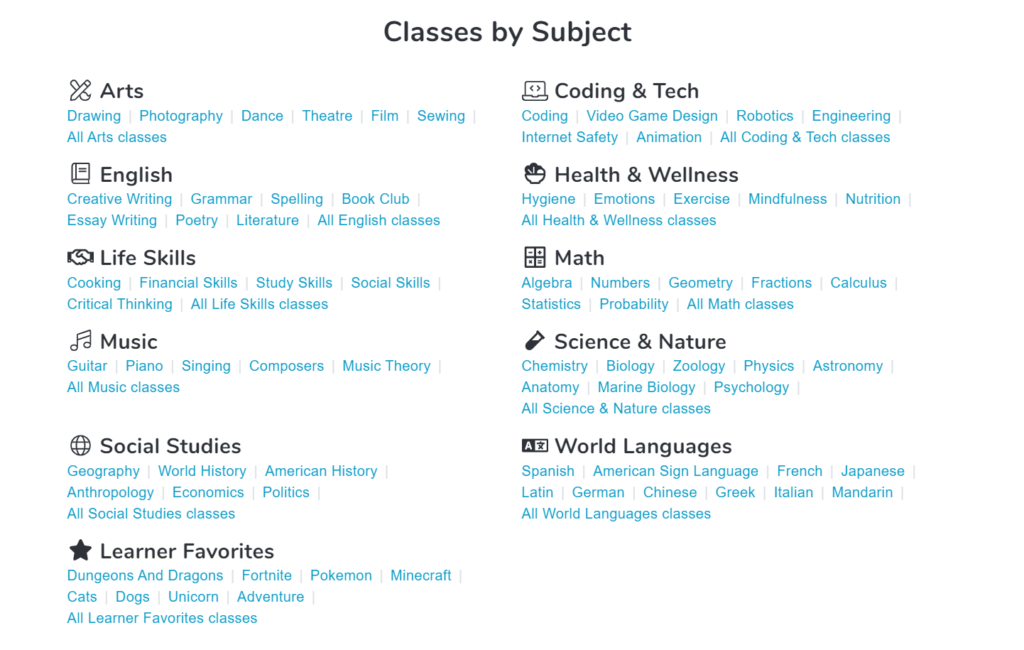 There are many platforms and websites available where you can share your knowledge and skills online. 
And there are people teaching classes in so many different subjects and categories, There are even people hosting motivation groups, teaching people how to build with lego, gaming and lots more. 
Below is just one example I grabbed from a website.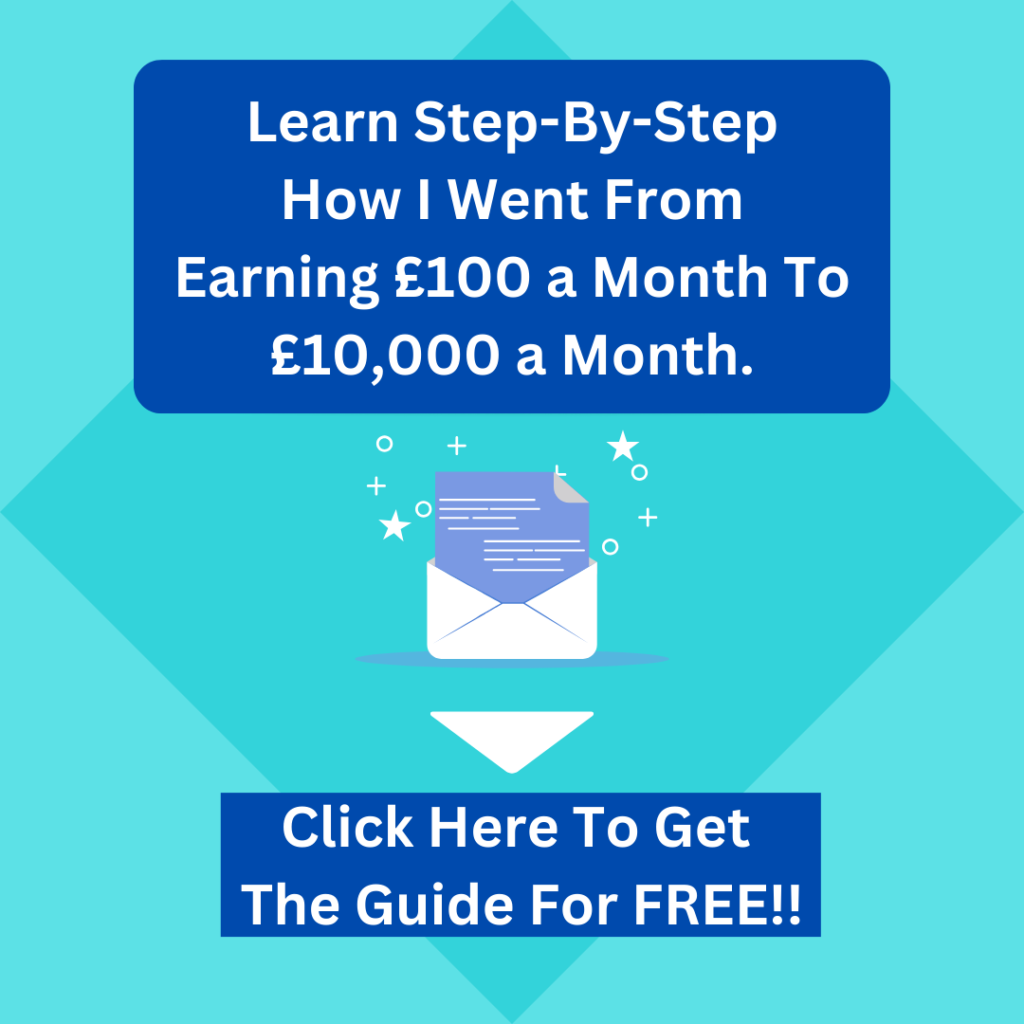 Some websites you could check out include the following.
3 – Become a Virtual Assistant.
Virtual assistants offer help to individuals and businesses all around the world.
Virtual assistants makeover £20 ($25) an hour at an entry-level position and can earn up to $70/hour or more once they gain experience.
Just like any other online job, you'll need excellent written communication skills as well as a proven ability to learn new tasks quickly. The best part about being a VA is that there is definitely room for advancement as you grow in your career.
4- Sell Your Photos.
Everyone has taken pictures before and there are lots of ways to make money from taking pictures such as becoming a photography teacher or offering your services to local businesses as well as online clients.
Now, I am sure many of you might not want to start a teaching gig with photos but there are many websites where you can list and sell your photos for free.
And you can sell your photos to sites like iStock, Flickr and many more where they will pay you anywhere from $1-$20 per photo depending on the topic or subject. 
Below is a video I shared on YouTube about how this all works. 
Here are a few more websites that pay you for photos:
5 – Get Paid to Answer Questions.
This can be quite lucrative, Respondent is a company who have been around for a long time and they work with some of the biggest brands online.
You get paid to help business owners, marketing teams, development companies and many more by participating in research groups.
How does it work?
Every day there are hundreds of research studies available on the website and you can get paid for many things including.
Get paid to visit a website and give feedback.

Share your routines (Something like your skincare regime, fitness etc)

Share opinions and thoughts.

Test new products.

Take part in focus groups and much more.
Currently, at the time of writing this article, there are over 280 projects available.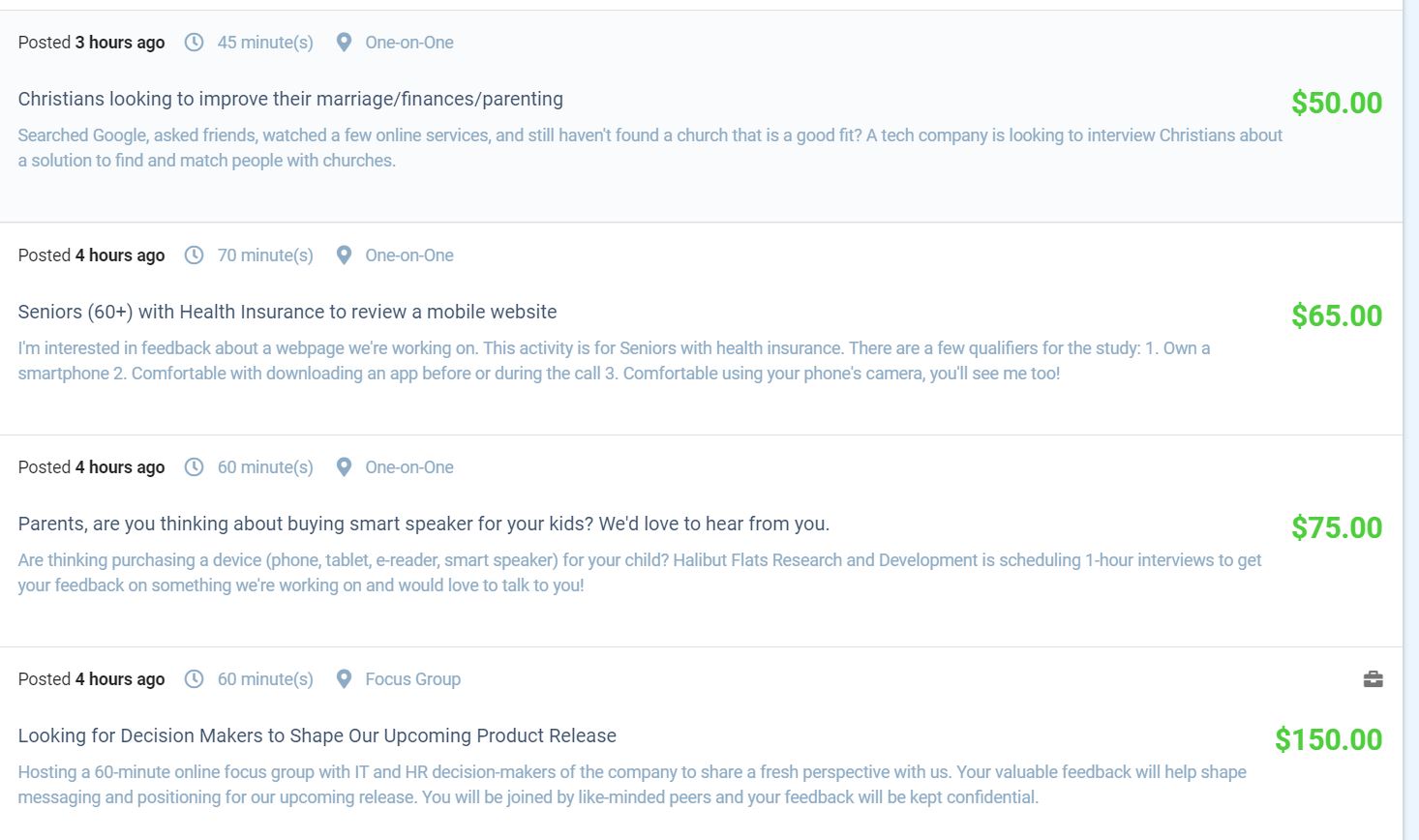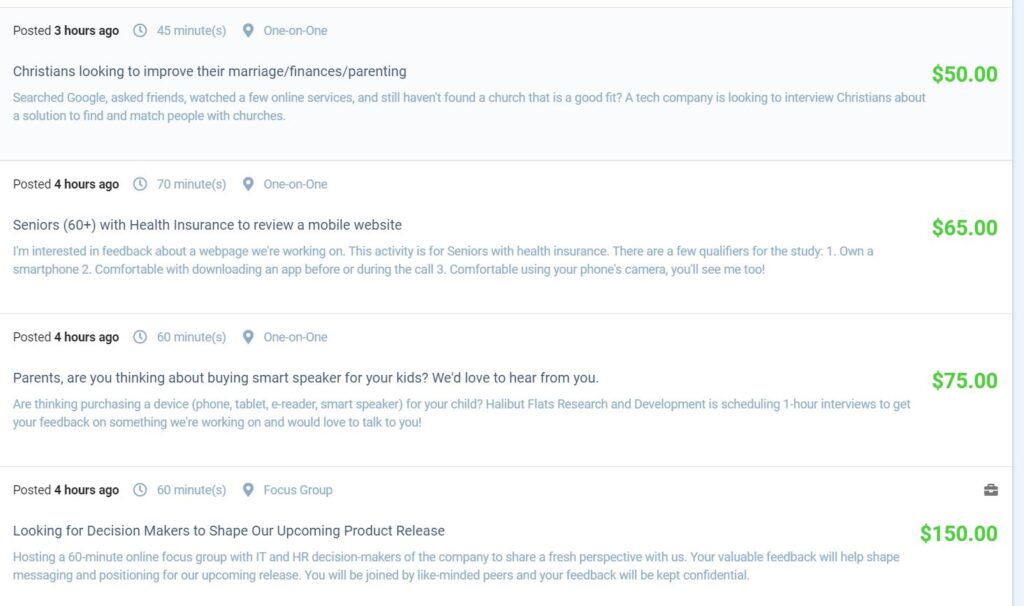 You can see in a quick snapshot what the project is about, how long it will take and how much you will get paid for taking part.
The best thing about earning money with paid market research groups is that you can do this from anywhere in the world and at a time that suits you.
Check out Respondent here.
6- Write Content for Other Websites.
One of the best ways to make money online right now is to write content for other websites and blogs. This is known as freelance writing. 
There are many different opportunities available when it comes to freelance writing.
The type of writing you do can be about whatever topic or subject you want, but in order to get in front of the most amount of people then I would recommend that you focus on topics that are specific and you have some knowledge about.
Many people start out writing as a side hustle but over time this can turn into a full-time freelance writing career.
We had a freelance writer come on here and share some awesome tips for getting started and how you can actually earn a full-time income as a freelance writer. 
If you want to read the full article simply click the image below or click here: Freelance Writer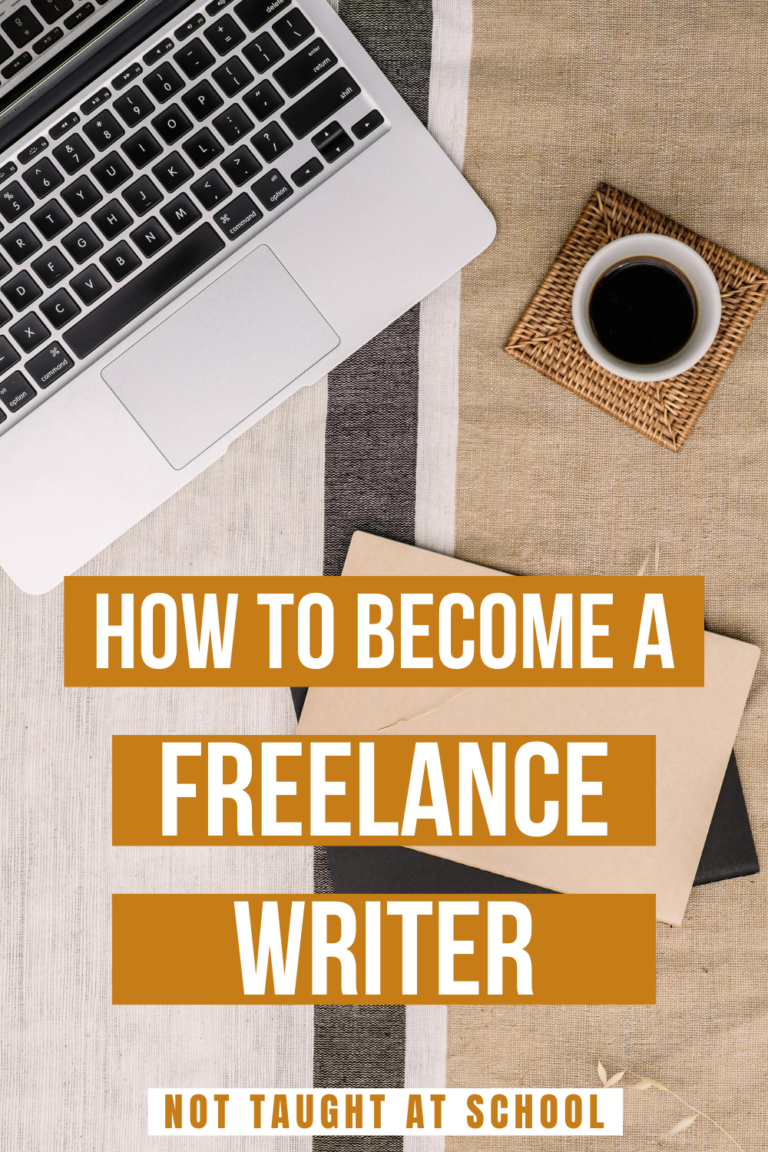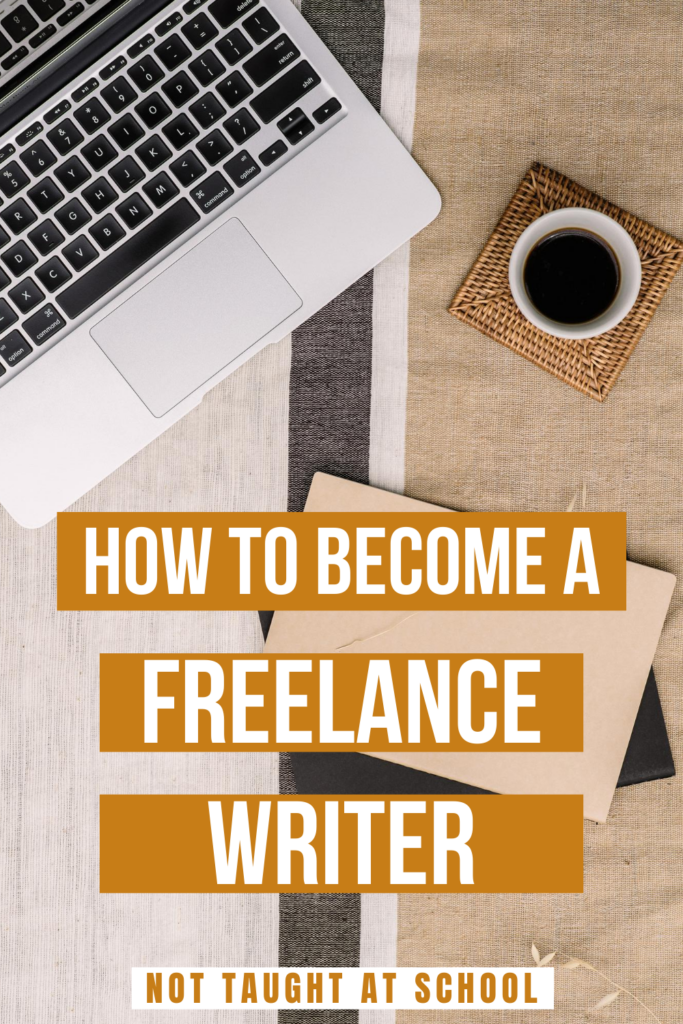 7 – Sell Printables Online & Earn a Passive Income.
Selling printables is an awesome side hustle because you can start making money without any experience, knowledge or design skills, plus it is very easy to start and get things up and running.
And once you have created a printable you can sell it over and over again. 
There are thousands of different products you can create like shopping lists, games for children, quotes and more.
You can even create labels, weekly food planners, seasonal items like placemats with designs on them for the holidays.
Recently we had a chap on the blog called Ike who shared how the below printable has made over $3,000 in passive income.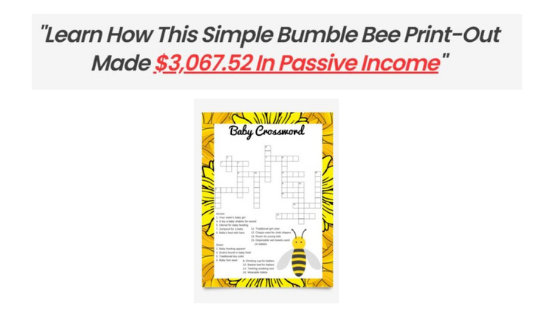 We interviewed him and he shared his journey to earning a full-time income online selling printables, he also dropped some real gems inside the interview and simple steps for getting started with selling printables online.
If you want to take a look and see just how simple this side hustle is then click here – How To Sell Printables Online. 
8 – Affiliate Marketing
This is (In my opinion) the second-best side hustle. 
The best thing about affiliate marketing is that you can earn very good money for sharing products you like and use. 
And you can become an affiliate for thousands of different companies, examples include Amazon, eBay, Etsy, Argos and many more. 
I am an affiliate for Amazon which basically means that I can share any product on Amazon and if someone buys that product or anything else from Amazon within 24 hours then I get paid a commission. 
Sounds ridiculous doesn't it, but it's very real and thousands of people are earning money from this awesome side hustle. 
Below is how much Amazon has paid me in the last 7 days.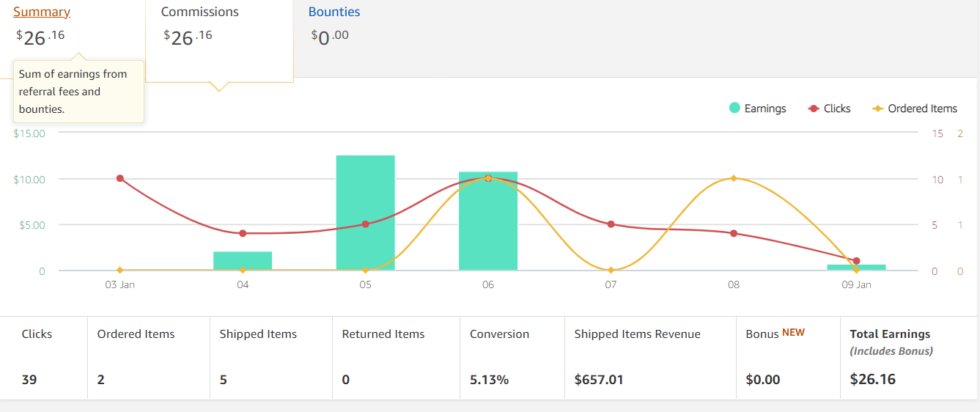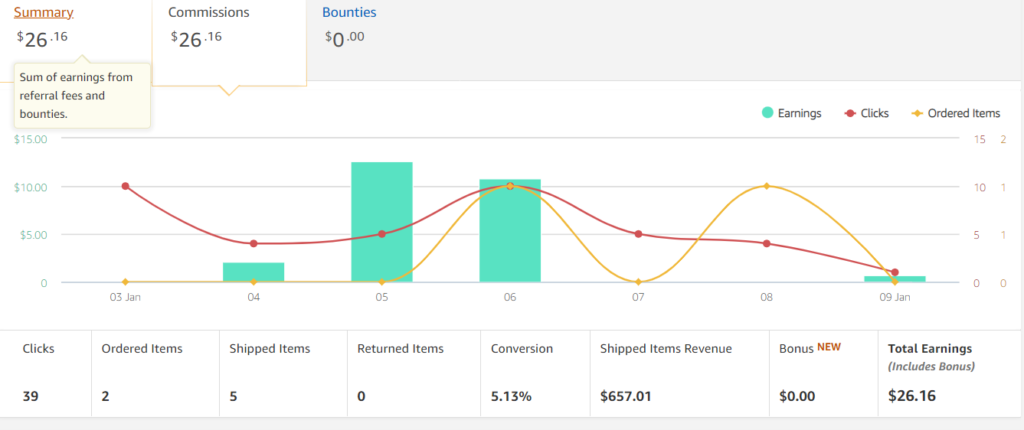 Amazon has paid me a grand total of $26.16 which is about £20 in commissions.
I hate the word commission because it sounds very salesy doesn't it, BUT, please let me make this very clear for you, being an affiliate marketer online is quite the opposite of being salesy. 
In fact, if you set things up correctly, you can be earning money without being online, speaking to anyone or doing much "work"
And the amount of money you can earn is ridiculous, below is something I shared with my Facebook group. 
I earned $1,000 which is just over £750 and I was nowhere near my laptop or doing any work. This money came in from "work" I had done previously. And this is just one reason why I love and recommend affiliate marketing. 
Plus, this is just one product that I share in my online affiliate marketing business. 
Here are some more results from another platform I am an affiliate for.  


Resources For Affiliate Marketing:
If you want to learn more about affiliate marketing then have a read of this article: Affiliate Marketing: How Lots Of Ordinary People Are Making Thousands Sharing Products.
Or you can watch this video I shared which walks you through the process from start to finish. 
9 – YouTube
This is the best side hustle anyone can do (In my opinion)
And before anyone starts panicking about being on camera or hating their own voice, let me share something with you. 
You can earn a very good income from YouTube without being on camera, having to speak or spending hundreds on cameras and lighting equipment. 
And you can also include affiliate marketing and YouTube together to make more money. 
Have you ever heard of a cash cow? 
Well, you can actually create a YouTube cash cow channel. 
A YouTube Cash Cow Channel is built to make as much money as possible.
And it does so by creating videos that get thousands or even millions of views and the reason is quite simple.
Once your YouTube channel is monetised then YouTube pays you for every thousand views. And you can lot's from these views. 
Not only can you earn from YouTube but if you add affiliate marketing into the mix then things begin to add up very quickly. 
How much can you earn with YouTube?
How long is a piece of string?
Every channel on YouTube is different and advertisers pay different rates for their ads to appear on your video. 
My main channel is in the personal finance category so advertisers pay a lot more than they would for an advert on a gaming channel, or a Vlog and many other categories. 
And once your channel is monetized and growing you tend to see the earnings going in an upward direction. 
Below are some of my earnings once my main channel was monetized.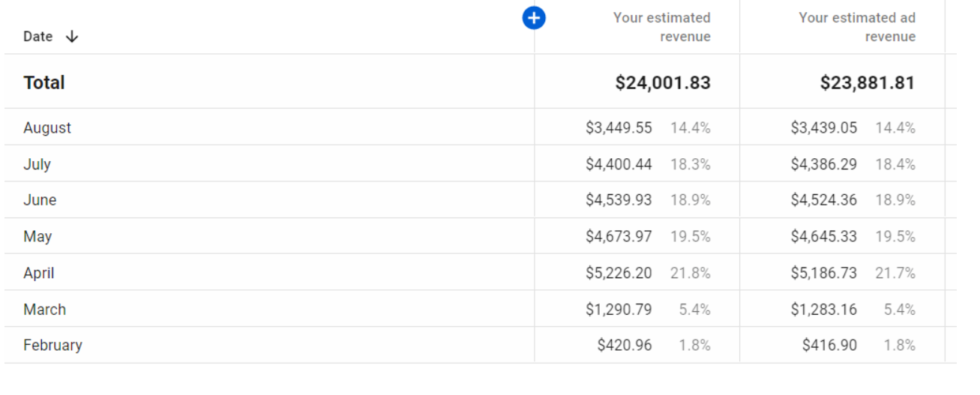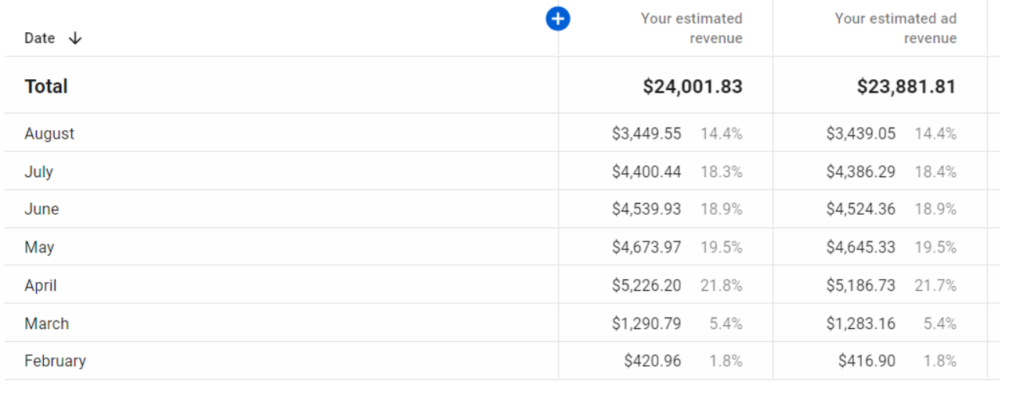 Not bad for uploading videos that are normally less than 20 minutes and it's just me waffling away. But remember, the above is only from YouTube Adsense, I have earned way more from affiliate marketing which I include in videos. 
Resources For YouTube:
I have written lots of articles about growing a YouTube channel, making money and lots more which you can check out here: YouTube Articles.
Also, I have a completely free YouTube course that will walk you through the entire process from start to finish and as mentioned previously, this can all be done without being on camera, having to speak and lots more. 
Other Side Hustle Ideas:
The 8 we have looked at today are all great ways to make some extra money on this side and I have listed these as I have personal experience with them all.
Obviously, they are hundreds of other side hustles you could try and below are some more ideas for you. 
Start A Blog

Rent Out Your Car

Buy And Resell Stuff Online

Sign Up For Freebies

Babysitting

Dogsitting

Online Surveys

Handyman

Proofreading

Flip Furniture

Walk Dogs

Create An Online Course

House Sit

Rent Out Your Property

Write an eBook

Landscaping
Genuinely there are so many opportunities for earning some extra money on the side, that being said, the 9vwe have looked at today can not only bring you in some extra money on the side but over time they could bring you in a full-time income and much more!
FAQ About Side Hustles:
What Are The Highest Paying Side Hustles?
Each side hustle can over time become very lucrative, from personal experience I would have to say that affiliate marketing is the best side hustle that has the potential to pay the most. 
What Side Hustles Work Best With The Least Effort?
This is tricky to answer but from my experience, I would say selling printables online, you can create them in less than 5 minutes using software available online and once it's created and listed for sale on platforms like Etsy it has the potential to be earning you a passive income for many years down the road. 
What Side Hustle Can I Start With Little Money?
You can start any of the ones we have coved in this article, most of them are free or use things you may already have (Like a car or bike)
Any other articles I should read on this topic?
Absolutely! If you enjoyed this article or it gave you a few ideas then check out this article I wrote called The Ultimate Guide To Make Money From Home. It has over 60 ideas and I have included resources for every suggestion to help you get started quicker. 
Finally, If you want more ways to earn money online be sure to join my FREE member's area. Its packed full of resources for earning online including eBooks, Courses and lots more!
Other Articles You May Like: 
The Ultimate Guide To Make Money From Home.
How People Are Earning Thousands Sharing Products.
Real Ways To Make Money From Home,
60+ Ways To Make Money From Home.
20+ Real Ways To Make Money From Home.
If you have any questions or found this blog post useful then please leave a comment below.
Thanks for reading.
Take Care & Keep Smiling
Mark
THIS POST MAY CONTAIN AFFILIATE LINKS, PLEASE SEE MY DISCLOSURE FOR MORE INFO