Welcome to today's article – 10 Of The Best New Year Resolution Ideas To Help You Make More Money.
Today I am very excited to have a guest blogger share some awesome ideas and tips to help you make more money.
Max is the founder of Tried and True Mom Jobs, a blog all about legitimate ways to work from home, save and invest.
I highly recommend you to check out Max's blog as she only writes about things that work. Hence the name "Tried and True". She does the research, so you don't have to.
So take it away Max………
>>>My Number One Recommendation To Make A Full Time Passive Income Online.<<<


It's a common tradition to come up with New Year Resolution ideas to start the year off on the right foot.
It's like a blank slate in front of you with nothing but an opportunity to start fresh and make better decisions.
What changes will you decide to make?
An article from the New York Times says that 4 out of 5 people who make New Year Resolutions will eventually break them. The typical resolution often reflects a general desire, rather than a specific goal.
Here are some Common New Year Resolution Examples:
* Lose weight
* Make better career choices
* Break bad habits
* Improve Finances
Today, let's focus on improving your finances with very specific goals you can commit to.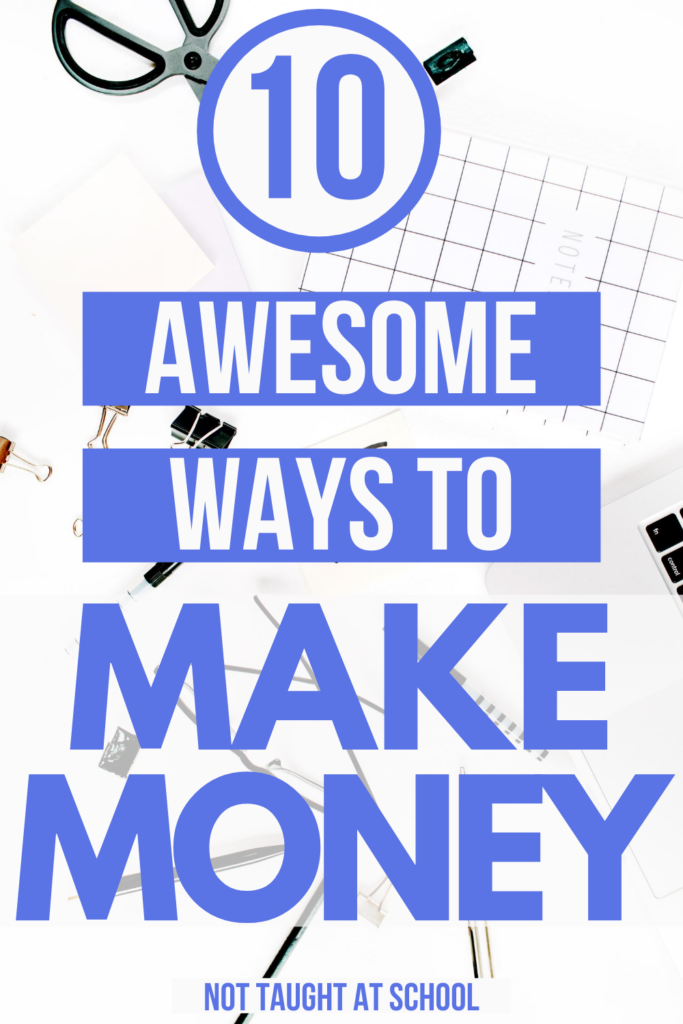 Before we get into that, let's talk about saving money.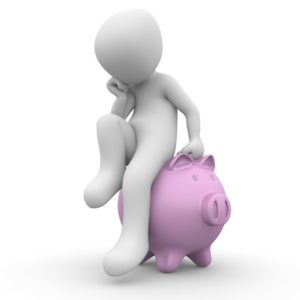 Is there anything you want to save for like a house, car, or vacation?
If so, have you ever thought about doing a Money challenge? Money Challenges are great motivators to help you reach your goal and stay accountable.
The 52-Week Money Challenge is a very popular challenge.
Whether you are trying to save up to $1,000 or $10,000 the idea is to break up the desired amount into chunks you can afford to put away each week.
You can use this money chart to help break down your goal.
It's easy to save when you have additional income that's why we've listed several options for you to make money that don't require previous experience.
These New Year Resolution ideas are for students, adults, and really anyone wanting to focus on their finances.
10 New Year Resolution Ideas to Help you Make Money This Year.
1. Start a Blog.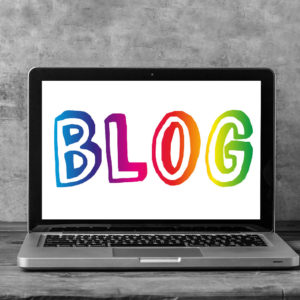 While I'll admit that starting a blog is not for everyone, it's worth considering because it can be an excellent way to make money.
When I heard how bloggers were making between $1,000 – $50,000 a month working part-time, I thought, well why can't I do that?
Blogging does require A LOT of work but it's a great way to make passive income once you get established.
This is one of my favorite New Year Resolution ideas to offer because it's what I do and it just doesn't feel like "work".
Click Here for a full step-by-step guide on how to start a blog
2. Freelance Writer.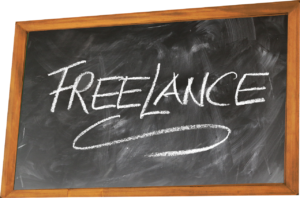 If you don't want to become a blogger you should at least consider getting paid to write, if you have a passion for writing.
There are many Freelance Writers making six-figure incomes. The great thing about being a Freelance Writer is that you choose which projects to take on and you also work when and where you want.
Click here for a full step-by-step guide on becoming a freelance writer.
3. Drop Shipping.
Drop shipping is a method where you can sell third-party products from a Drop Shipping Company without ever seeing or shipping the item. When you make a sale, the product is shipped directly to the customer from the drop shipper.
You can sell the items on eBay, Amazon, Facebook, Shopify, or your own website.
Your profit is the difference between what you charge your customers and what the drop shipping company charges you.
Here is a great infographic to show how it works: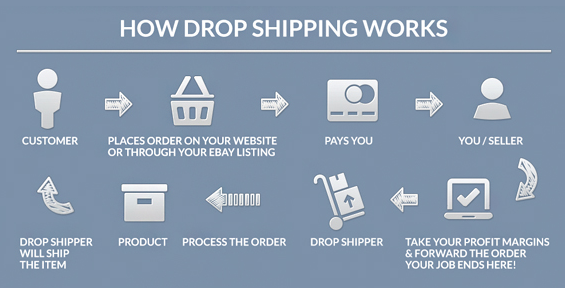 Click here for more details on how Drop Shipping works and how to get started.
4. Virtual Bookkeeper.
Bookkeepers record financial transactions from business owners, and it can be done either as a freelancer or for a company remotely. This is a great way to make money on the side.
I had a great opportunity to interview two moms who became bookkeepers with no previous experience and are now making a full-time income. You can see how they did it here.
5. Virtual Assistant.
A virtual assistant is someone who virtually offers services to businesses for an agreed upon fee.
If you are task-oriented and have skills in the areas of social media management, editing, graphic design, researching, writing, photoshop editing, administrative duties, video editing, copywriting, or data entry, this may be a great choice for you.
Click here for a list of companies hiring Virtual Assistants and how to get started
6. Web Search Engine Evaluator.
Get paid to help search engines understand a webpage and its relevancy. You are essentially helping Google and other search engines provide the best useful information.
You can make $12 an hour with a very flexible schedule.
Click here for more information and where to apply
7. Sell on Etsy.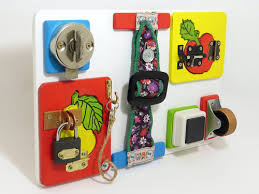 Do you have a hobby that you want to turn into something more? You can sell handmade, vintage, or unique digital products on Etsy. Etsy makes it easy to get your product out to a new audience.
Check out this interview from an Etsy Seller for tips on how to get started.
8. Flip Products.
Most people think of flipping products by purchasing products, restoring them and reselling for a profit, but my friend Mark does it a little differently.
He looks on eBay and Amazon for products he can flip on the opposite site.
For example, he finds items on Amazon and then lists them on eBay.
Once the item sells on eBay, he goes to Amazon and purchases the item at a lower cost to the customer who purchased it from eBay and keeps the difference in price. Brilliant!
No inventory or shipping costs. Just a clean transaction.
9. Get Paid for Giving Your Opinion.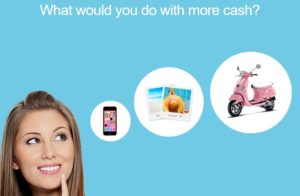 This year make the most of your spare time and get paid for taking surveys.
Taking surveys will not make you rich but if you do it enough you can earn a nice side income. I always like to tell my readers before they sign up for a survey site open a new email account first.
You will be inundated with plenty of survey emails and it's a good way to stay organized.
Here is a list of legitimate survey sites you can sign up for:
Check out this blog post with lots of different survey sites available.
10. Mystery Shopper.
I had a great experience as a mystery shopper at a restaurant recently. The requirements were that I bring an adult with me to brunch and order what I wanted with coffee and pie for dessert :-).
All I had to do was rate the restaurant and answer questions about the staff. I completed the survey while I was there so I wouldn't leave anything out and that was it, very simple. We could order anything up to $35.
My husband and I had an excellent brunch and were reimbursed within a couple of days.
There are many Mystery Shops out there but I went through BestMark. Highly recommended.
Final Thoughts on Ideas To Help You Make More Money.
Is there anything that you'd like to do on this list? Some of these ideas can put some extra money in your pocket, while others can replace your 9-5.
Whatever you decide, when you make your New Year's Resolution try and stick with it. Don't be the 4 out of 5 who don't.
Thank You Max!!
I think you will agree that was an awesome article, and filled with plenty of options to help you start making some extra money from home and online.
You can find more of Max's great articles over on her blog here.
If you have any questions or comments please leave them below and we will get back to you very soon.
Looking for more ways to make money online and work from home?
If so, then you will love this article – 60 Awesome Ways To Make Money Without a Job.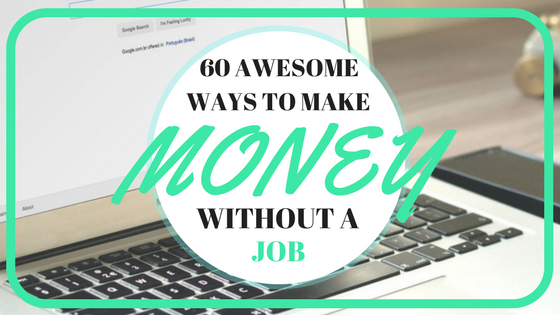 >>>My Number One Recommendation To Make A Full Time Passive Income Online.<<<
Other articles you may find useful include:
15 Of The Best Money Saving Apps.
5 Perfect Jobs For Stay At Home Parents.
Simple Ways To Get Free Amazon Gift Cards.
How To Make Money Drop Shipping Products.
Make Money With Online Surveys.
How To Make Money With Steemit.
Quick Update – I have just released a course called – Real Ways To Earn Online From Home.
This course is packed with 3 hours of videos and PDFs including:
How To Make Money Online
A proven step-by-step guide to making money online and from home.
Some of the best ways to generate a passive income.
How to start your online venture and how to expand.
This course isn't free but I have purposely set the price low so anyone wanting to start earning some extra money from home can get started today.
You can check it out on Udemy by clicking the image below.
Thank you again for reading today's article – 10 Of The Best New Year Resolution Ideas To Help You Make More Money.
Take Care & Keep Smiling
Furn
Learn More / Earn More / Save More / Start Living More
THIS POST MAY CONTAIN AFFILIATE LINKS, PLEASE SEE MY DISCLOSURE FOR MORE INFO